Eugene Cho Introduces Brenda Salter McNeil as New Transitional Pastor at Quest Church
Eugene Cho Introduces Brenda Salter McNeil as New Transitional Pastor at Quest Church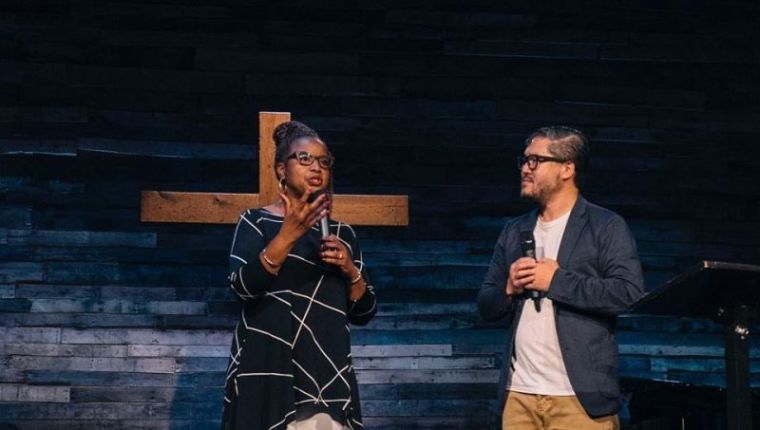 As he gets ready for his final Sunday at Quest Church in Seattle, Washington, Founding Pastor Eugene Cho, formally introduced the Rev. Brenda Salter McNeil as the church's new transitional pastor.
McNeil, who previously served as a teaching pastor at Quest Church, is also an associate professor of reconciliation studies in the School of Theology at Seattle Pacific University.
She was welcomed to the transitional pastor role during a blessing service at the church on Sunday, which she highlighted on social media.
"I was formally introduced and blessed as the new Transitional Pastor at @seattlequest today! My goal is that we'll be as spiritually, relationally, organizationally and financially strong & healthy as Pastor @EugeneCho has left us. May it be so, Lord!" McNeil noted in a post on Twitter late Sunday night.
McNeil is expected to serve as transitional pastor from October 2018 to March 2019 when a new lead pastor is expected to be nominated, according to information posted on the church's website.
Pastor Cho and his wife Minhee are expected to host a family celebration for church members on Saturday and will celebrate their final Sunday at Quest Church on September 30.
In June, Cho, 47, announced his resignation from the urban, multicultural and multigenerational church he founded after 18 years at the helm. Cho who said he felt the church needed fresh leadership is also founder and executive director of One Day's Wages. One Day's Wages is a grassroots movement of people, stories, and actions that is working to alleviate extreme global poverty. The organization was founded by Cho and his wife, after they witnessed the challenges faced by impoverished communities in Burma (or Myanmar).
At the time he announced his resignation, Cho noted that one of the reasons he was stepping down from the church was that he felt he was unable to keep splitting his time between working as a pastor and leading One Day's Wages.
"For me, this is a principle of personal integrity. The church needs a lead pastor who can be fully invested and drive the vision and mission of the church into the next season of Quest," he said.
Cho further also noted that he was stepping down so he could take better care of his health.
"Over the past couple years, my health has also become an increasing reality in my life. There is no grave urgency, but with the return of my ulcer, I am choosing to embrace a season of slowing down to prepare for the marathon of leadership and discipleship. I know that God's not yet done with us," he said.
In addition to her work as a pastor and professor, McNeil is well-known as a dynamic speaker and thought-leader with over 30 years of experience in the ministry of reconciliation. Her mission as highlighted by her website, is to inspire, equip and empower emerging Christian leaders to be practitioners of reconciliation in their various spheres of influence around the world.