Evangelical Black Lives Matter Activist Writes Bible That Replaces Christ With Donald Trump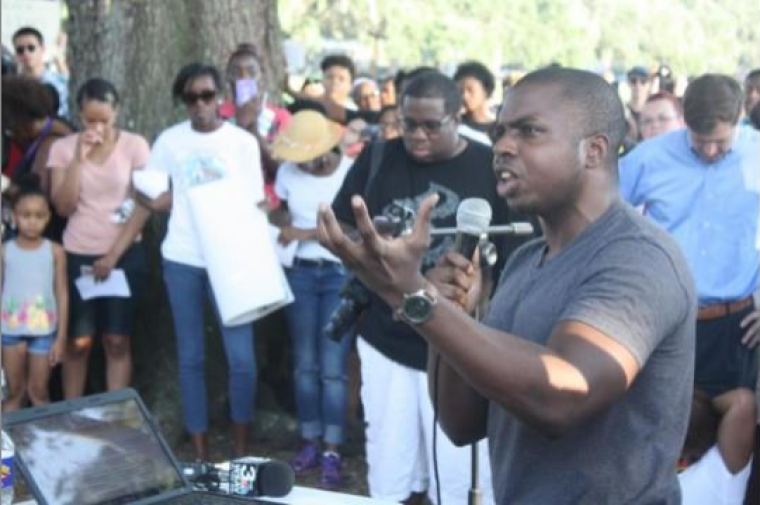 A Black Lives Matter activist and a former conservative Presbyterian minister has written a new satirical book that plays off the Bible by replacing Jesus Christ with the words and actions of president-elect Donald Trump.
Jomo Johnson, a founding member of the Black Lives Matter branch in Savannah, Georgia and a minister formerly associated with the conservative Presbyterian Church in America, released The Gospel: King Trump Version last week with the purpose of serving as an indictment against evangelical Christians for supporting Trump in the 2016 election.
The book is independently published through Amazon and available on Kindle and in paperback.
"What this Gospel does is the same thing Christian Trump supporters did during the election: take Jesus out in order to put Trump in," the book's written overview on Amazon.com states. "The book puts the campaign actions and sayings of Donald Trump in the biblical format of the Gospel of Mark, as a witness against all those who claim the name Christian while also voting for Trump. And as the Republican National Committee wrote on Christmas to their followers, "Herald Your New King."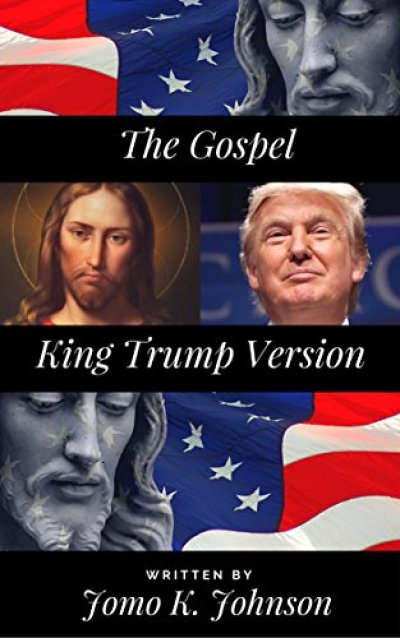 Johnson has been full time minister for the last seven years, has a Masters of Divinity from Westminster Theological Seminary and considers himself to be a progressive-conservative evangelical.
As exit polls show that an overwhelming majority of evangelicals backed Trump, Johnson told The Christian Post on Tuesday that he was shocked to see so many evangelicals vote for a man who has unabashedly made a number of highly questionable statements that critics say degrade women, minorities and immigrants.
According to Johnson, the book takes the Gospel of Mark and removes all the biblical characters and replaces them with an account of Trump's campaign from the beginning.
"It follows actions, sayings, statements, and things that Trump has done throughout the campaign and beyond, kind of in place of the Gospel," Johnson explained. "It broke down the Gospel of Mark, kind of the same literary form and same sequence and same challenges. It is Trump replacing Jesus in the Gospel and the implications of that."
For example, the book makes fun of Trump, who wondered in 2015 why he should have to ask God for repentance or forgiveness if he never makes mistakes.
"He took a mirror which he placed in front of himself. Taking the mirror in his hands, he said to them, 'Whoever can look in this mirror and see no need to apologize, repent, or ask forgiveness, is the greatest. Can any of you do that?'" The book fictionally quotes Trump asking a crowd. "They all put their heads down. 'That's what I thought. That's why I'm running for President and you're not.' He then dropped the mirror and left the room."
As exit polls show that about 81 percent of evangelical voters voted for Trump in November, Johnson said that the result "seemed to be a continuing trend of American Christianity that kind of replaces the Gospel with pieces of the capitalistic gospel."
"The whole thought was to do it not as a comedy but to do it in such a way to where it serves as an indictment against the Church more so than Donald Trump," he said.
Although many evangelicals, including leading Southern Baptist ethicist Russell Moore, were highly critical of Trump and refused to vote for him, Johnson said that he doesn't believe that his book is an overgeneralization of evangelical voters, adding that Moore received much pushback from evangelicals because of his opposition to Trump.
"Not at all. I identify as an evangelical myself. I guess I identify as a progressive evangelical," Johnson explained. "I think American evangelicalism has kind of embraced self-centered conservative values that hasn't reflected a great concern for minorities, women and immigrants. I think that evangelicalism as a whole needs to be confronted with itself. I have heard some evangelicals say that 'You can call me an evangelical for now,' suggesting that there might come a time pretty quickly when we don't want to be identified by that title."
Although evangelical support for Trump might be hard to figure out, considering Trump's questionable behavior and character, the percentage of evangelicals who voted for Trump is similar to the percentage of evangelicals who voted for past Republican presidential candidates.
One factor that might have caused evangelicals to vote for Trump when they might not have done so otherwise is the fact that his Democratic opponent was former Sec. of State Hillary Clinton.
Since Clinton supports taxpayer-funded abortion, late-term and partial-birth abortions, conservative evangelicals who have religious opposition to the killing of the unborn would have been more inclined to vote for Trump.
Trump vowed to appoint pro-life justices to the United States Supreme Court and support a number of key pro-life bills, including a ban on abortions after 20 weeks of pregnancy and stripping the nation's largest abortion provider of over $500 million in federal funds per year.
"I completely understand that if a person's conscience wouldn't allow them to vote for Hillary," Johnson said. "I still think it would be better to go third-party or abstain from voting completely."
Although Johnson is a member of Black Lives Matter, he still considers himself to be somewhat conservative. Before joining PCA, Johnson held a theo-political view of "Democrat Only." But after the terror attack on Sept. 11, 2001, he began to embrace more conservative nationalistic views.
However, Johnson left the PCA in 2015, an 80-precent white denomination, after seeing how churches were not responding to racial issues and the string of shootings of unarmed black Americans at the hands of police officers that sparked the Black Lives Matter movement.
"I kind of thought that was a trend that churches were more concerned about what was going on in their own building and their own mission and mandate, preaching the Gospel but not living it out in these particular ways," he said. "I still consider myself a conservative but a more progressive than an extreme conservative."
After leaving the PCA, Johnson now runs his own home ministry called Church for THUGS (Those Helpless Until God Saves), which seeks to bring faith to gang members, prisoners, and others in urban areas who don't go to church.