Evangelical Leaders Condemn Trump for Separating Immigrant Children From Families at Border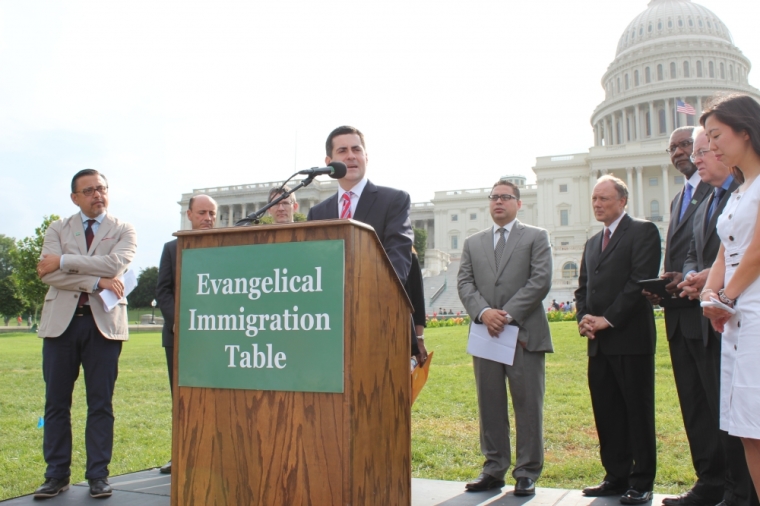 Leading evangelicals have urged President Donald Trump and his administration to reconsider a "horrible," "zero tolerance" policy that has led to an increase in immigrant children being separated from their families who entered the country illegally in recent weeks.
Southern Baptist ethicist Russell Moore and National Hispanic Christian Leadership Conference President Samuel Rodriguez joined other members of the Evangelical Immigration Table in sending a letter of concern to the president last Friday.
"As evangelical leaders representing tens of thousands of local churches, campus communities, and ministries we are concerned that the new 'zero tolerance' policy at the U.S.-Mexico border, recently announced by Attorney General [Jeff] Sessions and being implemented by the Department of Justice and the Department of Homeland Security, has had the effect of separating vulnerable children from their parents," the letter reads.
"As head of the Executive Branch of the federal government, we are writing to ask you to resolve this situation of families being separated that you have rightly described as 'horrible.'"
The letter comes as there has been much criticism of the administration's new illegal immigration policy.
Under the policy, anyone who crosses into the U.S. illegally will be prosecuted.
The Washington Post reports that the number of migrant children being held in U.S. custody without their parents has increased 21 percent in the last month. The newspaper notes that parents who enter the county illegally are being sent to federal detention centers while many children are being placed in shelters operated by the Department of Health and Human Services.
"As evangelical Christians guided by the Bible, one of our core convictions is that God has established the family as the fundamental building block of society. The state should separate families only in the rarest of instances," the Christian leaders stressed. "While illegal entry to the United States can be a misdemeanor criminal violation, past administrations have exercised discretion in determining when to charge individuals with this offense, taking into account the well-being of children who may also be involved."
The leaders assert that a zero tolerance policy eliminates discretion even when dealing with small children.
"The traumatic effects of this separation on these young children, which could be devastating and long-lasting, are of utmost concern," the letter states.
The letter was also signed by leaders from the National Association of Evangelicals; NAE's humanitarian arm, World Relief; the Council for Christian Colleges and Universities; the Wesleyan Church and Korean Churches for Community Development/Faith and Community Empowerment.
The leaders explained that current federal law permits people with a credible fear of persecution to request asylum "whether the individual enters with a valid visa, requests asylum at a port of entry, or is apprehended seeking to enter without a visa."
"Not every individual arriving will merit asylum protection, but we would ask that families be kept together while ensuring each individual asylum-seeker is afforded due process according to our laws," the letter maintains.
According to the Justice Department, the zero tolerance policy was issued following a reported 203 percent increase in illegal border crossings from March 2017 to March 2018 and a 37 percent increase from February to March.
In 2013, during the Barack Obama administration, 25,000 unaccompanied children were housed in 80 shelters, according to a July 2014 article in Mother Jones. That number was an increase from 2011, when 53 shelters housed 6,560 children, Newsweek reports. 
As Trump has reduced the limit on refugees being admitted to the United States in fiscal year 2018 to the lowest cap since at least 1980, the evangelical leaders warned that such a low limit provides refugees fleeing violence and persecution in places like Central America with "fewer options."
"Those facing legitimate threats to their lives often feel they have no choice but to leave their countries and seek asylum elsewhere," the letter explains.
"We respectfully ask you to work with Attorney General Sessions and Secretary [Kirstjen] Nielsen to reverse this 'zero tolerance' policy and instead urge law enforcement entities to exercise discretion to protect the unity of families," the letter continues. "We also ask that you work with the U.S. State Department to resume a robust U.S. refugee resettlement program and to leverage U.S. influence to seek peaceful resolutions to the situations of violence in Central America."
The evangelical leaders' letter came over a month after an HHS official reported that the agency "lost track" of around 1,500 migrant children seized at the border. The news later materialized into the #WhereAreTheChildren social media movement.
However, John Stonestreet and David Carlson at the Colson Center for Christian Worldview argued in an op-ed that public anger over the reports about 1,500 missing kids "misses the real outrage."
"The 1,500 missing children story comes from the Senate testimony of HHS official Steven Wagner. He told senators that the Office of Refugee Resettlement 'had lost track of 1,475 children ... who had crossed the U.S.-Mexico border on their own ... and subsequently were placed with adult sponsors in the United States,'" the op-ed explains.
"One thousand four hundred seventy-five of these minors did not respond to recent attempts to be contacted," the op-ed continued. "As the former head of the Office for Refugee Resettlement explained to NPR, there's nothing nefarious going on here. The most likely scenario is that the children or their sponsors feared deportation. They don't want to be contacted."
Although Stonestreet and Carlson believe that the outrage surrounding the reports of missing children is a bit "misguided," they also assert that the act of separating children from their parents is "cruel" unless the child is in serious danger.
"If a family has entered the U.S. illegally and has no legal right to be here, then deport them expeditiously," the op-ed reads. "If we lack the resources to do this, then we need to re-allocate the resources we have. But weaponizing familial bonds to deter people from trying to enter the United States is completely unacceptable."
Last week, Sen. Dianne Feinstein, D-Calif., introduced legislation that would make it harder for the federal government to separate migrant children from their families.
"It's hard to conceive of a policy more horrific than intentionally separating children from their parents as a form of punishment," Feinstein said in a statement. "This is not what the United States of America should be."