Many Evangelicals Believe Trump 'Is God's Chosen,' David Brody Says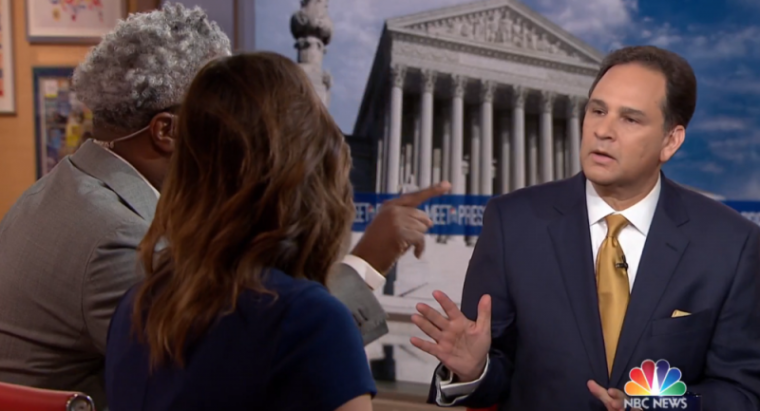 Discussing the fight over the Supreme Court vacancy following Justice Anthony Kennedy's retirement, Christian Broadcasting Network's White House correspondent David Brody said in a panel discussion that many evangelicals believe President Donald Trump is "God's chosen candidate."
On Sunday, NBC News' "Meet the Press" host Chuck Todd asked Brody about a Thursday op-ed by Washington Post columnist Michael Gerson, a "nevertrump" evangelical who worked in the George W. Bush administration. 
The Supreme Court nomination will unite conservatives and help Trump win the midterm elections, Gerson argued. 
"It is a reminder of Trump's adherence to the deal he made with evangelical Christian (and other religiously conservative) supporters: Ignore my bigotry and bad character, and all the kingdoms of the courts, from lowest to highest, will verily be yours," he added
When asked to respond to that quote, Brody agreed that "evangelicals voted for this president predominantly, especially the ones that were on the fence," and clarified in reference to Trump's enthusiastic supporters, "I'm not talking about the ones that were showing up in Alabama in those rallies, but the ones that kind of came with their nose held, to a degree."
Brody continued, "They voted for him for the Supreme Court. And here we are. And many of these Evangelicals believe, and I know this is shocking to a lot of folks, but they believe he is God's chosen candidate for such a time as this."
The CBN correspondent continued that that's "the word on the street in the evangelical world."
"And so along comes a second Supreme Court nomination. And they're, like, 'Well, here you go. We,' as in evangelicals, 'have a chance to reshape this Court for a long time.' I think it'll be interesting to see, in terms of reshaping the Court, [Sens. Lisa] Murkowski and [Susan] Collins. You know, everybody talks about the big Supreme Court fight to come. I think the fight's right now. The fight right now is how is this candidate going to be defined in terms of in Trump's mind. How much Murkowski and Collins, potentially others, can get to this."
Justice Kennedy announced on Wednesday that he would step down. Although Trump is yet to announce his pick, Liberty University President Jerry Falwell Jr. argued the change would be small if Trump's pick ultimately led to the reversal of the landmark abortion case Roe v. Wade.
"What people don't understand is that if you overturn Roe v. Wade, all that does is give the states the right to decide whether abortion is legal or illegal," Falwell told The Associated Press. "My guess is that there'd probably be less than 20 states that would make abortion illegal if given that right."
However, Republican Sen. Collins, a key vote in the Supreme Court confirmation fight, has said she will reject a nominee hostile to Roe v. Wade.
"I would not support a nominee who demonstrated hostility to Roe v. Wade because that would mean to me that their judicial philosophy did not include a respect for established decisions, established law," she said on CNN's "State of the Union" on Sunday.
Murkowski, a Republican who is likely to have a significant influence over the Senate confirmation fight for Trump's nominee, has also said she will carefully examine nominees.
"My standards for Supreme Court nominees are extremely high," Murkowski said, according to The Hill. "It is my longstanding practice to carefully scrutinize the qualifications of judicial nominees and to cast an independent vote when judicial nominations come before the Senate."
On NBC News, Brody revealed that evangelical sources have told him that their number one pick is Amy Coney Barrett, whom Trump appointed to the Seventh Circuit Court of Appeals last year.
Senate Democrats grilled Barrett before her confirmation, over her Roman Catholic beliefs.
Brody said on NBC, "There is a political calculation here. Midterm elections come along, you've got three months, July through November to say, 'Hey, I picked a Supreme Court nominee who's a woman. And I'm just saying so listen to the fake news media out there saying I'm anti-woman. You know what? Fake news.' It gives him a place."
Democratic pollster Cornell Belcher was also on the panel and responded to Brody, arguing that suburban women wouldn't want for Roe to be overturned. "I think it works for his base. But a woman who's going to overturn Roe v. Wade is going to terrorize women in the suburbs," he said.
Last year, Sen. Dianne Feinstein, D-Calif., criticized Barrett, who was then a professor at Notre Dame Law School, over an alleged statement of hers in 1998 that was interpreted by some as saying that Catholic teaching should take precedence over the law.
"Why is it that so many of us on this side have this very uncomfortable feeling that — you know, dogma and law are two different things. And I think whatever a religion is, it has its own dogma. The law is totally different," Feinstein told Barrett during a Senate Judiciary Committee hearing at the time. "I think in your case, professor, when you read your speeches, the conclusion one draws is that the dogma lives loudly within you, and that's of concern when you come to big issues that large numbers of people have fought for years in this country."
However, members of the pro-life movement celebrated Barrett's confirmation.
"Judge Amy Barrett's confirmation is a victory for the pro-life movement as well as for the fundamental freedom of all Americans to live out their faith in the public square," President of the national pro-life group Susan B. Anthony List Marjorie Dannenfelser said in a statement to The Christian Post at the time.