Evangelist Greg Laurie Disappointed Director Angelina Jolie Chose to Leave Out World War II Hero's Christian Faith in 'Unbroken' Movie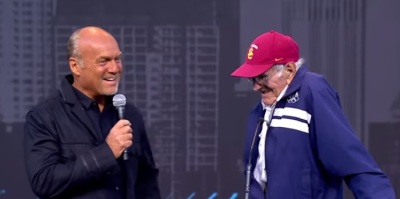 Evangelist Greg Laurie, who knew World War II hero Louis Zamperini well through public interviews and time spent together privately before he died on July 2, said he was disappointed to hear that the film based on his life as adapted from the book Unbroken, will not include the story of his faith in Jesus Christ.
The Universal Pictures film, directed by Angelina Jolie, is scheduled for release on Christmas Day. However, word has already gotten out that Zamperini's spiritual journey is absent from the film adaption of Laura Hillenbrand's book, Unbroken: A World War II Story of Survival, Resilience and Redemption.
"I'm disappointed that director Angelina Jolie has chosen to leave this vital and essential part of Louis Zamperini's life out of this much anticipated film," Laurie, who is perhaps best known for leading the Harvest crusades, told The Christian Post recently. "To me, the most amazing part of his story is not just surviving the incomprehensible beatings in the Japanese internment camp, or being adrift at sea for over 47 days. It was the fact that Louis was able, because of his conversion and newfound Christian faith, to go back to Japan to the very guards who mistreated him and forgive them, as well as tell them about Jesus Christ."
Laurie said it was his privilege to spend quite a bit of time with Louis personally and publicly and "go over his amazing life story with him again and again."
"His memory retention and attention to detail were nothing short of remarkable," he said.
WATCH Greg Laurie interview American hero, Louis Zampreini, at the Harvest Crusade at Dodger Stadium BELOW
When asked by CP whether it was even possible to tell Zamperini's story without featuring him coming to Christ, Laurie said the story could be told, but the film would not be complete.
"The fact of the matter is, if Louis Zamperini had not met Jesus Christ at a Billy Graham Crusade, his story could have ended far differently," Laurie explained. "Suffering from severe PTSD and plummeting into alcoholism, Louis could easily have died.
"But his life was changed, and he was, as he told me personally, 'instantly healed of PTSD' as well as his dependence on alcohol. When I interviewed Louis in front of over 45,000 people at Dodger Stadium, he was far more interested in talking about his conversion at the Billy Graham Crusade than his other amazing exploits. Louis Zamperini used his story as a bridge to tell the 'greatest story ever told,' the story of Jesus Christ."
Laurie said he is still looking forward to seeing the screen adaption of the book Unbroken.
"Perhaps we as believers could use [the movie] as a stepping stone to tell the rest of Louis Zamperini's amazing story, which culminated with his conversion and the dedication of the rest of his life to telling others about Jesus," he said. "Louis is a true American hero and committed follower of Jesus. He ran his race well, not only in the 1936 Olympic games, but also in life. No doubt he has already heard the Lord say, 'Well done, good and faithful servant!'"
Although Zampareini's conversion story is left out, there are some references to faith highlighted in the film's trailer, such as a minister preaching to a young Zamperini: "However dark the light, however dim our hopes, the light will always follow darkness," the minister says.
"It could be a great movie," said Christian media critic Ted Baehr, but not without the story of his "spiritual release," which is just as important as his physical release from captivity.