'Billy Graham of the Next Generation' Calls on 1 Million Americans to Unite in Prayer in Washington This Summer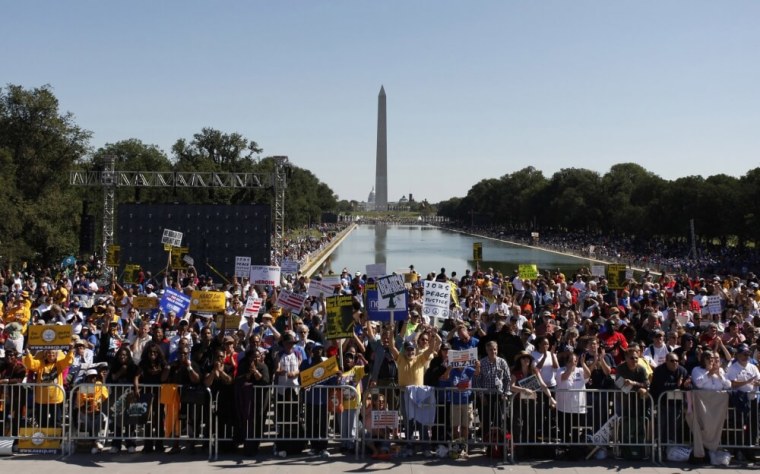 A Minnesota-based evangelist is calling on 1 million Americans to gather in the nation's capital this summer to pray, worship and "stand for Jesus" and "catalytic change" at Together 2016.
Nick Hall, the founder of PULSE, a prayer and evangelism movement to empower the church and awaken the culture to Jesus, is calling on Americans to unite on the National Mall on July 16 to offer prayer that God will change the hearts of a divided America.
"What would it look like, on one day, to rally the entire nation together, not around what we're against — and that's often what we get known for — but rallying people around what we're for, and around the change that Jesus offers?" Hall asked Fox News' "Fox & Friends" Easter Sunday.
Hall said the nation is on the precipice of monumental change and emphasized that change is often ushered in by significant gatherings like Together 2016.
"Moments of historic change [are] often marked by historic gatherings, and so, for us, we really believe that this is a time to shift the nation back to what matters," said Hall, citing other "defining moments of faith" as the women's suffrage and Civil Rights movements.
Regarding the increasing division of the nation during contentious presidential elections, Hall added that while it's easy to be critical and negative during election cycles, people really long to come together. "We can still unite, regardless of our differences, and we really believe that Jesus is the one that can bring us together."
Hall sits on the leadership team of the National Association of Evangelicals and on the student advisory team for the Billy Graham Evangelistic Association. He's even been dubbed by some as the "Billy Graham of the next generation," and admires the famed evangelist's ability to bring people together.
"Billy Graham is obviously a hero of many people. I think the way that he brought people together, the way that he always talks about hope and life, and kept the message on something that could unite. And so, obviously anybody's going to be humbled and honored to even be mentioned in the same breath as somebody like Billy Graham," he told Fox News.
"There has to be a leader that rises above, and we think Jesus is that leader. Regardless of, really, religion or background, Jesus offers us an example of friendship, of leadership, of character, of integrity," Hall continued. "And as people of faith, we believe that His spirit comes and can empower us to be the generation that we're supposed to be. Through prayer, through getting in scriptures, through talking about His life and what He did, we believe that change can happen in every level of society."
Several faith and thought leaders will be attending Together 2016, including Francis Chan, Pastor Ronnie Floyd, the Rev. Samuel Rodriguez and evangelist Luis Palau. Christian performers Michael W. Smith, Lecrae, Hillsong United, Kirk Franklin, Kari Jobe, Tasha Cobbs, Casting Crowns, Crowder, Andy Mineo and Trip Lee will also be on hand.
To learn more about this event, visit: Reset2016.com.