Evangelist Nick Vujicic Counsels Christian Who Says She Feels Empty, Depressed Despite Loving God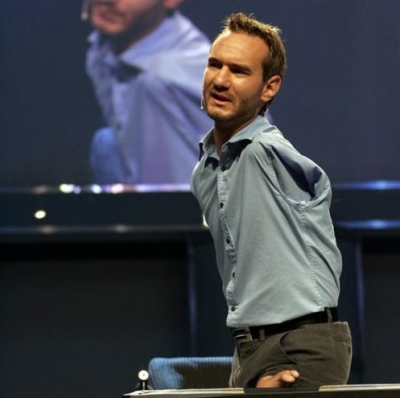 Evangelist Nick Vujicic advised a Christian dealing with depression despite her love for God to turn to volunteer work as a way of feeling a part of the body of Christ.
Vujicic, known as the "limbless evangelist" because he was born with no arms and no legs, said on his YouTube channel on Tuesday that he received a question from a believer named Yvette, who said:
"I'm a follower of God. I love Him, but I feel empty on the inside and I'm dealing with depression and anxiety."
The evangelist, who has inspired millions of people around the world with his testimony of overcoming the odds and trusting in God, told Yvette that many people are dealing with the same thing as her.
"I want you to challenge yourself. Read Psalm 91 over your life for the next 30 days, just out loud, or Psalm 73 or Psalm 139. Those are my three favorite Psalms that really give me faith. As we hear the word of God, it gives us that faith that we need," he first advised.
He then suggested that the emptiness may stem from a "lack of purpose."
He challenged the woman to go volunteer at a homeless shelter, something which he said he is also going to do soon in Los Angeles.
"Just go and be with them. Serve, feed the hungry, be with the widows, be with the orphans. See how we can help a foster parent who maybe has two or three children but with your cooking or your babysitting or your grocery runs or whatever, you're actually enabling that foster parent to kind of get a break," Vujicic suggested.
Noting that hundreds of thousands of children in America are waiting for a foster home or an adopted home, he told Yvette that perhaps she can assist those who are already helping.
"We don't have to reinvent the wheel, we just [have] to sometimes support our brothers and sisters in ways that they're gifted that we're not gifted but we can help them and support them in their mission," he continued.
"As you instigate that, I wouldn't be surprised if God instills you that re-ignition and spark that you are indeed an active member of the body of Christ, and gifted and valued in His eyes."
Vujicic has in the past admitted that he also faced depression, including suicidal thoughts and a "deep dark valley" when it comes to faith.
Speaking in February with Tim Clinton, president of the American Association of Christian Counselors, he noted that in 2011 he went through a "very deep dark valley for about two to three months," where he had to quote Scripture every hour.
"My flesh didn't feel like God was there," he said, adding that by faith he still knew that God was listening.
"Faith comes by hearing of the Word. Keep going, one day at a time," he advised others.
Watch Vujicic's video below: