Evangelist Nick Vujicic Takes Anti-Bullying Message to Utah Schools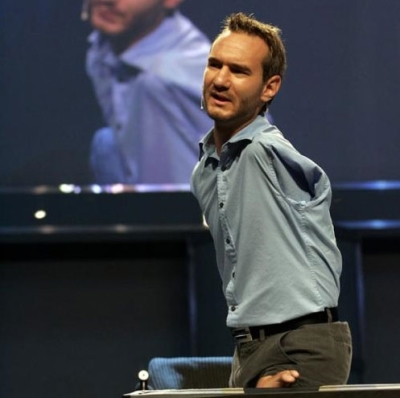 "Limbless evangelist" Nick Vujicic will kick off his national anti-bullying and suicide prevention campaign this week with junior high, middle school and high school students in Utah. Vujicic, who recently welcomed his first child, will also share a faith-oriented message during three special events facilitated by Standing Together and a coalition of 66 local evangelical churches.
"I was delighted when you and Pastor Greg Johnson (founder and president of Standing Together) met with me to discuss the tragedies of teen suicide and bullying," Gov. Gary R. Herbert said to the evangelist in a letter shared with The Christian Post. "Nick, we believe in you and your desire to inspire America's youth to recognize their inherent value and worth. You speak uniquely and candidly to the issue of bullying with incredible conviction through your own personal experiences."
Vujicic, a motivational speaker who has taken his message of faith and hope to audiences around the world, was born without arms or legs and knows firsthand the kinds of horrors children face as victims of bullying.
The 30-year-old Australian native recently shared his perspective on bullying in his monthly column for The Christian Post, writing that "Jesus himself was a victim of constant bullying from his enemies."
"When the high priest questioned Jesus before His crucifixion, a temple official slapped Jesus in the face for daring to speak the truth. Jesus did not back down from these religious persecutors. Instead, He demanded to know why the official had lashed out," the evangelist wrote.
The constant taunts Vujicic faced in his own life left him feeling hopeless, and at the age of 10 he tried to kill himself. The limbless evangelist credits God with helping him to overcome the many obstacles he has faced, and began sharing as a teen how faith in Christ gives him the motivation to move forward, which is the hallmark of many of his messages.
During his tour, however, he not only wants to encourage teens to share their griefs and struggles with their parents and other trustworthy adults in their lives, but will also encourage parents to never ignore bullying and to teach their own children to be good samaritans on behalf of the helpless.
Vujicic reportedly plans to take his message of hope and victory to teens across the country, with motivational meetings similar to the one in Utah planned for every state.
Gov. Herbert added in his letter that if Vujicic's visit to Utah "causes even one student to abandon suicide plans or rescues one youth from a bully," his visit will have been invaluable.
More details about "Love Without Limits Utah," taking place March 7-9, can be found at StandingTogether.org. More information about Vujicic's ministry can be found at LifeWithoutLimbs.org as well the "Attitude is Altitude" website.
Vujicic, whose most recent book is Unstoppable: The Incredible Power of Faith in Action, recently welcomed with his wife their first child, Kiyoshi James Vujicic. They live in California.
Nick Vujicic - Live Forever