Ex CNBC Reporter Claims Network 'Silenced' Her for Reporting on Obamacare Flaws, Told Her to Stop 'Disrespecting' Obama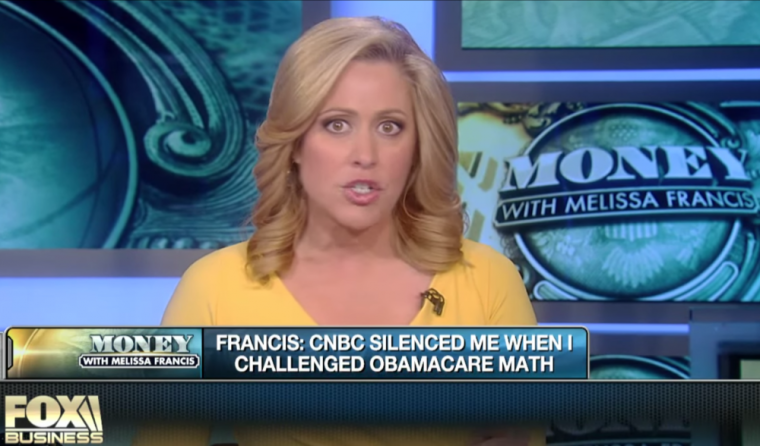 A Fox Business reporter is accusing her former CNBC bosses of reprimanding her for pursuing reporting angles that pointed out the mathematical flaws in the president's Obamacare law.
Financial reporter Melissa Francis disclosed on her Fox Business program "Money with Melissa Francis" that when she worked for CNBC, she was told numerous times by her superiors to stop "disrespecting the office of the president" by reporting on what she called "the math of Obamacare."
Francis explained that while at CNBC she pointed out to her viewers that it's not possible to increase the number of people receiving health coverage, including those with preexisting conditions, and not have healthcare coverage cost more for most people.
During the segmant, she also explained how the healthcare law would cause most citizens to lose their health coverage even if they liked their plan. After her segmant, she was told by her superiors, and "numerous times" after, that she needed to stop pursuing such angles that painted negative pictures about the healthcare law and President Barack Obama's administration.
"When I was at CNBC, I pointed out to my viewers that the math of Obamacare simply didn't work. Not the politics, by the way, just the math. And when I did that, I was silenced," Francis said during an interview on Fox News' "Fox & Friends."
She continued: "I pointed out that that it couldn't possibly be true — that if you like your plan, you can keep it. That was a lie. … As a result of what I said at CNBC, I was called into management where I was told that I was 'disrespecting the office of the president' by telling what turned out to be the absolute truth."
Francis added that although she's ashamed she didn't stand up to her bosses at the time, she decided to come out with her allegations against CNBC after hearing the news last week that MIT economist and Obamacare adviser, Jonathan Gruber, had said that the passing of the healthcare law relied on the "stupidity of the American voters" and a "lack of transparency."
"It made me feel terrible that [Gruber] was counting on the job of business news and what we do at Fox Business. That is to make the dollars and cents in life make sense for people. That is exactly what needed to happen with Obamacare," Francis asserted. "We are here to say, 'look guys lets do the math and lay it out.' Know the facts and then make a decision. Maybe we're still be in favor of this. Maybe you still want to go ahead, but you have to understand the real facts and we did not illuminate that."
A CNBC representative issued a statement to The New York Post saying that Francis' claims are "laughable."
"That's laughable, but we take notice because as the fastest growing network in primetime, we're always on the lookout for high quality comedy writers and actresses," the CNBC Representative said.
Francis responded to the CNBC remark by saying that they did not clearly deny the allegations.
"It is a very sarcastic-lib remark. Notice, they didn't say that 'it is absolutely not true and this didn't happen.' I think they know it is true and it happened on more than one occasion," Francis said. "To make a sarcastic remark about actresses and comedy writers just show that they are laughing at their view the same way Jonathan Gruber was laughing at the public."
In her show, Franics also slamed the liberal media for being a part of a "campaign to keep you in the dark" and claimed that Fox is the only network not a part of that campaign. Earlier in November, an ex CBS reporter accused CBS officials of keeping hidden part of a "60 Minutes" interview with Obama that could have hurt his 2012 presidential campaign.