Ex-Crystal Cathedral Pastor Sheila Schuller Coleman Moves New Church to Hotel
Sheila Schuller Coleman, the former senior pastor of Crystal Cathedral in Garden Grove, Calif., has announced that services for her new breakaway church, the Hope Center of Christ, will be taking place at a local hotel as opposed to the movie theatre that was the setting for the start-up congregation's first service.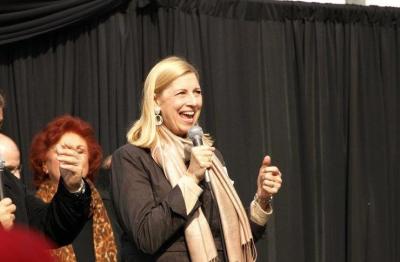 Schuller Coleman's worship service is scheduled to take place at the Anaheim Marriott Suites at 10 a.m. in Garden Grove, the ministry announced on its Facebook page. Media reports indicate that services will be held at the Marriott Suites for the next month.
Pastor Harold Shaw will be leading the service and Grammy Award-winning producer Scott Smith will be on hand for the service along with his wife, gospel singer Debbie McClendon-Smith. A children's program will also be provided at the service, according to the Hope Center of Christ Facebook page.
Just two weeks ago, Schuller Coleman announced that she would be splitting from the Crystal Cathedral church and moving the ministry her father started decades ago from the Crystal Cathedral to a new location and under a new name.
Schuller Coleman's split with the church came as a highly public dispute between the Schuller family and the Crystal Cathedral church board saw every last remaining member of the church's founding family depart the institution.
Last Sunday Schuller Coleman captured headlines and praise for the ad hoc Hope Center of Christ services she held at an Orange County movie theater.
"Today is a birth day," the pastor told the crowd of around 200, according to The Los Angeles Times.
"We are going to learn how to be a strong church," she said. "We are not about a church building. We are about building a church."
The service received praise from those who followed Schuller Coleman and brother-in-law Jim Penner to the new church.
"It was an amazing morning and praise the message that stirred my heart and drew me closer to Jesus," Michelle Frazier Cavinder wrote on the wall of the Facebook page for Hope Center of Christ.
"We were all blessed by an awesome service, that only God could have pulled together with such short notice," another worshiper named Debbie Lips wrote.
Schuller Coleman was only four years old when her father began his ministry in a drive-in movie theater. The Rev. Schuller's ministry eventually became one of America's most noteable megachurches with a congregation that had up to 10,000 members at the height of its popularity.
The megachurch became riddled with problems following the retirement of the Rev. Schuller, which included a highly public family split and bankruptcy. The Schuller's only son Robert A. Schuller recently said in an interview that he believes the ministry was brought on by sibling rivalry.
Robert A. Schuller served as a senior pastor to the ministry following his father's retirement. His position was short lived though, as he was ousted by his older sisters in a bid to maintain "job security," according to Schuller.
Nevertheless, the former pastor turned chairman of a family-centered media fund said that he does not harbor resentment towards his siblings despite that fact that he believes that the rivalry led to the "demise of the ministry."