Exclusive: Braxton Sisters Reveal Some Disharmony Before Performing for Bishop TD Jakes (Watch)
Exclusive: Braxton Sisters Reveal Some Disharmony Before Performing for Bishop TD Jakes (Watch)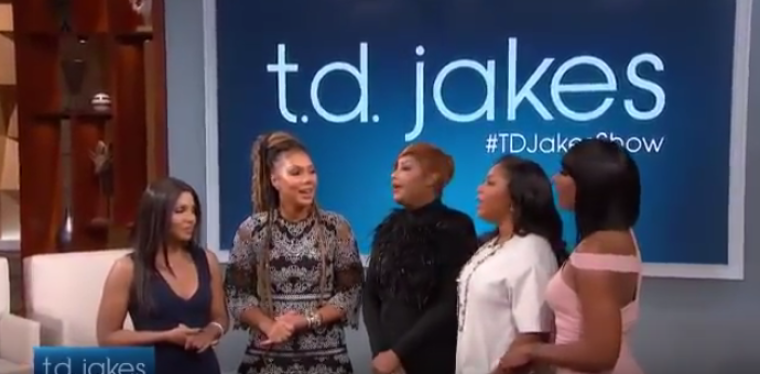 The world witnessed the Braxton sisters sing a hymn on Bishop T.D. Jakes' daytime talk show last year. But they are revealing now that there wasn't much harmony backstage when they were deciding on how to perform it.
The Braxton quintet, consisting of sisters Tamar, Trina, Traci, Towanda and Toni, sang the hymn "It Is Well With My Soul" on the T.D. Jakes talk show last December. But according to an exclusive clip of their WE tv reality show "Braxton Family Values," there were some disagreements with the song's arrangement among the sisters who seemed nervous about performing it in front of a live audience.
The eldest of the singing sisters, Toni Braxton, was unsure if she even knew the song and expressed concern about potentially having to learn it at the last minute.
"I'm not excited about learning a song at the last minute, but if Tamar says it's one I already know i guess I could try it," Toni says in the show.
Aside from being unsure of the song choice, Toni frustrates her sisters when she disagrees with the way they are singing it.
"It [doesn't] sound good like that," she critiques her sisters being led by Tamar.
When Tamar suggests Toni take the lead, the eldest of the group refuses because the notes are too high. In her confessional style interview, Traci Braxton expresses her frustration with her sister.
"Toni is soooo critical of everything," Traci says.
However, Toni explains her position in her own isolated interview on the show.
"We start practicing the song and right away I'm noticing it needs to come down a key or two," she explains. "But since they've already started practicing it in this key and it's the last hour I'm just going to adapt to what they're singing."
Trina Braxton expresses her own concern about the sisters messing up the song in front of Bishop Jakes and a live studio audience.
"This is being taped live in front of a studio audience so it has to be good or else you have people immediately going to social media saying, 'ugh they suck,'" Trina says. "And when it airs it's going to be a bad look for all of us."
The Braxtons have a history with Jakes who has helped the sisters overcome their issues with one another in the past.
The senior pastor of The Potter's House in Dallas, Texas, appeared on two episodes of their hit WE tv show where he chastised the five celebrity women for their constant bickering and the dissension that was growing among them.
"If you were my daughters, I would go ballistic," Jakes told the sisters with cameras rolling for their show. "They'd have to cut the cameras off."
After receiving Jakes' harsh criticism, Tamar revealed that he helped her family.
"Bishop T.D. Jakes came on and he gave us our life," she said in the interview with Power 105.1 DJ, Angie Martinez.
To find out how the Braxton sisters pull off their performance for Bishop T.D. Jakes, tune in to WE tv at 9 p.m. ET. Check out the exclusive clip from the show below.