'Exodus: Gods and Kings' Movie Trailer Released, Starring Christian Bale as Moses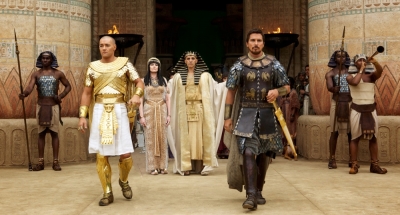 The much-anticipated trailer has been released for "Exodus: Gods and Kings," starring Christian Bale as Moses, along with a new poster for the biblical epic by Director Ridley Scott.
The one-and-a-half minute trailer focuses heavily on the relationship between Moses and the Egyptian Pharaoh Ramses (Joel Edgerton), who grew up together as brothers but then rise up against each other over Moses' mission to free the enslaved Hebrews.
The trailer depicts several large-scale action scenes, shows off the big-budget production, and includes snippets of the plagues sent by God on the Egyptian people.
Scott, who is also the director behind the Oscar-winning "Gladiator," brings together a star cast that also includes Aaron Paul as Joshua, John Turturro as Seti, Ben Kingsley as Nun and Sigourney Weaver as Tuya.
"Exodus," which is set to premiere later this year, is the second big-budget Hollywood Bible-based movie in 2014, after Darren Aronofsky's "Noah." "Noah" grossed over $359 million worldwide at the box office earlier this year.
According to a report by Variety, Scott may even be working on another film based on an Old Testament figure, this time David, the King of Israel.
"Sources tell Variety that Fox has tapped Jonathan Stokes to pen an untitled pic inspired by the character from the 'David and Goliath' tale and focusing on the King of Israel. Though the plot is under wraps, it's likely that the film would focus on the king's reign post-Goliath," the website states.
A movie on David is already planned for a March 2015 release by Christian director Tim Chey, though the plot is set to focus more closely on the famous battle between David and Goliath, the giant Philistine warrior.
The tagline for "Exodus: Gods and Kings" found in the new poster reads "Once brothers, now enemies." The movie is set for a U.S. release on Dec. 12, 2014.