Facebook Explains Why 'Trump Prophecy' Movie Ads Were Blocked; Studio Fires Back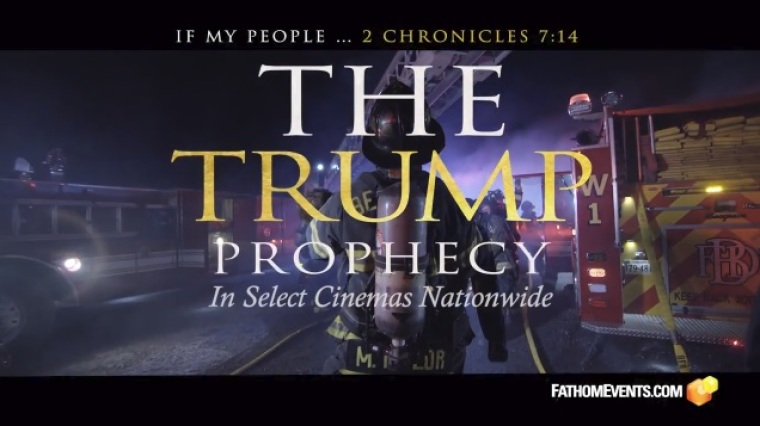 Producers for the upcoming film "The Trump Prophecy," which was produced in part by Liberty University students, say their attempts to place ads on Facebook promoting the movie were blocked for weeks by the social media platform until their situation was reported in the media last week.
A Facebook representative told The Christian Post Thursday that it never barred ReelWorks Studios from placing ads on its website but only prevented ads that didn't have political disclosures from being active, a claim that the studio strongly rejects. The film, which is being released in October, highlights the story of a retired firefighter who claims God told him in 2011 that Donald Trump would one day become president and impact U.S. relations with Israel.
The Facebook representative asserted that the reason why ReelWorks Studios and its CEO, Rick Eldridge, were unable to initially promote their film with paid ads on Facebook was because they didn't initially check a box when submitting the advertising proposals that called for a political disclosure to be presented when the ad is displayed.
However, a spokesperson for the studio shot back at Facebook's explanation.
The spokesperson told CP that it wasn't until after Fox News ran an article last Thursday about how the ads were blocked on Facebook for being "political" that the promoters of the film were presented with the option to check a box for political disclosure.
"Right after the FoxNews.com article posted, a brand new option in our ad manager showed up. It asked us to check a box that said: 'This ad contains political content,'" she said. "Though our ads are not political, we have had to check that box every time we run an ad that has the word 'Trump' in it because of their new policy. As far as our 'submitting the ads wrong,' our team did it exactly what it has done for the past 10 years."
"The process only changed after the FoxNews.com article ran," she contested. "All in all, Facebook disapproved six different ad sets with a total of approximately 40 different ads." 
She told CP that it took weeks for Facebook to respond to their complaints about their advertisements submitted in May. It wasn't until after the Fox News article that the organization was finally able to get a sustained ad campaign launched on the platform.
In a statement, the Facebook spokesperson explained that because the ads, the film and the film's website all feature the president's name or image, it required disclosure under Facebook's political ad policy. Essentially, the political disclosure means that a statement is featured along with the ad that would say something like: "paid for by [company's name]."
"To run this ad, the person running the ad simply needs to select the checkbox to add the political disclosure label," the spokesperson wrote in an email. "You'll notice that the film's page is running several ads successfully that do include the disclosure."
Facebook's new rules on disclosures for "political ads," which were discussed last year, were fully rolled out late last month, after ReelWorks initially tried to promote their ads. 
Facebook's ad policy states that any "political" ad must go through authorization process in which page administrators must submit their government-issued ID in order to be verified. The verification is confirmed through a letter mailed to administrators' addresses that contain a special access code that only the administrator's Facebook account can use.
Facebook deems as an ad with political content any ad that is "made by, on behalf of or about a current or former candidate for public office, a political party, a political action committee or advocates for the outcome of an election to public office."
"It's not President Trump's name specifically. It could be any candidate (former or current) of any party that would qualify the ad under this policy," the Facebook representative explained.
The 85-minute film was worked on by dozens of Liberty University students and staff as part of the Virginia Christian school's cinematic arts department's spring semester film project. The film will be screened at over 1,000 theatres in October.
"The name 'Trump' requires a reaction," Eldridge told Fox News. "Unfortunately, people try to come up with a conclusion before they know what the story is about. We're not doing political ads but that's what we're being accused [of]."
Mark Taylor, the man behind the prophecy, is the co-author of the book The Trump Prophecies: The Astonishing True Story of the Man Who Saw Tomorrow... and What He Says Is Coming Next.
The movie's director, Stephan Schultze, who heads Liberty's cinematic arts department, told Fox News that the movie is less about Trump than it is about the "events that occurred leading up to the [2016 presidential] election."
As previously reported, the film aims to show the audience how a movement of prayer helped pave the way for the Trump presidency.
"I hope it reflects an understanding that when people come together in prayer, how valuable that is not only for the people that are praying but for what they are praying for," Schultze, a veteran of the film industry, told CP in May.
Schultze added that from his perspective, the movie and Liberty University's involvement in it doesn't have "anything to do with any agenda related to supporting or not supporting Trump."
Although not featured in the film, Taylor is also known for other, more questionable claims. Taylor said last year that he believes that Trump will release cures for serious diseases like Alzheimer's in his second term and that former President Barack Obama will be charged with treason and imprisoned.
Taylor also believes that the Trump presidency shows that "God has denied the enemy's timeline" and that God is using Trump to move "God's agenda across the Earth."
Some have compared Trump to ancient Persian King Cyrus from the book of Isaiah and others have compared the president to King Nebuchadnezzar, who led his forces to destroy Jerusalem.
The film project comes as Liberty University President Jerry Falwell Jr. has been one of Trump's most loyal evangelical supporters.
As dozens of Liberty University students worked on the production and will be featured in the credits, some in the Liberty University community have voiced their opposition to the project.
Over 2,100 people have signed onto a Change.org petition against the cinematic arts department's involvement in the film.
"This movie could reflect very poorly on all Liberty students and Liberty University as a whole," the petition states. "Mark Taylor claims to have received prophecies directly from God that do not align with the Bible's message. Please support this petition if you think Liberty University should focus on reflecting God's message rather than Mark Taylor's message."
Facebook and other social media companies have been scrutinized by religious conservatives who feel that the tech giants are biased against their points of view and unfairly censor their promotions.
Earlier this year, Facebook banned paid ads for a pro-life film critical of Planned Parenthood that was produced by the niece of Martin Luther King Jr., Alveda King. However, Facebook later lifted the ban on the film's advertisements and said that the film had originally been "disapproved in error and was correctly approved upon appeal."
In addition to repeated uproars from Christian conservatives, Facebook has also received heat from activists and promoters on the left side of the political and theological aisle as well, who feel as though they have been censored too.