Liberty University Cinema Dept. Producing Feature Film 'The Trump Prophecy'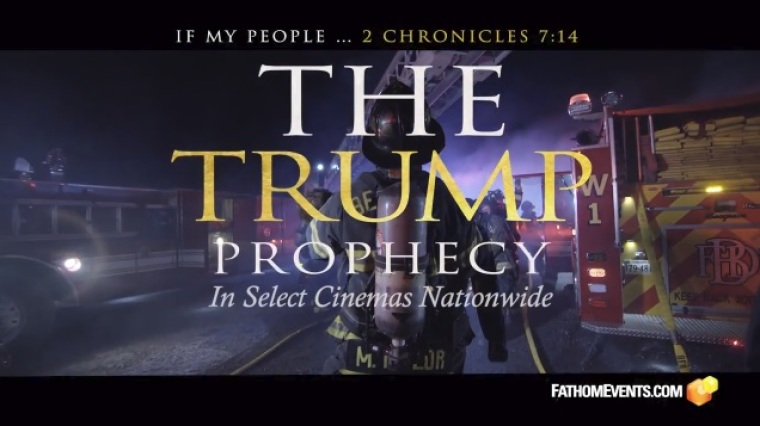 Liberty University students and faculty are helping produce an 85-minute feature film that will be shown in over 1,000 theatres nationwide highlighting one man's "Trump prophecy" and a movement of prayer that led up to the election of President Donald Trump.
The film, titled "The Trump Prophecy," will be shown at select cinemas nationwide on Oct. 2 and Oct. 4 and is a production led and funded by producer Rick Eldridge and his Charlotte-based ReelWorks Studios, which also helped produce the 2015 documentary based on the book Four Blood Moons by megachurch Pastor John Hagee.
About 56 Liberty University students and several staff members from the Virginia Christian school's cinematic arts department will also work on the project as part of the department's spring semester film project.
The film focuses on the prophecy of a retired Florida firefighter named Mark Taylor, who claims that God told him in April 2011 that Trump would one day become president. Although Taylor initially thought that meant that Trump would become president in 2012, the prophecy was ultimately fulfilled in November 2016.
Taylor's prophetic claim was described in his 2017 book, The Trump Prophecies: The Astonishing True Story of the Man Who Saw Tomorrow... and What He Says Is Coming Next.
With a budget of about $2 million, the movie claims to show viewers how a movement of prayer helped pave the way for the election of the 45th president of the United States.
"I hope it reflects an understanding that when people come together in prayer, how valuable that is not only for the people that are praying but for what they are praying for," the film's director, Stephan Schultze, the executive director of Liberty University Cinematic Arts Department, told The Christian Post on Tuesday.
"They have come together in the recognition that those prayers have value and build community and build a strong bond that allows for a president like Donald Trump to be elected. It created a bond within the Christian community."
Every year, Liberty University Cinematic Arts department tries to incorporate the production of a feature film into its curriculum for film students. According to Schultze, the department has led students in working on five feature films in its six years of existence.
Eldridge pitched the idea for the "The Trump Prophecy" to Schultze last November. After going through the process of getting the idea approved by the school's administration, filming was done in areas of Lynchburg and Bedford, Virginia, during the months of March and April.
Although the project is being led by Eldridge, Liberty students worked throughout the production and in the post-production, and received hands-on training doing credited work on the theatrical release.
"This particular semester, students get trained in two different areas, whether it be work in lighting or work in post-production or they work in the production office to learn how to produce or they work on the set or on the assistant producer's team," Schultze, who has years of experience in the film industry, explained.
Schultze said that the kind of jobs that the students are asked to do are jobs that some film professionals would have had to wait at least 10 years after graduating to even have the opportunity to do.
"It is a real credit when they graduate for working on a movie," he said.
With the film now in post-production, some students will stay on through the summer to help complete the film.
Considering that Liberty University President Jerry Falwell Jr. is one of the most vocal evangelical supporters of President Trump, and the film will be shown one month before this year's midterm elections, some might wonder whether there is a political motive behind the project.
"My biggest concern, though, is that it [could] lead to a hyper-patriotism, one in which the president cannot be criticized, or one that associates the Kingdom of God with America, or one that leads to some kind of spiritual triumphalism," nationally syndicated conservative radio host and Messianic Jewish scholar Michael Brown told The Christian Post in an email.
But as long as those issues are "kept in balance," Brown doesn't think there's much reason for concern about the school's involvement in the film project.
"I think it's great for a Christian university to make a movie about this," he said. "I certainly don't expect Berkeley or Harvard to do it."
Schultze assured CP that there is no political motive behind the project.
"I don't think this has anything to do with any agenda related to supporting or not supporting Trump, from my perspective," Schultze said. "I have been working for about three years in building a relationship with Rick Eldridge. I have been telling him to come make a movie with the students and how rewarding it is."
"He called me over Thanksgiving and said that he thinks he found a project that we may be able to work together on," Schultze added. "He told me about it and we thought about it over Christmas. We were also talking about Hallmark movies with Rick moving forward. It really is about building long-term relationships with people. If it would have been a Hallmark movie, that is what I would have brought [to the students]."
Over 1,800 people signed in support of a Change.org petition calling for the university to cancel the project, claiming that it will only hurt the university's reputation and make it harder for students to find jobs in "more liberal work environments."
"Mark Taylor claims to have received prophecies directly from God that do not align with the Bible's message," the petition reads. "Please support this petition if you think Liberty University should focus on reflecting God's message rather than Mark Taylor's message."
Others have questioned the prophetic claims of Taylor, who said last year that he believes that Trump will release cures for serious diseases like Alzheimer's in a second term.
John Fea, a professor of American history at Messiah College in Pennsylvania, who has been critical of prophetic claims pertaining to Trump, told CP that Taylor is just one of several Pentecostal "prophets" who claim to have predicted a Trump presidency.
"These so-called prophets — Mike Bickle, Lance Wallnau, Frank Amedia and the late Kim Clement come to mind — represent an ever-growing wing of American evangelicalism," Fea wrote in an email. "Journalist Steve Strang has provided an outlet for their prophecies through his popular Christian magazine Charisma."
Fea claims that the "prophets," have "built an entire approach to political engagement around their prophecies."
"Not all evangelicals believe in prophecy, but even if you do believe that God speaks to individual people about politics, it is very dangerous to design public policy and choose political candidates based on such prophecies," Fea argued. "These so-called prophets have no real religious or spiritual authority beyond themselves and the megachurch empires that they have created and over which they preside."
"Perhaps tonight I will have a dream or a vision that Donald Trump is really the Antichrist," Fea continued. "It seems to me that my dream has just as much prophetic validity as fireman Taylor."
Brown has previously offered his take on people's prophetic claims that God will use Trump for the good of America, as the president has been compared to ancient Persian King Cyrus from the book of Isaiah. If God chose Trump for a particular purpose, he could be more like Nebuchadnezzar than Cyrus, Brown noted, meaning a bad leader sent to punish God's people for their misdeeds and set them on a right course. 
"From what I can tell on the trailer, the prophecies received by the fireman seem to be the hook to draw people into a constructive discussion into what it means to make America great again, with the emphasis on the spiritual side," Brown said. "In that regard, I see nothing troubling or concerning."
Brown suggests that Christians shouldn't be surprised by prophetic claims made in the modern age because the "New Testament makes clear that the gift of prophecy was to continue until Jesus returns."
"We see that in 1 Corinthians 13:8–10; we see Paul encouraging believers to earnestly seek the gift twice in 1 Corinthians 14; we see Paul giving instructions for the use of prophecy in 1 Thessalonians 5; and Peter in Acts 2, clearly says that this gift will be poured out on all flesh during this period called 'the last days,'" Brown explained.
"But all prophecy must be tested, first against the Word, then against other criteria (including accuracy, etc.). We must not fall into the error of believing every spirit; but we must not fall into the error of not believing the Holy Spirit. That being said, no prophecy carries scriptural authority and is, at best, a word from the Lord, not The Word of God."