Facebook Suspends Christian Homeschool Mom's Account Over Posts Citing Bible on Homosexuality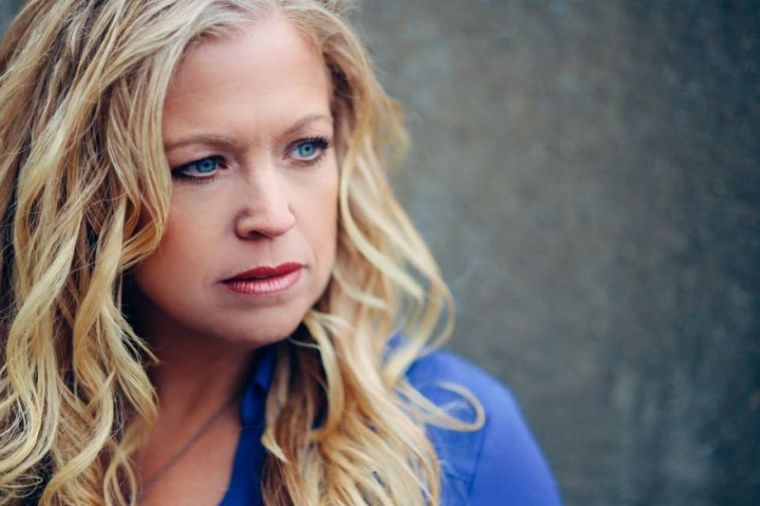 A Christian mother is accusing the social media giant Facebook of censorship after her account was suspended over posts on what the Bible says about homosexuality and sin.
Elizabeth Johnston, an Ohio homeschooling mother of 10 who runs the popular conservative blog "The Activist Mommy," told The Christian Post on Tuesday that Facebook suspended her account earlier this month because she wrote about how Leviticus condemns homosexuality as "detestable" and an "abomination."
Johnston said the comment in question was posted over six months ago in a long thread of comments that was in response to another Facebook user who claimed that Christians are hypocrites for condemning homosexuality but being willing to eat shellfish and pork.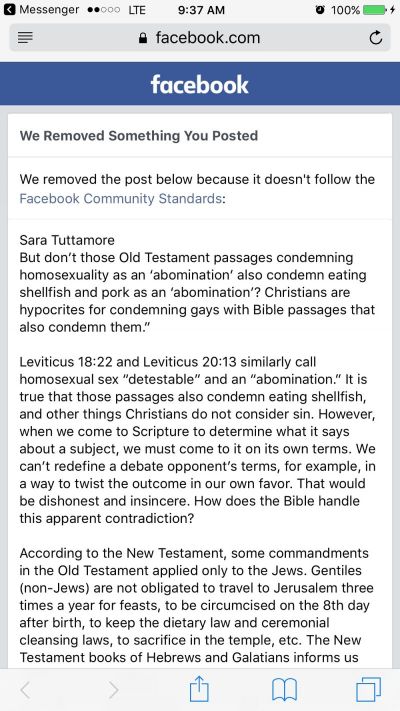 The post was removed on Feb. 9 and Johnston's public "The Activist Mommy" Facebook page, which has over 76,000 followers, was frozen for a period of three days. She was alerted that her comment on homosexuality was removed because "it doesn't follow the Facebook Community Standards."
"Someone had commented underneath one of my videos and were commenting under the thread and said something about how Old Testament law prohibits the eating of pork — one of the homosexuals' favorite arguments to make. I responded with just scriptural commentary and that is considered 'hate speech' by Facebook," Johnston explained. "It was just very intellectual and it was just a commentary on what the Bible says. There was no name calling or anything like that." 
After her account was unfrozen on Feb. 12, Johnston said that she re-posted her thoughts on the Bible's condemnation of homosexuality only to have Facebook remove the post again and freeze her account for an additional seven days.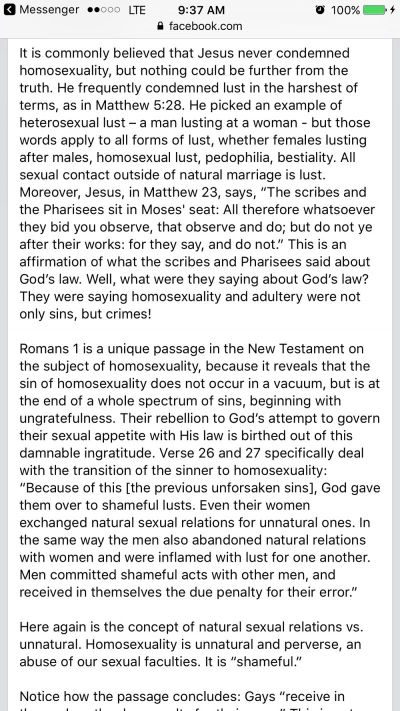 "Last Sunday, I posted something about the ban, explaining to my followers where I had been the last three days and reposted the screenshot and wrote #FacebookCensorship," Johnston said. "That ticked them off and they didn't like that at all. It was going viral. Just within a few hours, they had banned me again and they were going to make it more painful."
The widely used social media platform was surrounded in controversy last year after it was accused of censoring conservative news sites in its "trending news" section. At the time, Zuckerberg denied the allegations that Facebook suppresses conservative media outlets and assured that Facebook is "committed to building a platform for all ideas."
Zuckerberg later had a meeting with conservative media figures to hear their concerns and build trust. He assured that Facebook is a "platform for all ideas."
Facebook has yet to provide a concrete reason as for why Johnston's posts were removed and her account was suspended. But the organization's community standards explain that Facebook removes various forms of "hate speech" — a term LGBT activists have used to label traditional biblical teachings on homosexuality.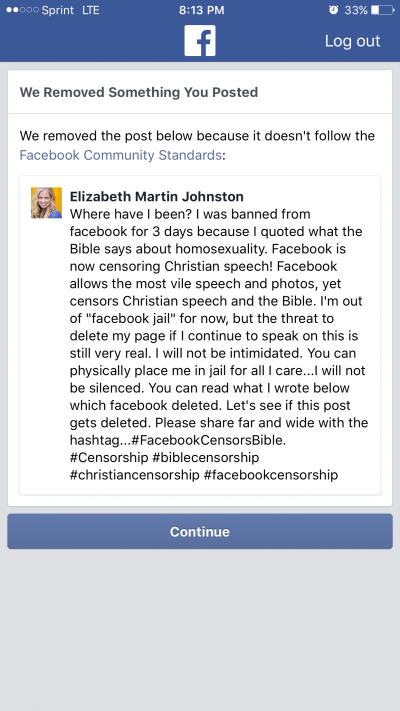 The community standards state: "Facebook removes hate speech, which includes content that directly attacks people based on their: race, ethnicity, national origin, religious affiliation, sexual orientation, sex, gender, or gender identity, or serious disabilities or diseases."
Johnston's post only cited Scripture and did not directly attack any person.
The Ohio mother contended that with the way the Facebook algorithm is set up is that all that is needed for her account to be frozen is for liberal trolls and LGBT activists to report her account.
Johnston, who launched her "Activist Mommy" blog in 2016, told CP that she had been active on Facebook for over 10 years and was never reported until she became "The Activist Mommy." Since then, she has had her account frozen three different times. The first time coming last year after LGBT activists complained about a video she posted of a local gay pride parade. 
"The fact of it is that the people who have more influence and a following as conservative Christians and have a larger voice in the culture are at greater risk for this type of thing happening," she stated. "We can be innocent as a baby but if a homosexual goes onto a website and tells everybody to report 'The Activist Mommy,' then I end up getting banned."
"It would be one thing if Facebook said, 'We're liberals. This is our page and we can do whatever we want. It's our property.' I would appreciate that at least they were being honest and transparent," she added. "But no, they lie and say 'we're unbiased.' But when Christians report nudity or pictures of Donald Trump assassinated with a bullet through his head, we get responses that say, 'This does not violate Facebook's community guidelines' and the post remains.'"
The Christian Post reached out to Facebook for comment on why Johnston's posts were removed and whether or not the platform allows its users to debate issues of homosexuality. No response was received by press time.
This is not the first time that Facebook has tried to censor somebody who posted about their opposition to the LGBT movement.
Last April after the controversy surrounding North Carolina's transgender bathroom bill became a national issue, Kristi Merritt of Lakewood, Washington, posted a series of photos on Facebook with the purpose of showing the flawed logic behind the Left's push for transgender rights.
Merritt dressed up in a series of outfits to prove her point that no matter what clothes somebody puts on, they are still the same biological sex they were when they were born.
One picture shows Merritt dressed up in a sombrero while she holds a Corona and a sign that reads, "Does this make me a Mexican?" Another photo shows Merritt dressed up like a pirate with a sign that reads, "Does this make me a pirate?" A third photo shows Merritt wearing a Russell Wilson Seattle Seahawks jersey while holding a sign that asks, "Does this make me Russell Wilson?" A fourth photo features a dress, purse and high-heel shoes laid out next to a sign that asks, "Then, how can this make a man into a woman?"
"A man in women's clothes does not make him a woman," Merritt wrote. "Men should not get to be in our bathrooms or lockers!"
In an update post, Merritt wrote that Facebook tried to get her to remove the pictures because they had been flagged for nudity even though she was fully clothed in all of the pictures. Merritt was told that in order to keep her account activated, she must remove the posts tagged for nudity.
"Facebook is trying to make me remove this post, they are saying it has nudity in it. Here's what's happening. The people who want to censor me are reporting it as having nudity when clearly it does not," she said. "THIS IS HOW THE LEFTIST HATERS function, only they have free speech!!!!"