5 Facts About Immigration Policy Separating Children From Parents, 1,475 Missing Children
2. The 'First Glimpse' of children in cages was from 2014; A 'prison bus' for babies.
A picture of young children lying on mats in cage-like arrangements at a border holding facility has reappeared online in the past week as though it was from 2018, when the photo was actually taken nearly four years ago, when Barack Obama was president.
Activist Shaun King, Women's March leader Linda Sarsour, former Obama speechwriter Jon Favreau, CNN reporter Hadas Gold, and New York Times magazine editor in chief Jake Silverstein shared the photo on Twitter, with some expressing their shock and disgust.
Silverstein, Gold and Favreau subsequently removed their tweets, but not before they had been screenshotted. Gold explained in a subsequent post that she deleted her previous tweet "because [it] gave impression of recent photos (they're from 2014)." Silverstein and Favreau also updated their Twitter pages to say that the photos were from 2014.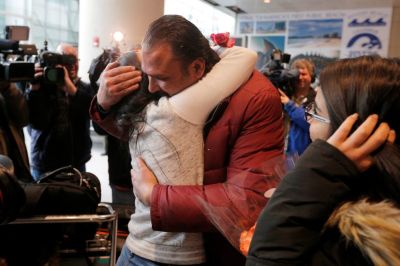 Fox contributor Steven Miller mused sarcastically: "So weird how Linda Sarsour, an Obama Pod Bro, Shaun King, a NYT editor & a CNN reporter all tweeted the exact same AZ central article thinking it was 2018 & not 2014. How do those things happen? It's a Scooby mystery that may never be solved." 
Others wondered where the outrage was in 2014 during the Obama administration.
Yet other photos that are more recent are surfacing and eliciting horror.
Antonio Arellano, a reporter with the Houston ABC affiliate tweeted an April 2016 photo of a bus equipped full of car seats that belongs to ICE's largest family detention center, Karnes County Residential Center in Texas, which is run by contractor GEO Group, calling it "a prison bus just for babies."
Russell Moore, president of the Ethics & Religious Liberty Commission was aghast, retweeting the photo along with Thomas Jefferson's famous quote denouncing slavery: "Indeed I tremble for my country when I reflect that God is just; that his justice cannot sleep forever."
The GEO Group says on its website that due to the expansion of the center in 2015, "new demands to an already unique transportation mission by requiring larger capacity vehicles to provide offsite field trips" were created.