Faith-Based Charity Bowery Mission Hosts 135th Thanksgiving Day Tradition of Feeding New York City's Homeless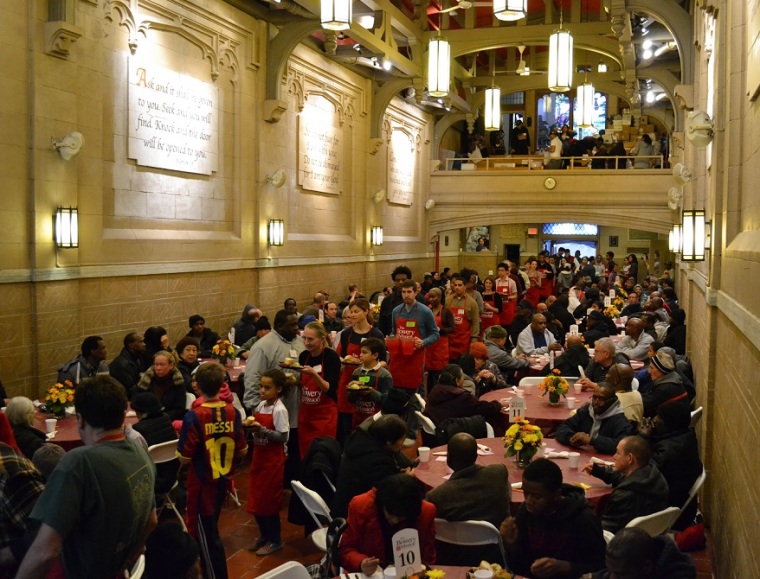 For the 135th year in a row, New York City's Bowery Mission will provide thousands of meals for city's homeless residents on Thanksgiving Day at their Bowery street location and other sites.
"More than 600 volunteers will prepare these meals and serve guests in the mission's century-old chapel, with music and festive decorations for the holiday," James Winans, chief development officer at the Bowery Mission, told The Christian Post.
"Meals will be served at 227 Bowery at 8 a.m., 10 a.m., noon, 2 p.m., 5 p.m., and 7 p.m. Additional meals will be added throughout the day, based on the demand," he said. "Each meal will be a traditional Thanksgiving meal, with turkey, potatoes, stuffing, green beans, gravy and all the fixings, and with pie for dessert."
Last year, Bowery Mission served 7,900 meals for New York City's homeless, with nearly 1,800 meals provided at their Bowery Street flagship site.
"Rather than determining a person's eligibility for services, investigating their immigration or housing status, assigning them a number or taking fingerprints, we simply seek to meet their specific need, no questions asked," Winans said in a previous nterview with CP.
"We do this based on our conviction that each person is God's creation and has infinite worth to God," he added.
Winans told CP that various "generous Thanksgiving sponsors" donated the necessary food supplies. These included Fifth Avenue Presbyterian Church, The Hain Celestial Group, the Judith C. White Foundation, Le Pain Quotidien, and Whole Foods Market.
Past sponsors for the privately funded charity have included Deutsche Bank, EMM Group, Heart of Tea and Toys For Tots.
Founded in 1879, Bowery Mission boasts of having provided over 390,000 meals to the needy so far this year, as well as 98,000 nights of shelter and 45,000 items of clothing.