Faith-Based Hand-in-Hand Hurricane Relief Concert With Pastor John Gray, Justin Bieber Raised $44M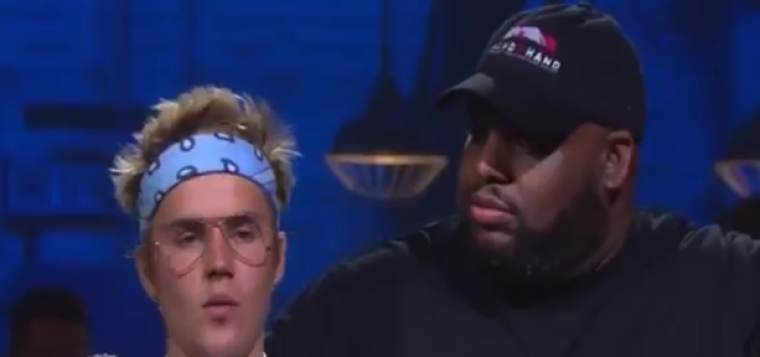 The "Hand–in-Hand" telethon that took over airwaves on Tuesday night did more than raise money for victims of Hurricanes Harvey and Irma, it also served as a platform for some powerful faith based moments.
Bible-believing Christians joined people from other faiths in a benefit telethon that raised $44 million for victims of the hurricanes and flooding that swept Texas, Louisiana, Florida, Georgia, and the Caribbean. Among the moments of unity is when 23-year-old pop star Justin Bieber was joined on stage with Rabbi Ari Lukas, Jihad Turk, the director of religious affairs at the Islamic Center of Southern California and Pastor John Gray from Lakewood Church in Houston, Texas.
The singer revealed how grateful he was to be a part of the cause before asking people to give "whatever you can." He went on to introduce Gray for prayer.
"I got my man here and we're going to say a quick prayer. So, you want to lead it," the singer asked, turning to the pastor.
Outfitted with a baseball cap and Houston T-shirt with the letters "US" capitalized in the middle, Gray introduced Bieber andthe religious leaders standing with him before praying.
"God we the faith community come asking for wisdom, discernment and compassion as we walk alongside those who have lost so much; loved ones, homes, businesses and hope," Gray began. "Cause us to be the hands and feet with compassion to all who are in need no matter the background. In a time of great division in our nation, may we lay down our differences and pick up our common humanity."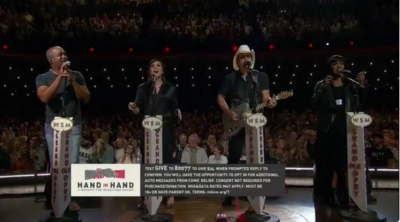 After asking for healed hearts and the restoration of lives, Gray closed the prayer with a praise of Hallelujah instead of Amen.
"Though we don't yet understand the purpose of the storms, we know you will guide us through the storms," he said. "So we close this prayer, not with an Amen but with a praise rooted in an eternal hope, Hallelujah."
The theme of giving high praises to the Lord in the midst of devastation continued throughout the night with a performance from Christian singer Tori Kelly and "Despacito" singer Luis Fonsi whose hit collaboration with Bieber has spent some time at No.1 on Billboard charts.
California born Kelly joined forces with Fonsi from Puerto Rico for a duet of the hymn "Hallelujah" which they sang in both English and Spanish collectively. Another notable faith-based collaboration took place when Grammy award-winning gospel legend CeCe Winans teamed up with fellow Christian pop stars Demi Lovato, former Hootie & the Blowfish frontman Darius Rucker, and country singer Brad Paisley to perform the Joe Crocker classic, "With a Little Help From My Friends" from the The Grand Ole Opry in Nashville, Tennessee.
The telethon aired on all major networks and select cable stations Tuesday from Los Angeles, New York and Nashville. For more information about the benefit telethon and relief efforts, click here.