'Faith Is a Big Part of My Life, I Talk to My Pastor Judah Smith Almost Every Day,' Says Seahawks QB Russell Wilson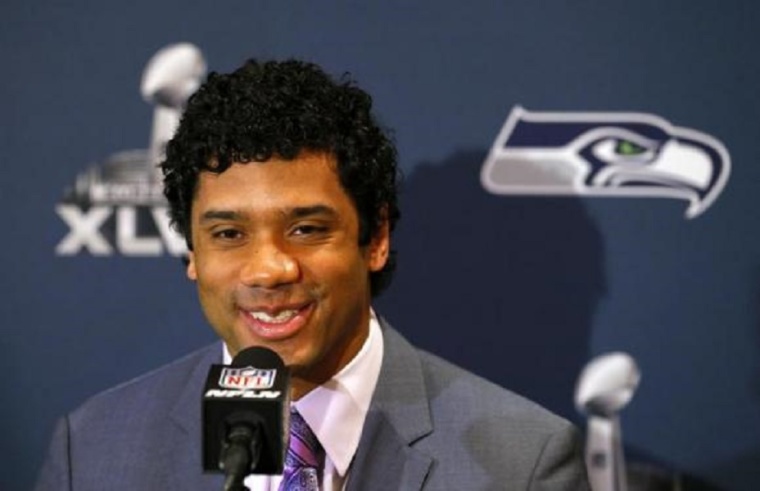 Christian Seattle Seahawks quarterback Russell Wilson's star continues to rise slowly, and the more it rises the more outspoken he has been about the power of faith in his life.
And in just days before he makes his second-consecutive Super Bowl appearance on Sunday, he explained how his faith and his team's "one mission" vision has helped to make them a special breed of champions.
"Ever since we were struggling at 3-3 earlier this season, we talked about our one mission. This isn't your standard rah-rah speech. The mission isn't just about winning the Super Bowl. It's about something bigger than football. It's about playing for one another, even if that means sacrificing personal stats, even if that means going an entire game without getting the ball," explained Wilson of his team's philosophy in a personal account in The Players' Tribune where he also serves as senior editor.
After a stunning and historic 28-22 come-from-behind overtime victory over the Green Bay Packers in the NFC championship game two Sundays ago, Wilson wept and prayed openly and gave all praises to God above anyone else on the field. And he explained how he uses that faith to inspire and be inspired by the people around him.
"Faith is a big part of my life, and I talk to my pastor Judah Smith almost every day. One thing that he has really instilled in my heart this season is the idea of 'surrender and surround.' Surrender yourself to a higher cause, and surround yourself with special people," he wrote.
"This team is filled with late-round draft picks and unheralded free agents and underdogs who have turned into incredible football players. But when people ask me what makes this team special, it's hard for me to explain in the usual terms," he continued.
"The defense is unbelievable, of course. Marshawn is a one-in-a-generation running back. But it's about more than just football. I've had so many conversations with Robert Turbin this year that have gone late into the night. Robert is my running back. But he's also the guy who I talk to about life. About who we want to be 15 years from now, not just as football players but as husbands and fathers. That's just as important to my legacy as whatever happens this Sunday," he noted.
"There's a Bible verse that is very close to my heart. John 3:30. 'He must increase, I must decrease.' That defines this year for me. In my life personally, I've noticed that people tend to put you on a pedestal when things are going well. It's easy to hit the reset button when things are going bad. But will you be able to hit the reset button when things are going well? That's a challenge that's bigger than football," he said.
Wilson's Seattle Seahawks will meet AFC champions the New England Patriots in Super Bowl XLIX, which will be played at the University of Phoenix Stadium in Glendale, Arizona, on Feb. 1.