'Fallout: New Vegas' Mod gives 'Five Nights at Freddy's' Experience
A new mod created for "Fallout: New Vegas" gives players a "Five Nights at Freddy's Experience" in the game's nuclear shelter vaults.
Obsidian Entertainment and Bethesda Softworks' action RPG, "Fallout: New Vegas" just got a new mod called "Five Nights at Vault 5" that takes players on a horror-survival campaign deep in the game's post-apocalyptic nuclear shelters, calling to mind the tense and terrifying "Five Nights at Freddy's."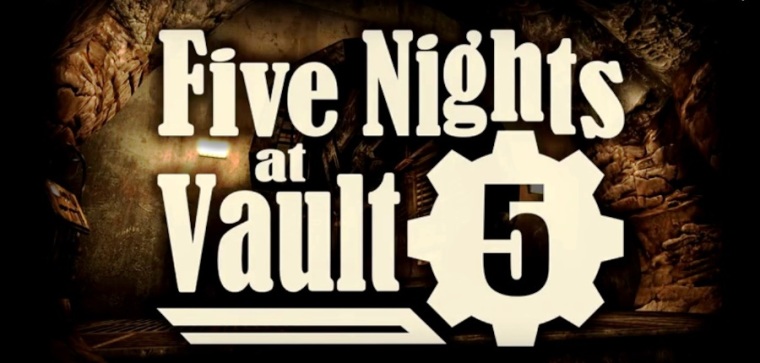 The mod, created by video game modder, ZuTheSkunk, takes place in Vault 5, an arena designed by Vault-Tec to mimic a survival training program. Located in one of the game's abandoned vaults in the center of the "New Vegas" map, Vault 5 opens up to reveal a fully functional Arena.
Following indie developer, Scott Cawthon's horror survival runaway success, "Five Nights at Freddy's," players in the "New Vegas" vault survival mod are forced to remain inside the arena from midnight to 6AM the next day for five consecutive nights.
Except for a Vault 5 suit and a bomb collar to fit around their character's neck, players will have no weapons, gear, or even a first aid kid to help them. Given only 30 seconds to explore the whole arena, players must avoid the robot patrols whose only objective is to catch them. The only means of saving themselves would be to close the doors in the arena to prevent the robots from entering, playing a game of hide-and-seek to survive five nights in a row.
When a player is spotted by a robot, it instantly charges at rapid speed, giving little to no time to react. As soon as the robot hits, the explosive collar detonates, killing the player instantly.
Unlike "Five Nights at Freddy's" security guard however, players will not be stuck in one room but will instead have the run of the whole vault, using endurance, stealth, cunning, fast reflexes and daring to outsmart the robot patrols.
Vault-Tec has recently released its 1.0 update for the fully voiced mod, marking its completion, and giving players five whole nights to successfully evade the robot guards.
The "Five Nights at Vault 5" mod is available for download at Nexus Mods for "Fallout: New Vegas."