Family advocacy group accuses Gov. Noem of caving to LGBT lobby after veto of bill to protect girls' sports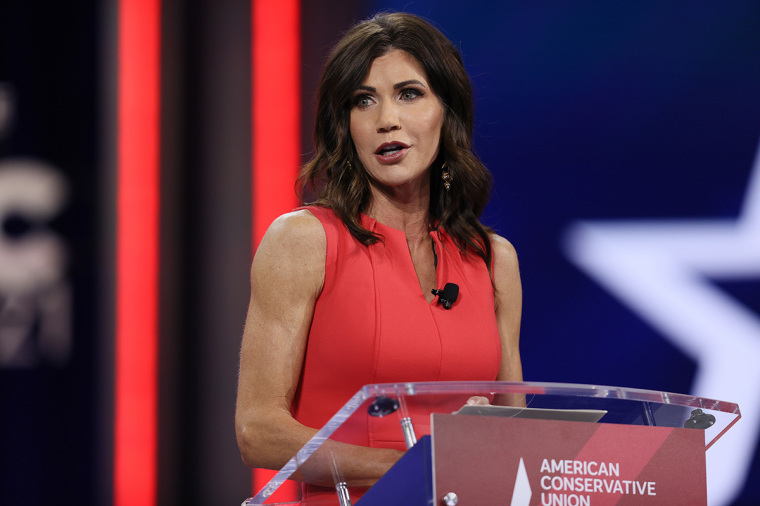 A family advocacy group has accused South Dakota Gov. Kristi Noem of caving the LGBT lobby after she refused to sign legislation that would ban biological males who identify as female from competing in women's sports and instead issued a "style and form" veto to the bill.
In a petition launched by the socially conservative International Organization for the Family, the group urges Noem to "Defend Women" and "Sign House Bill 1217 Into Law." The group also accuses her of engaging in "double speak."
House Bill 1217, which would restrict the ability of males who identify as transgender to compete in women's sports, passed both houses of the Republican-controlled South Dakota Legislature.
Noem issued a style and form veto of the bill, urging the legislature to make revisions to certain parts of it that legal experts she consulted with warned could pose legal problems for the state.
One of the parts of the bill Noem wanted revised banned biological males who identified as females from competing against biological females in college athletics. According to Noem, "South Dakota has shown that our student athletes can compete with anyone in the country, but competing on the national stage means compliance with the national governing bodies that oversee collegiate athletics."
The International Organization for the Family asserts in its petition, however, that Noem's " ... misguided veto of House Bill 1217 is a sell out to the radical LGBT lobby and to big time sports leagues like the NCAA." 
"When the Legislature passed this legislation, you took to the national stage to promise that you would sign it to defend women's sports. But when the pressure was on from LGBT radicals, the NCAA and their corporate backers, you caved.
"You are engaging in double speak by asking the legislature to 'fix' House Bill 1217 when your 'fix' would actually gut the bill. Forcing female athletes attending colleges and universities in South Dakota to compete against biological males is no fix at all. Women will lose out on college scholarships and be denied the ability to compete on an even playing field."
"Young women in South Dakota at every level of school should have the right to compete against other women, not be forced to compete against biological men. Please retract your suggestion that the legislation be 'fixed' by exempting college and university level athletics, and then sign it into law at the earliest opportunity," the petition continued.
As of Friday afternoon, the petition had amassed nearly 4,500 signatures.
In the wake of backlash from conservatives, Noem stood by her decision to ask for revisions to the bill. She held a press conference Monday detailing conversations she had with legal scholars who assured her that "South Dakota's chances of winning a lawsuit against the NCAA are very low," warning that the punitive action the NCAA would take against South Dakota as a result of the passage of such a law would harm the state.
Noem also announced the creation of a multi-state coalition featuring "athletes, leaders and everybody who cares about protecting women's sports."
"Once we have enough states on board … a coalition big enough where the NCAA cannot possibly punish us all, then we can guarantee fairness at the collegiate level," Noem maintained. At the press conference, she announced that Mississippi and Oklahoma had signed on to the multi-state coalition.
Noem announced on Twitter Thursday that Louisiana Attorney General Jeff Landry had signed on to her "Defend Title IX Now" coalition. The Defend Title IX Now website also includes a statement of support from South Carolina Attorney General Alan Wilson, indicating that four states besides South Dakota have joined the coalition.
While a handful of conservative attorneys general and the Rev. Franklin Graham have expressed support for Noem's efforts on the national level, many conservatives affiliated with organizations besides the International Organization for the Family remain dissatisfied with Noem's actions at the state level.
Terry Schilling of the American Principles Project described Noem's press conference as a "textbook example of political theater." According to Schilling, Noem's multi-state initiative was a "meaningless gesture calculated to deflect criticism of her surrender to NCAA threats."
As South Dakota's House Bill 1217 remains in limbo, other states have already passed legislation guaranteeing that biological females will not have to compete against biological males. Idaho and Mississippi had already passed such legislation before Noem's Monday press conference, while Arkansas Gov. Asa Hutchinson signed the "Fairness in Women's Sports Act" into law on Thursday.
The efforts to pass laws banning trans-identified athletes from competing in women's sports comes as congressional Democrats work to pass the Equality Act, which conservatives argue will enable biological males to compete in women's sports nationwide because of its protections against discrimination based on sexual orientation and gender identity.