Famine of 'Biblical Proportions' Descending Upon Yemen; Child Dying Every 10 Minutes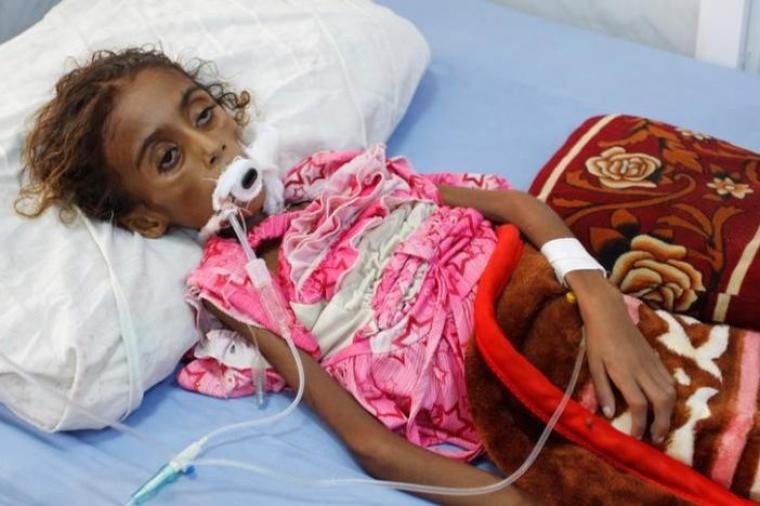 Yemen's civil war has brought the country on the brink of a famine of "biblical proportions," humanitarian aid workers said, with a child dying every 10 minutes, according to some.
Jan Egeland, who heads the Norwegian Refugee Council and also advises the United Nations on Syrian humanitarian operations, told Reuters on Thursday that Yemen's civil war might be less known than Syria's, but it has led to a major disaster as well.
"All our efforts through the World Food Programme reached 3.1 million of seven million people who are on the brink of famine. So it means basically that four million people got nothing in April and these people are staring into the naked eye of starvation," Egeland said.
"We will have a famine of biblical proportions, if it continues like now with only a portion of those in greatest need getting humanitarian relief," he added.
The war is being fought between Iran-aligned Houthi rebels and a Saudi Arabia-backed coalition, both of whom claim to have control of the country, with the Islamic State terror group attempting to spread its influence as well.
The United Nations said that at least 10,000 people have been killed in the fighting that began in 2015, but fears are the real number could be much higher.
Christians have been directly affected as well. Salesian priest Fr. Tom Uzhunnalil was kidnapped by Islamic radicals last year during an attack on a rest home for the sick and elderly in Aden, which also led to four nuns and 12 other people being killed.
According to Vatican Radio, which was reporting on Pope Francis' prayers for Uzhunnalil, humanitarian groups stated that a child dies every 10 minutes in Yemen.
U.N. Secretary-General Antonio Guterres made a similar observation last week during a donor conference in Geneva, Switzerland.
"On average, a child under the age of five dies of preventable causes in Yemen every 10 minutes," Guterres said at the time. "This means 50 children in Yemen will die during today's conference, and all of those deaths could have been prevented."
Wael Ibrahim, country director with CARE International, part of an international network of humanitarian organizations helping suffering people, told Vatican Radio: "The humanitarian situation is very difficult."
"Sana'a Airport has been closed since August, last August, which means people, even if they have money, they cannot go for medical care. Students cannot resume their studies. Business people cannot run business," he lamented.
"So the economic difficulties of being able just in and out of the country are tremendous, and it takes, for example, thee days for us to be able to send one person out of Yemen to go to a meeting or to a workshop."
Ibrahim noted that CARE is trying to raise $2.1 billion in humanitarian support, but stressed that even that will not be enough to provide sufficient help to the 26.5 million Yemenites.
Still, the aid director praised Pope Francis for continuing to speak out about the crisis in the country, arguing that it sends a "strong signal" to the people in Yemen that they are not forgotten.
"I'm not sure there is a huge Christian population in Yemen, but the fact that it's come from a spiritual leader like the pope, it gives them a message of hope that the world is looking," he said.
"The world is interested, and the areas where you least expect it, for example the Vatican, you are getting strong moral support."
Both Egeland and Ibrahim seperately admitted that the political situation in the country is highly complex, though the former urged the United States and Britain to do all they can to help put an end to the war, given that they are allies to Saudi Arabia.