'Fanatical Killing of Children' in Syrian Civil War Is a 'Cruel Tragedy Without End,' Says Maronite Archbishop
'Fanatical Killing of Children' in Syrian Civil War Is a 'Cruel Tragedy Without End,' Says Maronite Archbishop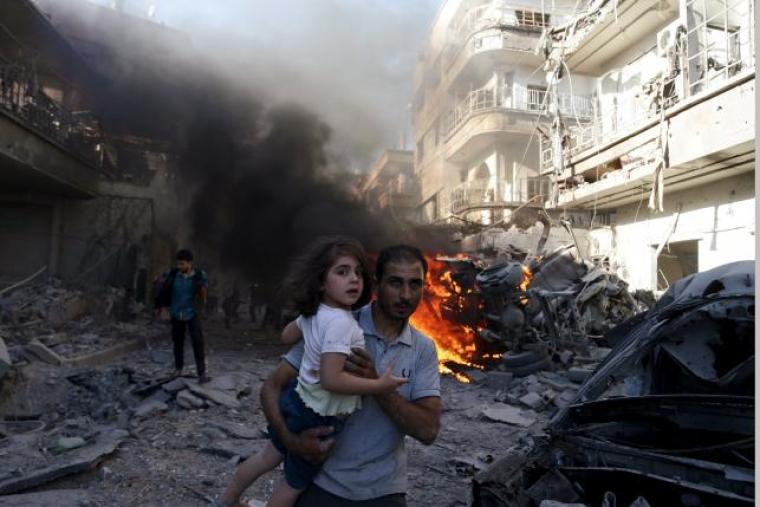 Maronite Archbishop Samir Nassar from the Syrian capital of Damascus has said that nine people have died and at least 50 have been wounded in mortar attacks on two churches in his neighborhood. Nassar described the ongoing civil war as a "cruel tragedy without end."
"Part of the war in Syria is to live under indiscriminate bombing, a kind of Russian roulette which is always unpredictable," Nassar told Fides News Agency, lamenting the latest attack on Sunday.
"Of those who died," he added, "At least you will not have to see and live this cruel tragedy without end. You will not see your children, your friends and your neighbors suffer and die in the blind violence and fanatical killing unable to save them or help them without understanding why."
Major Syrian government bombings on areas east of Damascus have killed at least 247 people in the last 10 days, including 50 children, the Syrian Observatory for Human Rights has said. The airstrikes are part of an effort to push back rebel groups trying to bring down the administration of President Bashar al-Assad, in a civil war that has raged since 2011.
The Civil Defense, a rescue service operating in the region, told Reuters that as many as 1,200 people have been wounded in the airstrikes. The total death toll from the four-year-old civil war stands close to a quarter of a million people, while over 11 million have been driven from their homes.
United Nations humanitarian chief Stephen O'Brien has expressed his horror at the mass bombings, and said that all sides in the conflict are responsible for the civilian deaths.
"I am absolutely horrified by the total disregard for civilian life by all parties in this conflict," O'Brien said. "Attacks on civilians are unlawful, unacceptable and must stop."
Christians have suffered greatly in the cross-fire between the government and the rebels, and have also faced extreme persecution at the hands of terror group the Islamic State, which has captured significant territory in the war-torn country.
Jean-Clément Jeanbart, the Melkite Greek Catholic Archbishop of Aleppo, warned back in June that Christians are slowly disappearing from the region.
"In my country, Syria, Christians are caught in the middle of a civil war and they are enduring the rage of an extremist jihad. And it is unjust for the West to ignore the persecutions these Christian communities are experiencing," Jeanbart said in an article.
"What horrors must ISIS commit before the world will take greater action to stop the murderers?" he asked. "Syrian Christians are in grave danger; we may disappear soon."
Speaking on Sunday's attack on the Maronite churches in Damascus, Nassar noted that survivors have been forced to bury the dead without being able to treat the wounded, since they lack the means and competence to help.
"They sink into silent prayer before the relics of martyrs, the seeds of faith," the Maronite Archbishop said.