Fantasia Barrino Gets Married 'The Right Way' for Christmas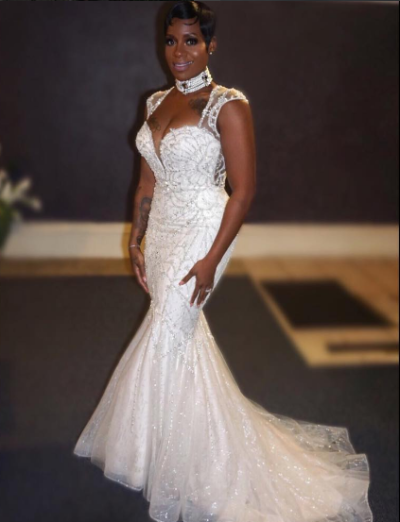 "American Idol" season three winner Fantasia Barrino celebrated Christmas by renewing her vows to her husband in a ceremony that she is calling "the right way."
The R&B singer professed her love for her husband, Kendall Taylor, all over social media this Christmas after the two renewed their vows last weekend. Posting pictures of herself in a stunning white Justin Alexander signature gown, Barrino gushed over her husband and their love for one another.
"I love you so much that I'd do it over and over and over again! When I met you, I just never knew! It's almost like I may have known you in another life. Like this love has happened before and that's how it works so well between us because we've been here before. So we did it AGAIN! The right way ... so ... Yes I DO."
Taylor and Barrino were first married in July 2015 reportedly after only three weeks of dating. They first became husband and wife in an intimate yacht ceremony that shocked some of Barrino's guest who did not know the two were together.
In an interview with Billboard this summer, Barrino spoke candidly about her husband and revealed how she knew he was right for her.
"I just knew [he was the one]. I was getting ready to go on the road, and he got on his knees and said, 'Can I pray for you? I just want to cover for you down the road,'" she said.
From her time on "American Idol," the 32-year-old was always very open about her tumultuous life and relationships in the past. Prior to meeting her husband she was a single parent to two young children and attempted suicide in 2010 while going through a divorce from Antwaun Cook.
Since marrying Taylor, Barrino has been publicly talking about her desire to record gospel music. The singer recently turned one of her concerts in Florida into a worship service in which people came to faith in Christ.
Several video clips posted online show Barrino singing a cover of Jonathan David and Melissa Helser's worship song "Abba."
Barrino is now wrapping up a busy 2016, with the release of her new album, The Definition Of.. and an appearance on the series finale of "American Idol." She hits the road in 2017 with Charlie Wilson and Johnny Gill on the In it To Win It Tour, kicking off Feb. 8, 2017.