Fasting, Prayer Vigil to Be Held for Youcef Nadarkhani's Birthday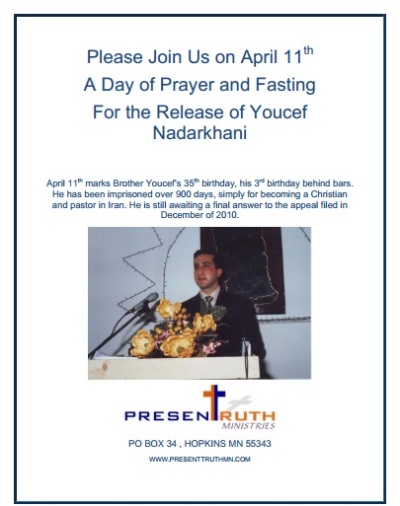 Christian mission organization Present Truth Ministries has planned an international fasting and prayer vigil for April 11, 2012, in honor of Pastor Youcef Nadarkhani's 35th birthday. This is the third birthday Nadarkhani has spent in an Iranian prison for his Christian faith.
Jason DeMars, founder of Present Truth Ministries, has called on supporters to pray on April 11 for Nadarkhani's wisdom, strength, peace, and release from prison.
"The most powerful action we can take as Christians is to pray. The Bible says, 'The prayer of a righteous person has great power as it is working.' We can use our voices to speak against this injustice, we can work with various advocacy groups and make political statements and we need to do that," DeMars told The Christian Post via email.
DeMars went on to say that prayer is a far more powerful form of advocacy.
"When we fast and pray together we build up a great power that moves the heart of God to take action. God can work on the hearts of Iranian officials in a way that no government can. We pray that God will forgive Youcef's persecutors and that they will see something real and genuine to bring them to repentance," he added.
Present Truth Ministries has created a "Youcef's Birthday Flyer," which includes a picture of the imprisoned pastor and the date of his birthday. The flyer has been circulated on the Internet through Twitter and Facebook to notify his supporters of the upcoming date.
Although Nadarkhani has remained imprisoned for over 900 days, he was able to see his son on the young boy's birthday, April 2, as authorities allowed the family to visit the pastor in prison.
The American Center for Law and Justice says this news proves Nadarkhani, whom it describes as a man of strong Christian conviction, is still alive.
"Not only does this mean that Pastor Youcef is still alive, but it is a precious reminder of what we are fighting for – freedom for a loving father, a devoted husband, a caring pastor, and a devout follower of Christ," said the ACLJ in an April 2 press release.
Nadarkhani was arrested in Oct. 2009 for protesting the government's mandatory teaching of Islam at his children's school. His charges were later changed to apostasy and attempting to evangelize Muslims.
Although he was originally found guilty of apostasy and sentenced to death, international pressure on Iran has caused the country's judiciary to recant their sentencing.
So far, the White House, U.S. Department of State, Brazil, the Netherlands, Germany, Mexico, United States, Europe Union, France, and Great Britain have all openly condemned Nadarkhani's imprisonment.
On Feb. 22, 2012, the ACLJ announced that an execution sentence had been issued for Nadarkhani.
The international community awaits further news on the development of the evangelical Christian's case.
Nadarkhani's two sons, Daniel and Yoel, await their father's release along with his wife, Fatema Pasindedih.