13th Amendment may contain 'right' to abortion despite Dobbs ruling, federal judge says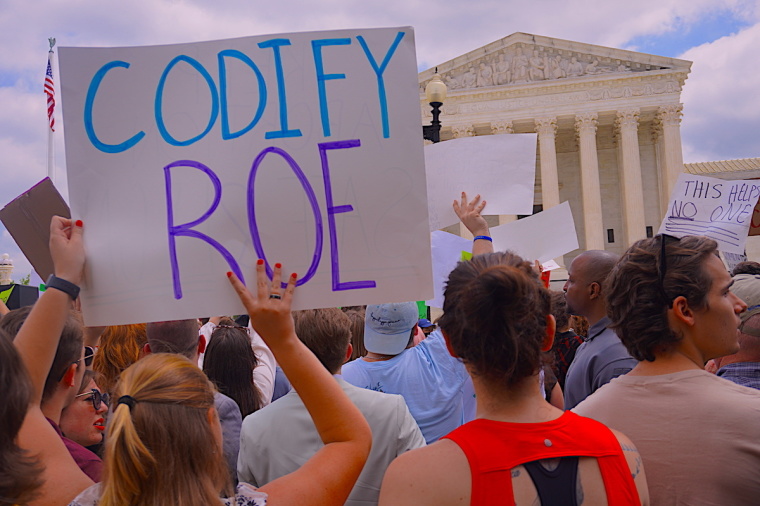 A federal judge handling the criminal case of a pro-life activist has suggested that other provisions in the U.S. Constitution — specifically the 13th Amendment — may confer a right to abortion after the Supreme Court struck down Roe v. Wade last year.  
Defense attorneys argued this month for the dismissal of a federal indictment against a pro-life activist Lauren Handy, who is one of 10 activists indicted for blocking the entrance to the Washington Surgi-Clinic in Washington, D.C.
The activists were charged with violating the Freedom of Access to Clinic Entrances (FACE) Act, which carries up to 11 years in prison.
Her attorneys cited the U.S. Supreme Court's ruling last June in the case of Dobbs v. Jackson Women's Health Organization that the "Constitution does not confer a right to abortion," overturning the 1973 decision that legalized abortion nationwide. 
Her defense claims that the court's ruling means there is no federal interest in protecting access to abortion.
According to a Monday order by U.S. District Court Judge Colleen Kollar-Kotelly, the FACE Act is intended to "regulate a broad category of reproductive health services," not just abortion. 
"Nevertheless, to the extent that Defendants seek resolution of this matter via a constitutional holding, the Court will require additional briefing," Kollar-Kotelly wrote. 
The federal judge extended the schedule for non-evidentiary pre-trial motions in the case because the court requested parties to address additional issues. Kollar-Kotelly wrote that the government will file a response by March 3, 2023, with defendants given until March 17, 2023.
The judge asked the parties in the case to consider whether the Dobbs ruling is confined to the 14th Amendment and whether other provisions in the Constitution "confer a right to abortion as an original matter." 
Kollar-Kotelly, who Democratic President Bill Clinton appointed in 1997, suggested that the 13th Amendment, which was ratified to ban slavery and "involuntary servitude," could contain a constitutional right to abortion.
"Of those provisions that might contain some right to access to such services, the Thirteenth
Amendment has received substantial attention among scholars and, briefly, in one federal Court of Appeals decision," she wrote.
She claimed that the justices in the Dobbs ruling only focused on the 14th Amendment. 
"The 'issue' before the Court in Dobbs was not whether any provision of the Constitution provided a right to abortion. Rather, the question before the Court in Dobbs was whether the Fourteenth Amendment to the Constitution provided such a right," she wrote.
"That is why neither the majority nor the dissent in Dobbs analyzed anything but the Fourteenth Amendment. In fact, on the Court's initial review, not a single amicus brief mentioned anything but the Fourteenth Amendment and the unratified Equal Rights Amendment. "
Sarah Parshall Perry, a senior legal fellow for the Edwin Meese III Center for Legal and Judicial Studies at The Heritage Foundation, a conservative think tank, asserted that the Dobbs opinion was "very clear." 
"Now, there's been some, what I would consider minor scholarship, on the issue of 13th Amendment arguments for abortion access," Perry told The Christian Post Tuesday. 
"But what those arguments fail to consider is that in 98% of the cases that result in a pregnancy, the consensual act of sex leading up to it is actually one that precipitates whatever this argued state of servitude is." 
The legal fellow noted that the issue at hand is not the "servitude of motherhood" but what Perry referred to as a "temporary inconvenience of carrying a child to term," citing Justice Amy Coney Barrett's arguments in Dobbs. 
"So it can't necessarily, by its very definition, be servitude if we know that this is a period of time that has a natural expiration date," she argued. 
Perry argued that Kollar-Kotelly appears to have "extrapolated something out of thin air," noting that the judge provided this opinion in what was intended to be an order.
She added that the federal judge took on the issue of the 13th Amendment and abortion access without being prompted by any party to the litigation. 
"That indicates to me she was very eager to stake her claim as somebody who wants to make sure that there was a decision and briefing somewhere, providing a separate constitutional right to abortion," Perry said. "Her aims here were very clear." 
Perry argued that determining whether there is a constitutional right to abortion is a matter for the state courts. She emphasized that the nature of federalism means that some states will have more permissive abortion regimes, such as California and New York, while others states will be more restrictive. 
"But that's the way a federalist approach to government works," Perry said. "That's the nature of a constitutional republic. And what it does is it keeps within the state borders those particular questions for those particular state constitutions without casting them as federal constitutional questions."
Michael New, an associate scholar at the pro-life research organization Charlotte Lozier Institute, called Kollar-Kotelly's suggestion that a constitutional right to abortion can be found in the 13th Amendment "absurd." 
"Furthermore, lower court judges are supposed to abide by Supreme Court precedent, not invite parties to put forward arguments that could overturn Supreme Court precedent," New told CP in a statement.
"Indeed, over the years, there have been many conservative lower-court judges who likely thought that Roe and Casey were wrongly decided," he continued. "For years, these judges heard numerous cases involving abortion. In every case, these conservative judges, regardless of their misgivings, still upheld Roe and Casey as precedent."
"Judge Colleen Kollar-Kotelly should rule on the merits of United States of America v. Lauren Handy et al., — not think up legal strategies to make abortion policy more permissive."