Federal Officials Raid Benny Hinn Ministries and Won't Say Why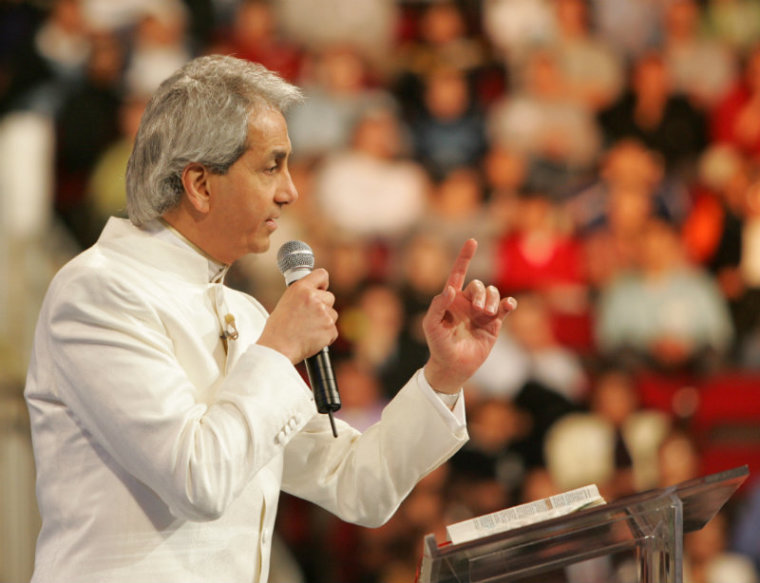 IRS criminal investigators and inspectors with the U.S. Postal Service executed a raid on the offices of popular miracle-working televangelist Benny Hinn in Grapevine, Texas, Wednesday but it was unclear what they were searching for.
A report from NBC 5 said a large number of federal agents including IRS officials who primarily investigate tax evasion and general fraud against the government were seen walking in and out of Hinn's offices with boxes. They did not say, however, what they were doing.
"It looked like a big raid — people everywhere, police people everywhere out there, and just rushing in," John Ebert, who works next door told the network. The activity began around 9 a.m. he explained and lasted for hours.
The Christian Post reached out to Hinn's offices as the raid unfolded Wednesday evening but one representative responsible for taking donor information said she was unaware of any investigation at the time.
The U.S. Postal Inspection Service referred questions to the U.S. attorney's office for the Northern District of Texas, which was "unable to confirm or deny if there is an investigation," spokeswoman Lisa Slimak told the Star-Telegram.
Investigators told NBC 5 that most of Hinn's employees had gone home during the raid and Hinn himself was not present. A schedule posted on his website as well as social media posts showed he was in Paris, France, at the time of the raid and that he will be in the Ukraine for a healing service this weekend.
Hinn was one of six televangelists who were part of a 2007 Senate inquiry. The investigation which went on for three years, raised questions about the personal use of church-owned airplanes, luxury homes and credit cards by pastors and their families, and expressed concern about the lack of oversight of finances by boards often packed with the televangelists' relatives and friends.
No definitive findings of wrongdoing were made. No specific conclusions about whether the ministries violated IRS rules that bar excessive compensation for leaders of religious nonprofits were also reached.
Hinn, who was born into a Christian family in Israel, has repeatedly been accused of being a fraud and criticized for living extravagantly.
In a 2009 interview on ABC's "Nightline" he shot back at the criticism while declaring that the Holy Spirit gives him the "anointing" to heal diseases like cancer. He also said he would not do his ministry for money even though his ministry rakes in about $100 million annually and his compensation is more than $500,000 a year.
"Let me tell you something. I would not do this for money. If people think I would do this for money after all the misery I've had to go through," he said in the 2009 interview.
When asked what kind of misery he went through, Hinn replied: "How would you like to be called all those names (fraud, con man)? Who wants that?"
He continued: "I think if I was fooling the people, over 35 years of it now, I would have been caught already fooling them."