Female athletes who lost to trans-identified males fight for 'fair playing field'
Female athletes speak out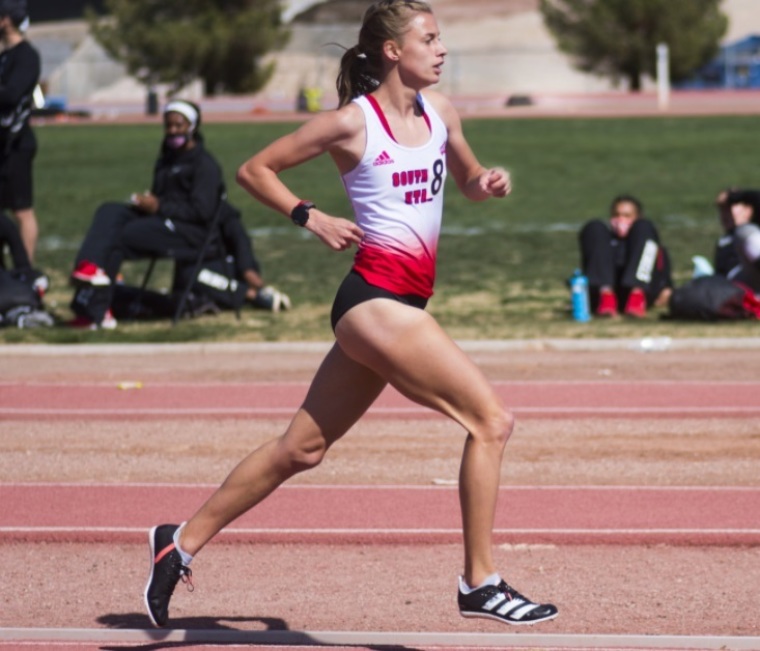 Saltz spoke about her experience at the 2021 Conservative Political Action Conference earlier this year, warning that female athletes would be "watching their own sports from the sidelines" if the Equality Act became law. 
Saltz recalled the moment that coaches at Southern Utah told her that she would have to compete against a biological male. 
"It was really just a discouraging moment for me to hear that someone that had been running not only 10 seconds faster than me in my event, but running a world record time for women previously as a male, is now competing against us as females," she said. 
She characterized her experience as an "interesting kind of situation" that "was really hard to … understand." 
Saltz predicted that if "biological males that possess physiological advantages over biological females" are allowed to compete in women's sports, girls are "no longer going to be interested in competing and being a part of sports." 
Haley Tanne, a junior at Southern Utah University who used to run with Saltz, has also spoken out about her concerns with allowing biological males to compete in women's sports. Tanne ran with Saltz in the relay race against the biological male.
"I ran the same leg as her. We both did the mile and it was just crazy watching as she … steadily … moved her way all the way up to ... the front of the race," Tanne explained in an interview. 
"And I just remember feeling so angry and confused that this was even happening."
Like Saltz, Tanne first heard that she would be competing against a trans-identified male from her coach at Southern Utah University.
"I remember kind of thinking 'That's crazy, that's not going to happen.' Like, 'is this a joke?'" she asked.
"It just felt like it was so crazy to me that people couldn't see this advantage and that people were going along with it."
Both Saltz and Tanne praised the efforts by states to consider and pass bills banning biological males who identify as females from competing in women's sports.
Saltz expressed gratitude that the states were "creating the momentum" needed to address "something that needs to be talked about." Meanwhile, Tanne remarked that "it feels good to just feel like I'm not crazy, that other people see this as an issue and are willing to pass it and move forward."
"I think that overall, just taking out the emotion from it and looking at it logically, I think that this is a good thing," Tanne added. "And ... I think at the end of the day, we should make a goal to include all athletes competing in sports. But I think we should start with female sports and making sure that women's sports are a fair playing field."
She stressed the importance of addressing the issue from a "scientific standpoint," adding "males are born with … different bone structures, [and] different lung capacities."
In light of the biological differences between males and females, Tanne argued that "it's not fair" to allow biological males to compete on women's sports teams, adding "I think it's kind of sad that the NCAA isn't able to see that." 
As with Saltz, Tanne's foray into running was spurred by the encouragement of a family member.
"My sister introduced me to cross-country when I was a freshman in high school, and I remember training with them in the summer," Tanne stated. "And my coach approached me and told me that just based off of the talent I had shown so far in the season that I could potentially run in college. And so that's when I really became excited about running."
Since competing against the trans-identified male in the relay race, neither Saltz nor Tanne have had to compete against another biological male. 
In addition to college athletes, well-known retired athletes have also spoken out against the effort to allow trans-identified males to compete in women's sports, including former Olympic swimmer Sharron Davies, former tennis player Martina Navratilova and former golfer Nancy Lopez.
Progressives have maintained that trans-identified athletes don't necessarily have an advantage over biological female athletes. Earlier this year, the ACLU argued that "Trans athletes do not have an unfair advantage in sports." The legal group added that: "Trans athletes vary in athletic ability just like cisgender athletes." The group asserted that in many cases, biological female athletes have performed "as well or better" than trans competitors. 
The ACLU's statement faced immense criticism online as much has been reported on the many physical advantages that biological males can have over females, including "larger hearts and lungs, more oxygenated blood, more fast-twitch muscle fiber, greater upper-body muscle mass, greater lower-body muscle mass, greater bone density."
Some female athletes and their families contend that the participation of trans-identified athletes in girls' sports can have a "ripple effect" that will impact some females who participate in the competition, if not all. 
"A Ripple Effect"
While the collegiate athletic careers of Saltz and Tanne are coming to a close, the collegiate athletic careers of two of the plaintiffs in the Connecticut case are just beginning. 
Soule and Mitchell are now freshmen in college. As the threat of having to compete against trans-identified males looms large in light of the NCAA policy, the legal effort to remedy the losses they experienced to biological males in high school and prevent other girls from having to go through the same experience continues. 
Chelsea Mitchell's mother, Christy, and Alliance Defending Freedom legal counsel Christiana Holcomb spoke with CP. Mitchell said that her daughter has "always been involved in sports," starting with soccer in kindergarten with soccer and later played basketball. 
"Track isn't available in our town until you hit middle school, so she started track in middle school and she was pretty good and got really serious about it when she started high school," the mother said. "She qualified, competed for the state championship in her freshman year and she … competed at that really high level all throughout her high school years."
According to Mitchell, Chelsea "competed against transgender athletes all four years of her high school career," facing "transgender athletes 24 times in that period, in high-level elite races, which are state championships, New England championships." Mitchell described those events as "really important to her from a recruiting standpoint." 
Mitchell told CP that Chelsea, who is now running track at the College of William & Mary in Virginia, "has not run up against this issue as of yet" in her collegiate career but expressed concern that "the policy that the NCAA has in place makes that a possibility." 
Mitchell has a younger daughter, currently in ninth grade, who is also an athlete.
"We're hoping that she doesn't have to go through what Chelsea did but it's certainly a possibility," Mitchell said.
Mitchell noted that in "every single race, someone isn't making finals, someone isn't advancing to the next level of competition, and someone isn't getting … that championship title, and someone is getting bumped from second and third place. And so, it's a ripple effect and it affects a lot of girls, not just Chelsea." 
Holcomb agreed: "I think the public needs to keep in mind that it only takes one biologically male athlete to take the championship title and it only takes three to push girls off of the podium entirely."
"So, this is a big deal and it does matter and it has massive ramifications for young women as they compete, both in high school and college," the attorney stated. 
Next Steps: "As long as it takes"
A federal judge in Connecticut tossed the lawsuit filed by Mitchell and three other Connecticut athletes, concluding that "the request for an injunction enjoining enforcement of the CIAC policy is now moot."
The judge ruled that the case is moot because the transgender athletes the girls competed against have since graduated and "there is no indication that Smith and Nicoletti will encounter competition by a transgender student in a CIAC-sponsored event next season." 
The Alliance Defending Freedom announced its intention to appeal the ruling to the Second Circuit Court of Appeals. 
"We look forward to taking the case upon appeal and making ... the argument to the court that the case is not moot for the reason that each one of the girls has suffered past injuries specifically as to different placements and recognition and so forth," Holcomb stressed. "That … can be remedied. These are past injuries that the court can fix and can direct the CIAC to fix. So that stops the case from being moot." 
Holcomb also weighed in on the law firm's plans if the Second Circuit upholds the district court judge's decision.
"As far as whether or not this case makes it to the U.S. Supreme Court, I would say that I hope it doesn't need to. I would hope that we're able to get a policy change quickly so that young women in the state of Connecticut are protected and can compete on a fair and level playing field. … If that's what's necessary, then we'll certainly pursue this as long as it takes."
With their college careers coming to a close, both Saltz and Tanne want to keep running as a vital part of their lives even though they do not plan on pursuing the sport professionally.
Characterizing running as "something I love," Saltz said that "it's not anything that I plan on just stopping right when I'm done with college." Stating that she "definitely wants to continue running," Tanne expressed a desire to serve as a coach when she is older, possibly at the high school level.
Additionally, both women have emphasized that their opposition to allowing trans-identified males to compete in women's sports does not result from any ill will toward transgender people. 
At CPAC, Saltz told the audience that "there's no part of me that doesn't want to be inclusive."
"I'm looking for proposed solutions that would create inclusion for everybody, but not at the exclusion of biological women," she stated.
"People don't realize that by being inclusive in that sense, it is exclusionary to people like me. We don't want men's and coed sports; we want men's and women's sports." 
Tanne told CP that her concern about competing against a biological male "was nothing against the transgender athlete or their choices." 
She argued that people on both sides of this debate should remain civil.
"I've had family members who haven't completely agreed on the situation, and we've been able to just talk about our opinions and just agree to disagree," Tanne said. "And I think that that's the way it should be. I don't feel like friendships should be ruined just based off of disagreements."
"If you have something you're passionate about, then you should fight for it and not tear other people down just because you disagree," she concluded.