Kellie-Jay Keen 'feared' for her life as violent, trans-activist mob threatened her at NZ protest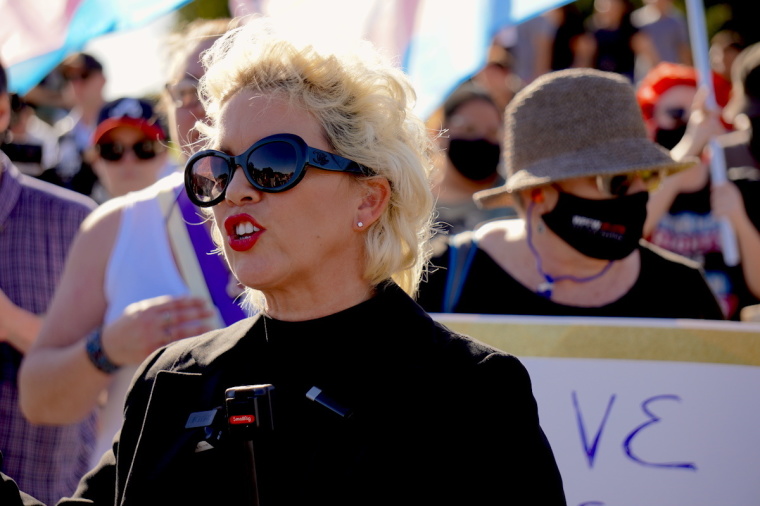 An outspoken "femaleist" said she "genuinely feared" for her life when she was prevented from holding a rally supporting women's rights as a massive, angry trans activist mob descended on her and her supporters in New Zealand. 
On Saturday, Kellie-Jay Keen-Minshull attempted to hold a "Let Women Speak" rally in Auckland, New Zealand, as part of her international speaking tour. Keen-Minshull, also known as Posie Parker, was confronted by an enormous mob of angry trans activists at the event, one of whom dumped red fluid on her. The British feminist has drawn the ire of trans activist groups over her opposition to men calling themselves women and demanding others lie about biological realities when it comes to the myriad differences between the sexes.
"For wanting to make space for women to speak I genuinely feared for my life today," Keen-Minshull, a fierce and tireless women's rights campaigner and advocate for protecting women's safety in single-sex spaces and women's sports, wrote in a tweet after she was forced to flee rally Saturday surrounded by people acting as her security were being crushed into her. 
"My activism is simple, we #LetWomenSpeak. Why does that make everyone so angry? We showed the world what happens to women when we try to speak. No one can pretend they don't see the salivating misogyny."
After seeing the violence that unfolded, several groups in the island nation are raising questions about the percolating threats to free speech. 
The women's rights group Speak Up for Women NZ lamented that "women were punched, kicked at, trampled, and overrun by a violent mob." Due to the violence against women in Auckland, a separate rally scheduled in Wellington on Sunday was canceled. "Mrs. Keen-Minshull's security team has advised her that they cannot keep her safe from mob violence and the police have declined to do so," the group added. 
Speak Up for Women NZ also used its platform to "say the things that Kellie-Jay Keen-Minshull was not able to say today." Such as "lesbians cannot have penises," and "men have no place in women's single-sex facilities, services, or sports, regardless of what they proclaim their inner gender identity to be." 
The group added: "Puberty blockers, created to castrate male sex offenders and treat prostate cancer, are experimental and harm vulnerable children. And people cannot change biological sex no matter how much they may want to or how many documents they possess saying otherwise." 
In a statement posted on its website Saturday, the LGBT activist group Auckland Pride praised "the thousands and thousands of Aucklanders who came out to stand in solidarity with trans communities [who] sent a clear message to Parker [Keen-Minshull], her supporters and the general public that intolerance will not be tolerated here." They credited their violent activism in which one woman's foot was broken for leading to  "withdrawal from her Wellington event."
The LGBT activist group further claimed there was "a narrative quickly taking hold amongst anti-trans groups and individuals that Parker abandoned her event because of violence from our community." Auckland Pride claimed there was no "further physical threat from our community towards Parker" beyond the "demonstration of unity, celebration, and acceptance alongside joyous music, chanting, and noise of 5,000 supporters."
"Auckland Pride was not an official organizer of today's counterprotest." ... "We have taken lessons from today about our need to play a greater role to ensure future events remain peaceful and non-violent, especially in a time of rising hatred globally towards rainbow communities."  
Nearly 20,000 people have signed a public letter spearheaded by the Free Speech Union condemning what they describe as the local police's "abject failure" to defend "the basic liberties of those in New Zealand, including free speech." The letter cited an assertion from the police insisting that Keen-Minshull was "in a public space" and therefore, "if she feels unsafe, she needs to leave."
"The counter-protest on Saturday used the 'Thug's Veto' to silence opponents, not through debate or reason, but through manifest intimidation," the letter added. "Without the right to peacefully gather and express beliefs and opinions, controversial or condemnable though some may consider them to be, free speech is no longer protected in New Zealand. Free speech guarantees the right to both express perspectives and views, and also to hear [others'] perspectives and views."
Speak Up for Women NZ has vowed to take action against the police, announcing that it "will be gathering witness statements and laying a formal complaint with the Independent Police Conduct Authority about the lack of police action to prevent violence in what was clearly a volatile situation."