Ferguson Grand Jury Decision Not Expected Until Monday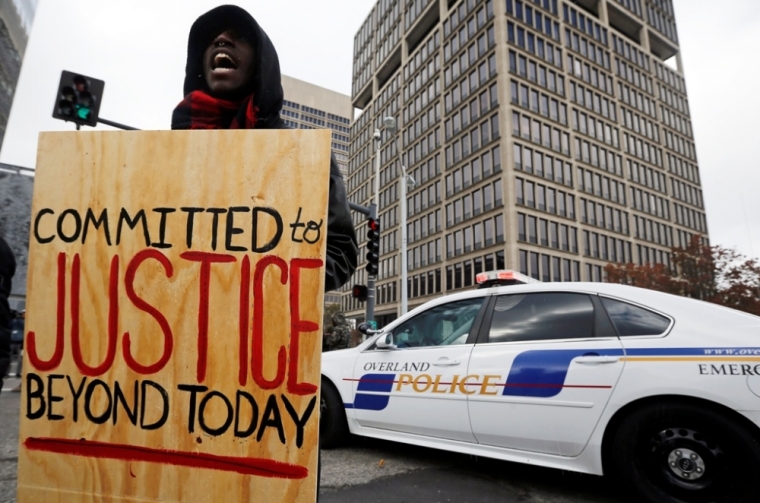 A grand jury decision on whether or not to indict white police officer Darren Wilson for shooting to death 18-year-old African-American Michael Brown in Ferguson, Missouri, is not likely until at least Monday, according to media reports, even as layers of emergency plans have been set up and President Obama has called for calm.
Brown, who had allegedly stolen cigars from a convenience store, was shot dead by the officer moments later while responding to a 911 call on Aug. 9. The incident sparked protests, riots, looting and violent clashes with police.
While the decision was expected by Sunday, reports quote "sources" as saying that the grand jury will not reconvene until at least Monday, as it is still gathering information about the incident. The delay has caused frustration among residents.
"I just think this is crazy," CNN quotes Brandon Turner, 25, as saying. "A young man was killed on the street in broad daylight. I am surprised it has taken so long. I've got a lot of clients and they're all in shock."
Kansas City Police Chief Darryl Forté also tweeted Saturday, "Grand jury did not convene today. Expected to convene next week. Will continue to update as info becomes available."
Police claim the officer did not know Brown was a suspect when he stopped him and his friend. The two were walking down the middle of the street blocking traffic, and when the officer encountered them he saw the cigars in Brown's hands, police say.
The officer allegedly received injuries to his face during the encounter with Brown. Brown's friend, Johnson, earlier said that the officer pointed a gun at Brown and said, "I'll shoot." The officer fired shots after Brown held his hands up.
Last week, the FBI and other federal agencies sent teams of agents and officers to Ferguson ahead of the grand jury decision, according to NBC News. The Department of Homeland Security also sent Federal Protection Service personnel to protect federal buildings and facilities.
If the jury doesn't indict the officer, "there's going to be no Ferguson" and it's "going to be worse than before," 15-year-old city resident Kim Randel told NBC.
Gun sales have also increased significantly in recent weeks, according to Reuters.
Protest organizers and police officials have formulated some rules of engagement to prevent violence.
"We have been criticized, by some, for sitting down with the protest leaders," USA Today quoted St. Louis Mayor Francis Slay as saying. "The protest leaders have been criticized for sitting down with us. We did so because in similar situations in other cities, things end up very, very badly. We do not want that for our city or our region."
President Obama has urged the residents of Ferguson to "keep protests peaceful."
"I think first and foremost, keep protests peaceful," Obama said in an interview with ABC News Friday. "This is a country that allows everybody to express their views, allows them to peacefully assemble, to protest actions that they think are unjust. But using any event as an excuse for violence is contrary to rule of law, contrary to who we are."