Fewer Americans Believe Jesus Was Born of a Virgin: Study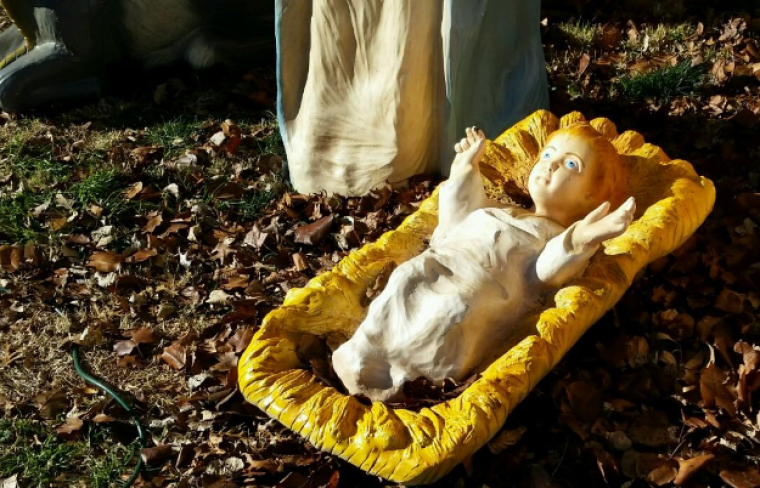 The number of Christians and religious "nones" who believe in the virgin birth of Jesus Christ has decreased significantly since 2014, according to a survey released by the Pew Research Center.
The survey, released Tuesday, found that most U.S. adults do not believe the full history of the biblical nativity. The analysis report was based on telephone interviews with 1,503 adults, 18 years of age or older from all across the nation, conducted on Nov. 29 to Dec. 4.
"Most Americans believe Jesus was born to a virgin, that he was visited by three wise men from the east, that his birth was announced to shepherds by an angel of the Lord, and that the baby Jesus was laid in a manger as an infant. But the share of Americans who believe that each of these four elements of the Christmas story reflects actual historical events is lower today than in 2014," Pew Research Center said.
Overall, 66 percent of Americans believe Jesus was born to a virgin, down from 73 percent in 2014. While some might expect nonbelievers to wrestle with doubts about the Christmas story as relayed in the Bible, the new research says there are actually signs of growing doubts from Christian groups as well.
The percentage of white mainline Protestants who believe in the virgin birth has declined from 83 percent to 71 percent.
Among religious "nones" (those who identify religiously as atheist, agnostic or "nothing in particular"), the belief in a supernatural virgin birth has declined from 30 percent in 2014 to 17 percent today.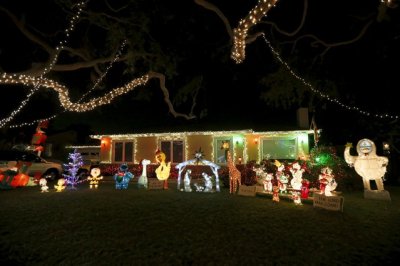 A significant drop was also seen among young adults, ages 18-29, with now only 54 percent affirming a belief in the virgin birth of Jesus. In 2014, 70 percent held that belief. 
As for millennials, less than half (44 percent) now believe in all four events of the biblical nativity (virgin birth, angel announcement, wise men's visit, Jesus in manger), a drop from 59 percent in 2014.
Meanwhile, white evangelicals (95 percent) and black Protestants (96 percent) remain firm in their belief of the virgin birth. Eighty-three percent of Catholics agree, down from 86 percent in 2014.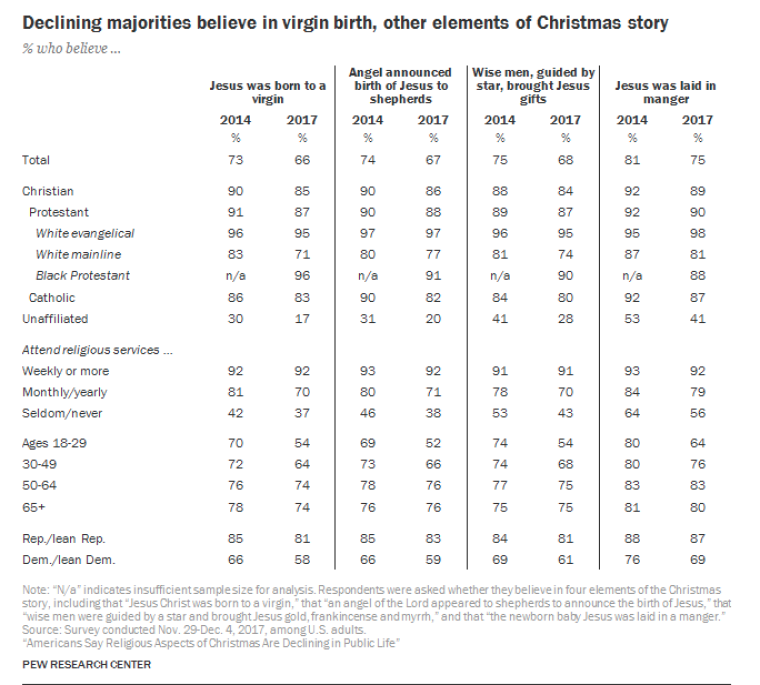 The study also revealed that 55 percent of U.S. adults currently say they celebrate Christmas as a religious holiday, including 46 percent who see it as more of a religious holiday than a cultural holiday and 9 percent who celebrate Christmas as both a religious and a cultural occasion. That marks a decline from 2013, when 59 percent of Americans said they celebrated Christmas as a religious holiday, including 51 percent who saw it as more religious than cultural and 7 percent who marked the day as both a religious and a cultural holiday.
Millennials are more likely than older generations to view Christmas as a cultural holiday as opposed to a religious one, and they are also less likely to attend religious services on Christmas, with only 42 percent planning to do so.
A nationwide survey in 2007 conducted by The Barna Group showed that 75 percent of adults said they believe in the gospel narrative of the birth of Jesus Christ. Out of the sixty population subgroups in the research, there was only one group (atheists and agnostics) where a majority of respondents did not take the virgin birth literally.
In an article that The New York Times ran in 2016, well-respected pastor and author Timothy Keller addressed whether he believed the virgin birth of Jesus was essential to being a Christian. The founding pastor of Redeemer Presbyterian Church in New York City made it clear that he believed the two go hand in hand.
Unfortunately, the latest research by the "nonpartisan fact tank" based out of Washington, D.C., shows that while most respondents believe religious aspects of Christmas are emphasized less in American society today than in the past, not many are bothered by it.
Only 31 percent of adults say they are bothered at least "some" by the declining emphasis on religion in Christmas observations.
Additionally, a growing number of Americans (now 52 percent) say it does not matter to them if they are greeted with a "Merry Christmas" or "Happy Holidays" when they visit stores and businesses during the holiday season.