Filipino City Law Requires Bible Verse on Taxis; Officials Credit Scripture for Low Crime Rate, Peace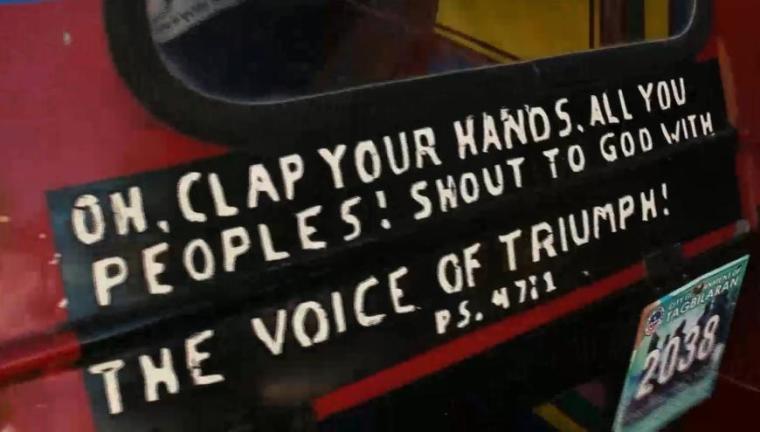 Taxi drivers working in the small Filipino tourist island city of Tagbilaran are required by law to have a Bible verse painted on the back of their three-wheeled motorcycle cabs, and any driver that is caught without a scripture is liable to be fined or have their license revoked.
CBN News reports that in an attempt to reduce crime rate in the island of Bohol's provincial capital city, the Bohol provincial government passed into law, over 22 years ago, the requirement for drivers of the city's most efficient mode of public transportation, three-wheeled motorized tricycle taxis that seat as many as four to seven riders, to have scripture verses on the back.
Although the Tagbilaran City Hall only gives out 3,000 commercial tricycle licenses every year, the government requires each driver to have a scripture verse that is completely their own and one that is not being used by any other tricycles operating in the city.
Most operators, when they get their license, are assigned a Bible verse and then have to take their tricycle to get the verse painted on the back by one local auto painter who has painted the town's tricycles for the past 20 years.
Although the law was passed over two decades ago and Tagbilaran is the only city in the Philippines with this requirement for their taxis, Tagbilaran City Counselor, Lucille Langunay, told CBN that the "Bible of wheels" campaign has resulted in lower crime rates in the city and has produced stronger families.
"With a Biblical message at the back of the units, commuters get to see the message every day and it helps in way to preserve the peace in our city," Langunay said. "Everyday commuters get to see the biblical message on the tricycles and who want to think of crime when they see biblical passages everywhere."
The back of one tricycle in the city reads: "Oh, clap your hands, all you peoples! Shout to God with the voice of Triumph! Ps. 47:1."
Another tricycle scripture reads: "There is a God and one Mediator between God and man. 1 Tim 2:5."
Tricycle operator Crisinel Escudero said that riders love the Bible verses and he is often complimented on his bible verse.
"People thank me all the time for my scripture verse," Escudero said. "They said it touched them. It is always a good reminder that there is a God."
Buala Siongiex, who has been responsible for painting the scriptures on the tricycles for the past 20 years, said that he loves his job because it inspires him everyday.
"I love the scriptures," Siongiex said. "As I paint them on the tricycles, I also get inspired by them. This is the Word of God and it gives us guidance."