Filmmakers Focus on 168-Hour Phase of Contest Featuring Scripture Themes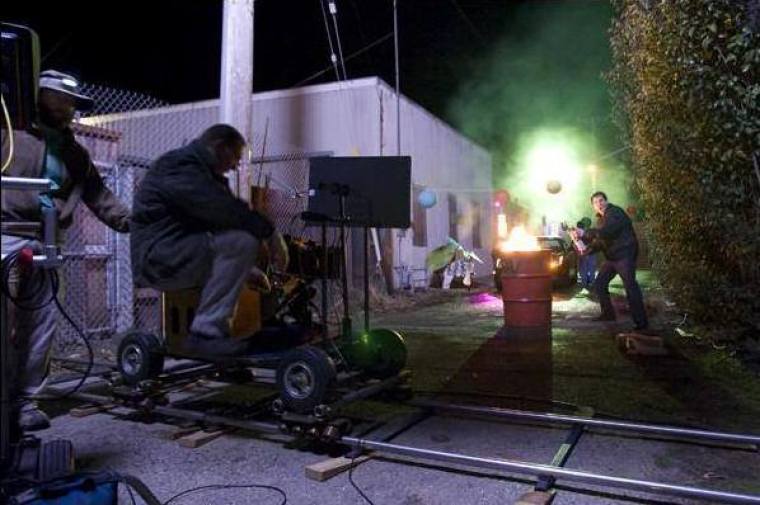 More than 150 teams of filmmakers from the U.S. and as far away as Australia, Ethiopia and Zambia began shooting video to submit as their entry into the Christian-themed speed filmmaking contest, 168 Film Festival. The teams began filming last Thursday and have a total of seven days (168 hours) to complete a 10-minute film.
Earlier this month, an estimated 1,500 film professionals and amateurs alike – received a luck-of-the-draw Bible verse plucked from scriptures that relate to "Atonement," this year's theme. They were given ten days to prepare, including writing, casting, scheduling and rehearsals before the 168 hours of filming.
"This is the week our filmmakers put the rubber to the road," said 168 Film Project founder and director John David Ware. "They find out how effective their planning has been as they work to make memorable films that will earn them invitation to and nominations at the 168 Film Festival" (August 8-10 in Glendale, California).
Two filmmaking organizations (168 Film and EchoLight) who support Christians interested in impacting culture through their work in movies announced earlier this year that an award of up to $1 million will be given toward producing a feature-length film to the winner of this year's 168 Film Festival.
Founded in 2003, 168 Film is described as an incubator for writers and filmmakers to explore Scripture and to practice their craft. In the Write of Passage competition part of the contest, writers craft a 12-page script in 168 hours. All work is based on a Theme, a Verse and a Week.
What started as a ministry to local Southern California producers has expanded to a worldwide movement. Many different countries compete in this international contest, some winning top honors, the organization states on its website.
Ware told The Christian Post that this year's number of entries was double from last year.
On Saturday, one of the teams was shooting locally on the USS IOWA, a WWII era battleship docked in San Pedro, Calif. The team was allowed access to the decks and levels of the ship, which has become a floating museum, forbidden to tourists so they can tell the story.
"An Ocean Away" is a dramatic story set in WWII. A young man longs for his "freedom" from the Navy to return home to an ailing child. Echoing Exodus 6:6, he must learn to trust that God will bring his deliverance.
"My grandfather was onboard the battleship U.S.S. Tennessee in World War II, so we have gained some inspiration from that experience to help us tell our story onboard this amazing ship," said the film's director, Bob Arvin.
Contest organizers released some of the storylines of the films last week.
Travis Mendel's team will tell the story of an up-and-coming fashion designer, who decides to donate all proceeds to charity. It's based on Micah 6:8: "He has shown you, O mortal, what is good. And what does the LORD require of you? To act justly and to love mercy and to walk humbly with your God."
Artie Delgado's team will describe "CUE," a Hip Hop artist-turned-Pastor on a mission to redeem and re-make lives on skid row. Based on Luke 4:18-19: "The Spirit of the Lord is on me, because he has anointed me to proclaim good news to the poor. He has sent me to proclaim freedom for the prisoners and recovery of sight for the blind, to set the oppressed free, to proclaim the year of the Lord's favor."
Veteran producer Mike Wech will tell the harrowing true story of a man who, after surviving 6 days of sharks and rough seas on a raft, makes atonement and reconciliation his business. Based on 2 Corinthians 5:18: "All this is from God, who reconciled us to himself through Christ and gave us the ministry of reconciliation."
On Saturday, Ware told CP, "The real story is with the teams that will be editing these [film] packages."
Tickets to the 168 Film Festival will be on sale starting June 3rd at 168film.com.