Atheist Displays Satanic Cross at Florida City Hall in Opposition to Manger Scene
Atheist Displays Satanic Cross at Florida City Hall in Opposition to Manger Scene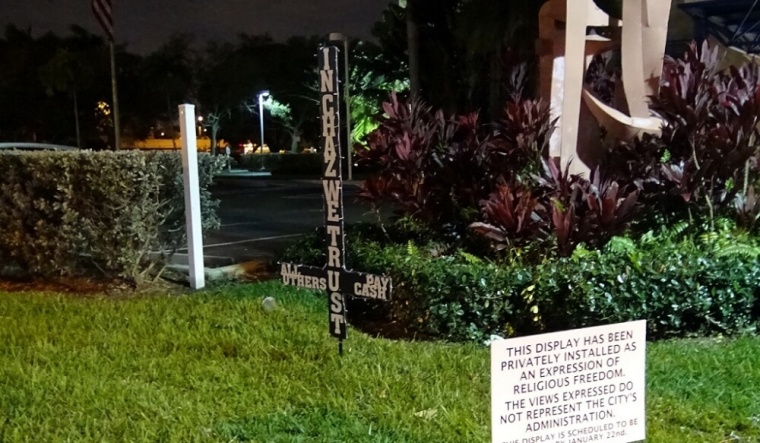 An atheist activist has placed a satanic cross on a Florida city's public property in reaction to there being a manger scene and a menorah present during Christmas and Hanukkah.
Hallandale Beach's City Hall now displays an upside down black cross placed there by secular activist Chaz Stevens.
Peter F. Dobens, spokesman for Hallandale Beach, told The Christian Post that this was the first time a satanic display had ever been placed at their town hall.
"The petitioner asked to display a religious symbol at City Hall much like the menorah and manger that were displayed during the holiday season," said Dobens.
"It was erected Tuesday morning and we anticipate it will be up for about one week. … It is a private individual who erected this and is not a city-sponsored event."
Late last year Stevens requested that he be allowed to place a satanic cross at the public property alongside the already approved menorah and Nativity.
During an interview with CP, Stevens explained that he cited "equal access" for being allowed to erect the satanic cross beside the Judeo-Christian imagery.
"I requested the satanic cross, citing equal access. After a delay of well over a month, the city approved my request. However, the city added a disclaimer … a disclaimer that wasn't on the menorah or manger," said Stevens.
"The city of Hallandale, well aware of my reputation as a pugnacious defender of my civil rights, knew they had two options. Allow me to deploy the cross, or face the wrath of my legal team."
Stevens also told CP that he has launched his own religion, dubbed "satanology." According to him, one of the key beliefs of this new religion is "Thou Shalt Troll. Mercilessly."
"I say to those who find our activism problematic, I say, good. Too bad, enjoy the butt-hurt. And now you might get a small token idea of what it's like to be an atheist in America," he asserted.
This is not the first time Stevens has championed placing something satanic on government property in response the presence of religious imagery in public property at the town hall.
Last year, Hallandale Beach leadership decided to consider putting the phrase "In God We Trust" on the city hall's dais, to which Stevens demanded that a sign reading "In Satan We Trust" be placed alongside it.