Florida Pastor Defends Church Sign That Says 'Homosexuals Must Repent or Go to Hell'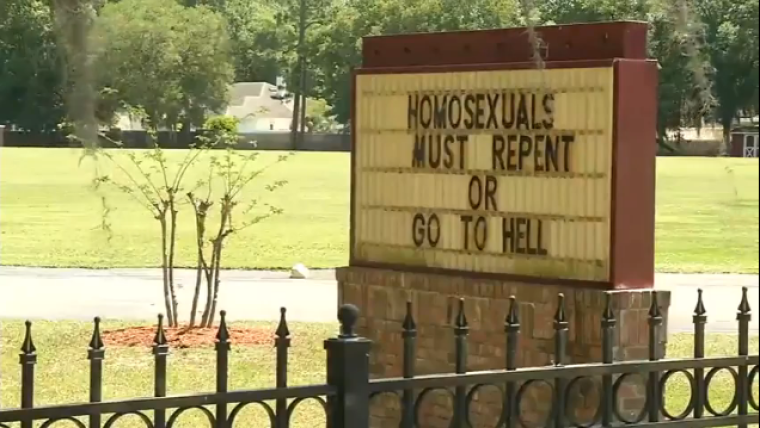 The pastor of a Jacksonville, Florida church defended a decision to post a controversial sign outside his church building that reads "Homosexuals must Repent or Go to Hell."
"Our ministry marquee has been used as a tool to educate, inspire, and caution for over 30 years," said Gene Youngblood, the pastor of First Conservative Baptist Church in Mandarin in a press release Saturday. "Our prayer is that in our small way we may make a difference in the lives of all those who pass by."
"It is my sincere prayer that perhaps 'ONE' practicing Homosexual will have read our sign and will REPENT before it is too late and they are cast into HELL. HELL is a real place and anyone not believing in the reality of HELL will not change the temperature of the FLAMES a single degree."
Some residents such as Cate Dobbins took serious offense to the sign and she started an online petition demanding that it be taken down.
"I lived here almost 10 years and I have never been offended by anything they ever had on that sign until this week," said Dobbins to ActionNewsJax. "I called the church and left my name and number and no one called me back."
She visited the church to show Youngblood the petition but was stopped by church members.
Youngblood said the sign is about keeping "citizens informed" about "things and events taking place" in their city or nation.
He describes himself as a "Bible believing patriot" who is "deeply saddened" by morals and family values being "under attack on a national basis" and wants to warn residents "of the coming Judgement of God on the sin of Homosexuality" with the sign.
However, local Christian Jane Roper did not agree with Youngblood's approach.
"I think it's very unfortunate. We're told as Christians not to be judgmental, and I'd hate for somebody to decide my fate as they have decided certain people's fate in their statement. To me it's very unloving and very un-Christian," said Roper to News4Jax.
Youngblood said the sign's message is backed by various Scripture and cites them in his press release. He also understands why some people might be offended by it.
"We do realize that any scriptural absolute may cause conviction resulting in the attack on the messenger as well as the message," he said.
He concludes his statements by praying that the media will not attempt to "thwart or interfere" with the church's "freedom of speech" and not disrupt any of its worship services or other programs.