Florida Teacher Bans Cross Necklaces in Class, Promotes LGBT Day of Silence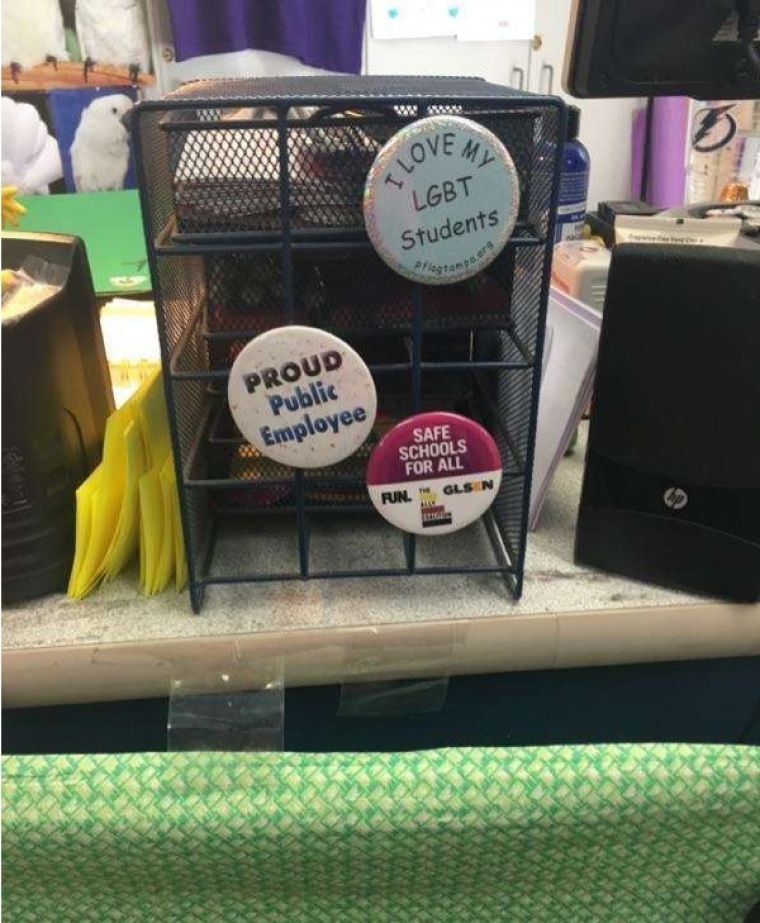 A national religious liberty law firm is threatening to sue a Florida public school district over allegations that a high school math teacher forced Christian students to remove cross necklaces and that she is engaging in LGBT activism in her classroom.
The Liberty Counsel sent a demand letter on Wednesday to Superintendent Jeff Eakins of Hillsborough County Public Schools on behalf of a ninth-grade student who claims that her math teacher at Riverview High School, Lora Jane Riedas, required her to remove her cross while in class.
According to the letter, Riedas has banned as many as three students from wearing crosses in her classroom, "claiming on occasion that they are 'gang symbols.'" The cross pendant that the teacher allegedly forced the ninth-grade client to remove was less than an inch long.
"One of our student clients reports that she had just sat down in class, and placed her books on her desk, when Ms. Riedas approached her," the letter reads. "Referencing the tiny cross necklace which was around the student's neck, Ms. Riedas said, 'I need you to take your necklace off.'"
"Our client asked 'Why?' and Ms. Riedas refused to explain, stating, 'That's disrespectful; you have to take it off,'" Liberty Counsel stated. "Our client did not want to be disrespectful, so she took it off, but she felt bad because she felt she was being forced to deny her faith. All of our clients are afraid to openly wear their cross necklaces in class any more."
Liberty Counsel also accuses Riedas, a lesbian who is believed to be the school's Gay, Straight Alliance sponsor, of engaging in "political activism" in her classroom, which is "permanently decorated with LGBT political themes" and "buttons prominently displayed on her desk, facing students, stating 'I Love My LGBT Students' and 'PROUD Public Employee.'"
"Moreover, at the beginning of the semester, Ms. Riedas placed LGBT rainbow stickers on students' classroom folders without their consent, which were there one day when the students arrived. One of our clients reports that after she removed the LGBT sticker, Ms. Riedas' behavior toward her changed markedly for the worse."
Liberty Counsel accuses the teacher of seeking opportunities to engage in "classroom activism" directed by GLSEN (formally known as the Gay, Lesbian and Straight Education Network), an organization that "seeks to end discrimination, harassment, and bullying based on sexual orientation, gender identity and gender expression in K-12 schools."
The demand letter was sent just two days before Friday's GLSEN "Day of Silence," which is described as an annual "student-led national event organized in thousands of schools, bringing awareness to the silencing effects of anti-LGBTQ name-calling, bullying and harassment in schools."
The event allows for students across the United States to take a vow of silence in hopes it causes people to address anti-LGBT bullying in schools.
According to Liberty Counsel, GLSEN "has called on teachers to use its 'Educator Guide' to promote GLSEN's views about homosexuality and gender confusion on 'Day of Silence,'" and to do so this Friday, April 21, 2017."
"GLSEN's guide encourages teachers to require students to engage in numerous forms of coercive, group, political activism, from grades K-12, regardless of parent desires or student religious beliefs, with no opt-out from classroom coercion," the letter asserts. "Students can either 'go along to get along,' or risk being 'outed' as disagreeing with the teacher and GLSEN's LGBT viewpoint."
The GLSEN educator's guide encourages teachers to do a number of different things with their students to advocate for LGBT rights and end bullying.
"Ms. Riedas has further engaged in impermissible LGBT political activism in the classroom, and has indicated her intent to further do so during instructional time," the letter claims. "Ms. Riedas is planning to promote GLSEN's 'Day of Silence' coercive political activities during instructional time in her classroom on Friday, April 21, 2017."
The letter points out that Riedas retweeted GLSEN's guide around 10 a.m. on Wednesday, April 5. The letter also outlines other instances in which she tweeted or "liked" LGBT causes on social media during school hours.
Liberty Counsel argues that Riedas' political activism in the classroom violates school district policy, which states that teachers "may not campaign on school property during working hours on behalf of any political issue."
The letter requests that the school district take action and confirm that it will prohibit Riedas from "interfering with student religious expression" and from "promoting LGBT political activism during instructional time on April 21, or at any other time, using any of the attached ideas in GLSEN's 'guide.'"
The letter also asks that the school force Riedas to remove pro-LGBT material from her classroom and unrequested LGBT stickers from students' classroom folders.
Finally, the letter demands that the school replace Riedas as a sponsor of the school's Gay, Straight Alliance and appoint a faculty member who can run the club as a supervisor, not an activist.
Liberty Counsel is threatening to file a federal civil rights lawsuit against the school district if it does not take the actions requested by the end of business on Thursday.
"We are in receipt of the letter from the Liberty Counsel. We have been in contact with the principal to initiate an investigation," a school district representative told The Christian Post on Thursday afternoon. "However, the principal says she has not received a complaint from any student or parent regarding any claims made in the Liberty Counsel document regarding this teacher."
CP reached out to Riedas for comment but a response could not be received by press time.