'Forgive the Shooter' — Final Words of Dying Christian Dad of 3 Killed in Random Wisconsin Bridge Attack Revealed by Wounded Wife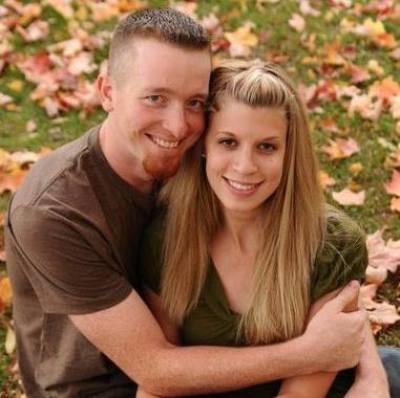 The final words of a dying Christian father of three fatally shot during a Sunday walk with his family on a Wisconsin trail bridge were, "forgive the shooter," his wounded wife has revealed.
Erin Stoffel, 32, woke from a coma with a breathing tube in her throat on Tuesday just two days after she and her husband of more than a decade, Jonathan, 33, and their 11-year-old daughter, Olivia, were shot during a random attack on the Trestle Trail Bridge in the city of Menasha. While Erin survived the shooting, Jonathan and Olivia did not, and the first thing that the grieving mom of three did when she awoke in a hospital bed was write down her late-husband's final words to her.
"The family would like to make it known that Erin said Jon's last words to her after he was shot were, 'Forgive the shooter.' We truly love because Christ first loved us. This was the heart of a man who walked the talk — his dying breath and last wish was only that his wife forgive the gunman," Julia Stoffel, Jonathan's sister-in-law, wrote via her Gofundme page.
Loved ones are still trying to come to grips with the senseless shooting, which has affected many in the community.
Police say Sergio Daniel Valencia del Toro, a 27-year-old military veteran, did not have a specific target when he opened fire on the Stoffel family, who are members at Calvary Bible Church in Neenahy, and another bystander, before turning the gun on himself after a fight with his ex-fiancee.
Erin, who sustained three gunshot wounds to the abdomen, was able to get her two youngest daughters, Ezra, 5, and Selah, 7, to safety and they were unharmed. Jon and Olivia, along with another man, Adam Bentdahl, 31, of Appleton, died at the scene.
"This is a tragedy. It's something awful and we're going to grieve and go through all of the emotions of that, and at the same time we do have hope," Calvary senior pastor Danny Leavins told Fox 11.
The family is said to be leaning on their faith after the tragic shooting. Julia quoted Romans 8:28 and said she trusts that the senseless killing "somehow will be used for good."
"The family has a lot of faith in the Lord and we're just leaning on that. We know that Jon and Olivia are with the Lord. We are holding strong to the Bible first," she said, according to The Northwestern.
Romans 8:28 reads: "And we know that in all things God works for the good of those who love Him, who have been called according to His purpose."
Bentdahl is also remembered by his family as a "kind and gentle person" with "a bright personality."
"Our prayers go out to the other family who lost their father and daughter, and mother who is struggling for life along with the man who took his own life," they said in a statement.
The community has rallied around the Stoffel family and Julia's gofundme campaign has already raised over $130,000 of its $250,000 goal within 24 hours of its launch.
Calvary Bible Church set up a "love offering" for the family and congregants can donate during Sunday service or via the church's website.
Fox Valley Christian Academy, where the three Stoffel children are enrolled, closed on Monday to honor the family and held a prayer service on the same day. The school is located next door to Calvary Bible Church.
"All three of their children were just a joy. Smiles, bubbly, very active, just tremendous children all three of them. You look at them and they just make you smile," Fox Valley Christian Academy Principal Ron Halma said.
Jonathan was remembered at a prayer vigil on Monday as a good Christian man who truly lived out his faith.
"Jon was the guy that would give the shirt off his back to anybody. If somebody was doing something, he would be the first guy there," said Tommy Bongers, Jon Stoffel's second cousin.
Jim Campbell, Erin's brother, called on the community to protest U.S. gun laws in the wake of the deadly shooting.
"Instead of praying, do something. Do something about guns," he said. "When you kill, you can't take it back. Nobody needs a gun."
Julia Stoffel could not be reached for comment.