Former Evangelical Megachurch Leader Ulf Ekman Who Converted to Catholicism Reveals Virgin Mary Led Him to Catholic Church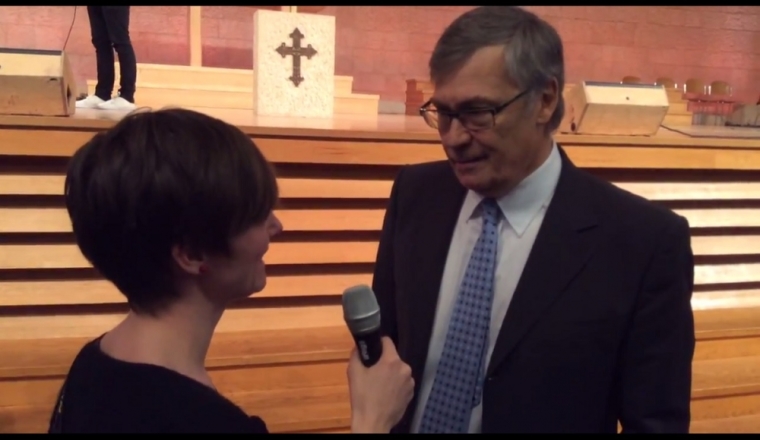 Ulf Ekman, the former leader of evangelical megachurch Word of Life in Sweden, reflected on his first year as a member of the Roman Catholic Church with his wife following his conversion, and said that things started to make sense for them after the reception. Ekman revealed that the Blessed Virgin Mary led him and his wife to the Catholic Church, and said that loving Jesus means to love the Church.
"It was a real experience for us. It was like several missing pieces fell into place, and so much started to make sense. There was a deep sense of 'arriving' that came to us," Ekman explained in an interview with The National Catholic Register, talking about the reception with his wife, Birgitta, into the Church on May 21, 2014.
"It has been a wonderful year that we will never forget as long as we live. We feel very much at home in the Church and are grateful to the Lord. It has also been an intense year, due to the ongoing media coverage in Scandinavia. We have gained some wonderful new friends, but, like Blessed John Henry Newman said, it has also been a time of 'parting of friends,'" he added.
The former Word of Life leader revealed that the Virgin Mary, mother of Jesus, had a hand in his own conversion.
"For us, Mary was the first 'obstacle' to overcome, though not the last. It was through her that we felt a leading toward the Church," he said.
Ekman added that he hopes to be active in a "rich Catholic" environment, where he plans to preach the message that "to love Jesus is to love the Church."
As for how Catholic tradition reflects on his daily life, he said: "My wife, Birgitta, and I try to pray the rosary on a daily basis and use a Catholic prayer book for morning devotions. Our daily Bible reading is established since many years, but now we also follow the daily portions for the mass. Step by step, we also try to take more time for eucharistic adoration, which we find quite amazing, actually."
Ekman's decision to leave the Protestant ministry in March 2014 caused an uproar among the faithful, he has admitted in past interviews.
"It caused more than just a stir when I told the congregation of the evangelical megachurch — that I served as pastor since I founded it 30 years ago — that my wife and I intended to become Catholics," Ekman said back in August 2014.
"It caused a real uproar in my country of Sweden, which remains overwhelmingly Protestant. The period from that day, March 9 until May 21, when we were received into the Catholic Church, was marked by contention and debate. I have binders full of articles, comments and reactions that appeared in the traditional media and on the Internet."
The Swedish Evangelical Alliance thanked Ekman for his service, but also noted that there are "crucial dividing lines" between Catholics and Evangelicals.
"This applies to the matter of salvation where we do not agree on the importance of justification by faith. The matter of authority where we do not agree on the relationship between Scripture and tradition and it also applies to the view of the Church where we do not agree that the body of Christ has a visible organizational structure led from Rome, to name some of the main issues," Stefan Gustavsson, general secretary of the Swedish Evangelical Alliance, stated in March 2014 as reported by IRD President Mark Tooley.
Ekman and his wife will be sharing their story at the "Defending the Faith Conference" on July 24-26 at Franciscan University in Steubenville, Ohio.