Former Mars Hill Church Leaders Apologize For Being Part of 'Structures,' Problems That 'Hurt Many People'
Pastors Previously on Mark Driscoll's Leadership Team Create RepentantPastor.com
Four former leaders of Seattle-based Mars Hill Church recently created a website that they say will be a "safe space" to ask for forgiveness from those in the Christian community hurt by their actions while they served at the church alongside Pastor Mark Driscoll, whose leadership has come under fire.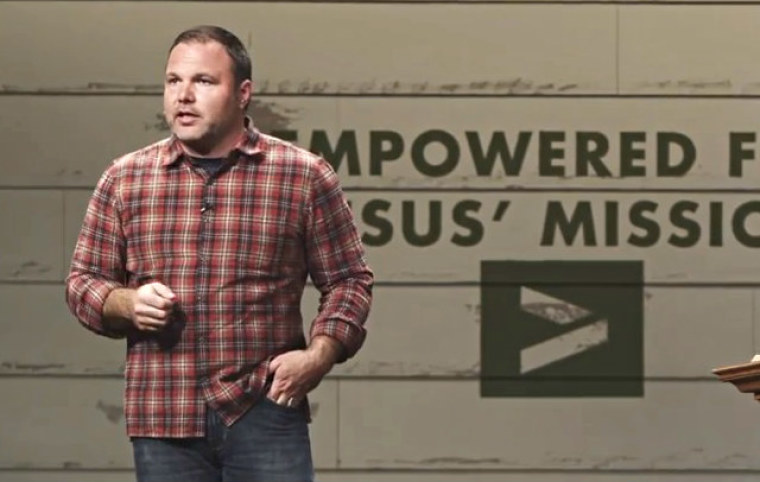 Former Mars Hill Orange County executive pastor Kyle Firstenberg, former Leadership Pastor Dave Kraft, former Mars Hill Everett Pastor Scott Mitchell, and Mars Hill co-founder Lief Moi explained that their intention for RepentantPastor.com is "to bring about repentance for ourselves and reconciliation with people whom we have hurt."
Although it is unclear as to how many people were hurt or how they may have been adversely effected, the pastors say some of those attending the church or in leadership at Mars Hill were under problematic leadership.
"In staying at Mars Hill, we were complicit in those structures, and problems whether we employed them or not," they wrote. "We recognize and confess that Mars Hill has hurt many people within the Mars Hill community, as well as those outside the community including those who don't believe Mars Hill's religious beliefs, and we want to acknowledge the hurt we may have caused. We humbly ask your forgiveness. These [posts on the website] are our individual confessions, letters, stories, and apologies."
In posts dated March 29, 2014, the former leaders each confessed specific sins that they had committed while employed at the popular megachurch and encouraged those who were negatively affected during their time at Mars Hill to reach out over email.
Driscoll, the founding pastor of Mars Hill Church, has been in the news since late 2013 for accusations of plagiarism in his books and most recently, after a World Magazine article claimed that he had used Real Source, a marketing company on which he spent $250,000 to help become a New York Times bestselling author.
Firstenberg told CP that he was not swayed by the news stories, but rather it was the culmination of a process that had started nearly two years ago. After not receiving any acknowledgement from Mars Hill after sharing his grievances with them both at his departure from church and later after filling out a feedback survey that listed the same complaints, the former pastor, Firstenberg and Kraft decided that any reformation that the church might go under, had to begin with them.
"Dave and I decided we needed to start with our own confession, because we can't and shouldn't call someone else out on sin without first doing so ourselves," said Firstenberg.
They decided to write confessions and post them on the blog in order to increase the reach and circulation of their stories. 
Moi, who helped start the church with Driscoll in 1996 before resigning in 2007, told CP that after leaving Mars Hill seven years ago, suggested that he had been influenced by "current events" in deciding to go public with his story.
"Initially I didn't want to do anything that would cause a split or cause a division among the church so I just chose to quietly disappear," he said, noting that another motivation for his public confession had been because he had wanted to mend more relationships that he knew had suffered from his time on staff.
Moi also met with Driscoll nine months ago and asked his forgiveness for "not being a good enough friend to be honest in certain situations...It was a time for me to tell him that I'm aware of my narcissism affected our relationship and affected Mars Hill."
In his post, Moi explained that when he left the congregation he was "not in a good place spiritually," adding that he had also suffered severe physical pain due to failed back surgeries.
"I was also being seduced by my successes and all that came with it," Moi, who admitted that in his despair he had turned to alcohol, turning his back on a pledge he had made at the age of 14 "that I would never be like my father."
"Over these last many years I had become just like him," Moi continued. "Over the years the alcohol consumption increased and finally resulted in 2 DUI's within a few months a little over a year ago."
Nevertheless, Moi said that in the midst of the "mess of moral, financial, and mental depravity Jesus has chosen to use my sin to expose and free me of long held beliefs and behaviors," including "narcissism and anti-social tendencies," which the church leader said he had felt had been cultivated during his time at Mars Hill.
Mitchell, who previously pastored at Mars Hill church plant in Everett, Wash., asked members of his former congregation to read over a list of his sins and "see if I've sinned against you in any of these or other ways."
Among the sins to which Mitchell confessed included passivity, control and aggression, acknowledging that for the last one, "I am deeply aware of [it], yet it's left a field of carnage that I'm scared to actually see."
"My bold words and actions have gotten me into trouble a lot over the years, and when you combine my bold and some-times harsh words with the level of authority that God has given the position I'm in, it makes it especially hard to deal with," Mitchell wrote. "…I've raised my voice out of frustration. I've had body language that condemned people for even talking to me. I lean towards aggression, and although I strive for gentleness I do not always meet the mark of that. There are those who come to mind even as I write this, and it brings tears to my eyes knowing that there are so many of you."
Firstenberg, a former pastor in Mars Hill southern California church plant, noted that starting in 2006, "I noticed that there was a culture of fear that I had never seen in the prior six years of attending Mars Hill," which he believed "was the result of the leadership style of Mark Driscoll."
"You were a valuable asset on staff at Mars Hill if you were tough, a high producer, dedicated to the growth of the church, and equally dedicated to Mark Driscoll himself," Firstenberg stated. "If you are not those things, you live in constant fear of being discarded."
Firstenberg, who was in law enforcement before joining Mars Hill, described it as "easy" for him to fit in with the culture, but that it came cost of "not loving people, using them as a means to an end, and discarding people who did not fit the mold of a Mars Hill Leader, ie Mark Driscoll."
Firstenberg said he was "deeply saddened" by his sins, which included, believing "I wrongfully believed the lie that Jesus is not working in any other church and that He is only working in Mars Hill."
He also noted multiple interpersonal failings, including, failing to "follow up with staff and members who left the church believing that they were against us. I sinned against them by not loving them through the transition and giving them a voice for any sin that may have been done to them."
"I continually operated with a self-preservation mindset that influenced how I pastored and led others," he continued.
In a blog post recently published, Firstenberg released the official charges with which he confronted founding pastor Driscoll and executive pastor and an executive elder Sutton Turner.