Former Megachurch Pastor Perry Noble Reveals Struggles, Calling Himself 'Worthless Piece of (Expletive)' in Frank Post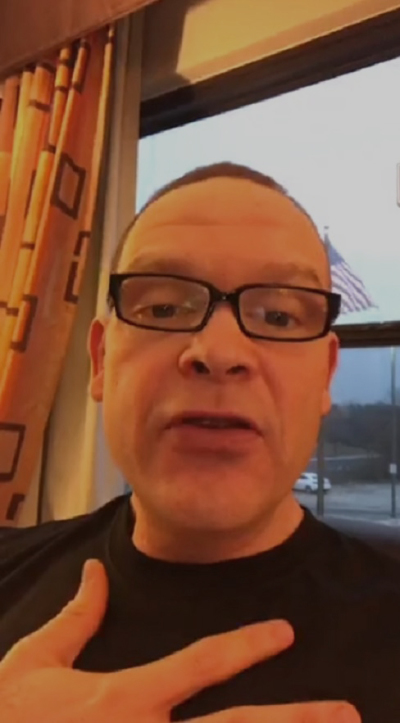 Former NewSpring Church pastor Perry Noble admitted in a frank Facebook post that there are days when he struggles with severe self-worthlessness, given the issues in his life. But he revealed that it is Jesus' words that help him pull through.
Noble wrote on Wednesday that he woke up last week with the thought "you're a worthless piece of [expletive]!"
"I know it's harsh - but I will not sanitize this article to appease those who may be offended at the language and want a scrubbed and safe version of Christianity that simply doesn't work for the world," he wrote.
The pastor, who was removed from his position at NewSpring last year due to struggles with alcohol, which also led to his wife leaving him, said he was feeling so down about disappointing God that he felt he didn't even deserve to read the Bible.
"In that moment guilt, condemnation and shame flooded my heart and mind like a tsunami...reminding me of...The fact I was fired from a job I love for abusing alcohol. The fact I lost friendships I thought I would always have in my life. The fact my wife left me and we are still separated..and I am a failure as a husband and father. The fact I have limited time with my daughter, and feel I have let her down in so many ways," he wrote, adding that all of this happened "because of horrible personal choices" that he made.
Noble said that he felt a physical pain in his chest, at first thinking it was a heart attack, and "sat there shaking my head over all that was flooding through my mind."
"I tried to numb the pain by going to the gym, engaging on social media and even having lunch with a buddy - but I could not silence the damning accusation that was crushing the life out of me," he wrote.
The pastor said that in the midst of the depression, he heard God's voice, however, as reflected in Romans 8:1, telling him:
"There is now therefore NO condemnation for those who are in Christ Jesus."
What followed was an internal battle where his mind kept accusing him of his mistakes. But Jesus' words pulled him out of the darkness.
"Finally I snapped back to reality and remember a phrase I have declared from the pulpit...but have never actually believed for myself...that: 'Jesus knew every stupid, sinful, self-centered decision I would ever make, and still created me, called me, equipped me and arranged for the payment of my sin!'" he continued.
"In Christ what we did is NOT who we are (no matter what others try to label us as...or how long they try to judge as to whether or not we have truly repented!)
"In Christ we are completely forgiven," he added.
"In Christ we are valuable beyond imagination! And in Christ we are unconditionally loved!"
Noble revealed that the next day, the accusation in his mind was still there and admitted it may never never go away, but he noted that it had "lost its power in my life because I refused to believe the lie of the enemy over the Truth of God's Word!"
He prayed that others going through the same battle also realize that they are not worthless, and that the grace of God "awashed away all our sin."
While in other posts, Noble has celebrated his recovery and sobriety, he has also been open with followers on Facebook about some of the darkest moments in his life. He said in a video post in July that there was a day in rehab last year where he reached the decision to shoot himself, before God's voice saved him.
"I felt like a failure, I felt alone, I felt betrayed, and whether those feelings are true or not, that's how I felt," he said of his feelings at the time.
"I had the spot picked out, I had the gun picked out, and I was going to literally take my own life," he said, fighting back tears in the video.
The night before, he was planning to leave the rehab center and carry out his plan. However, he said that he heard God's voice.
"It was the clearest I've ever heard His voice. He told me 'I'm not finished with you yet,'" Noble shared.
"It was powerful, it kept me in the game."