Former megachurch youth pastor Christopher Burns now on FBI's most wanted list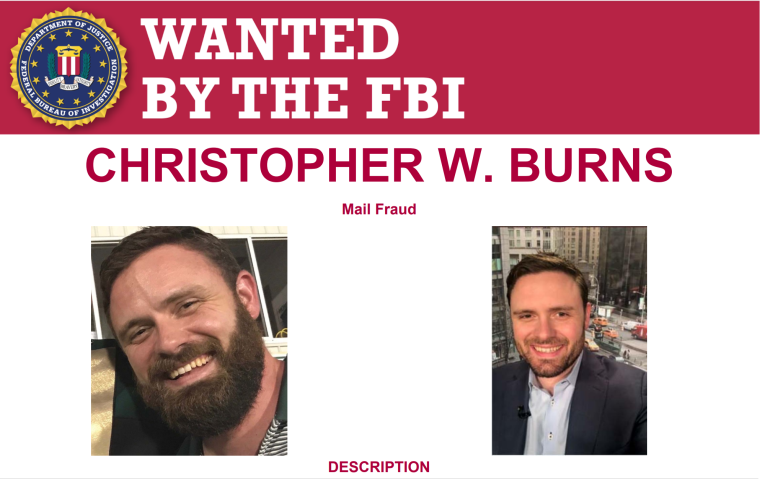 Christopher Burns, a former youth pastor at Perimeter Church in Georgia turned financial advisor, is now on the FBI's Most Wanted list for allegedly defrauding dozens of investors of millions of dollars, which he splurged on a lavish lifestyle and an obsession with Disney World.
Burns, who was last seen by his ex-wife and children on Sept. 24, 2020, went on the run one day before he was scheduled to relinquish documents related to his businesses to the Securities and Exchange Commission, according to a recent release from the Department of Justice.
"Burns is charged for allegedly stealing millions of dollars from clients in an illegal investment fraud scheme," Keri Farley, special agent in charge of FBI Atlanta, said in a statement. "Financial crimes of this nature can cause significant disruptions to the lives of those who are victimized, and the FBI is dedicated to holding these criminals accountable."
The FBI is seeking the public's help to locate Burns. Farley vowed the agency will "continue to pursue him no matter how long he tries to evade the law." 
James E. Dorsey, special agent in charge of the IRS Criminal Investigation at its Atlanta Field Office, said Ponzi schemes like the one Burns carried out cause "emotional and financial damage" to their victims. 
"IRS Criminal Investigation and our federal law enforcement partners are committed to removing unscrupulous financial advisors from our financial system and ensuring they are brought to justice," Dorsey said.
Darin Jameson, a spokesperson for Perimeter Church in Johns Creek, Georgia, confirmed with The Christian Post that Burns worked as a junior high ministry leader from December 2007 to August 2011.
She also confirmed that the former youth leader's father had worked at the church several years prior to his employment. She could not provide any additional comment.
A federal grand jury charged Burns, 40, whose last known address is in Berkeley Lake, Georgia, with 10 counts of wire fraud, two counts of mail fraud and four counts of money laundering on April 11. He was also previously charged in another complaint on Oct. 23, 2020, with one count of mail fraud, authorities said.
In the latest case against him, Burns is alleged to have defrauded his victims of at least $10 million by falsely claiming to investors that he could pool their money to invest in low-risk businesses and charities, which were secured by collateral and personal guarantees.
In reality, however, authorities say Burns, who was also a Georgia radio host bent on improving his profile, splurged investors' money on a Ponzi scheme that funded a lavish lifestyle.
Among that life of luxury, according to a report from The Daily Beast, was an obsession with Disney World.
Philip Burns, 19, told the publication that he recalled visiting Disney World with his family in Orlando, Florida, when he was 10. But he noted that in the years before his father disappeared, the trips increased to at least twice a year.
The former youth pastor's ex-wife, who suggested he divorced her and transferred assets into her name in a bid to provide for her and their two sons, said they also went on multiple Disney-themed cruises and bought a timeshare.
He even splurged trips for neighbors and VIP tours that cost around $8,000 a day.
"He was obsessed with Disney," Philip Burns said. "He was a Disney adult."
Philip and his mother say it's difficult to handle knowing that the trips were funded by stolen money.
"Originally when I learned that, whenever I would think about it for months, I would become physically sick. I just felt so guilty and awful," he said. "Just me f— around at Magic Kingdom was [funded] by other people's funds. I still feel awful."