Former President Jimmy Carter Reveals He Has Advanced Cancer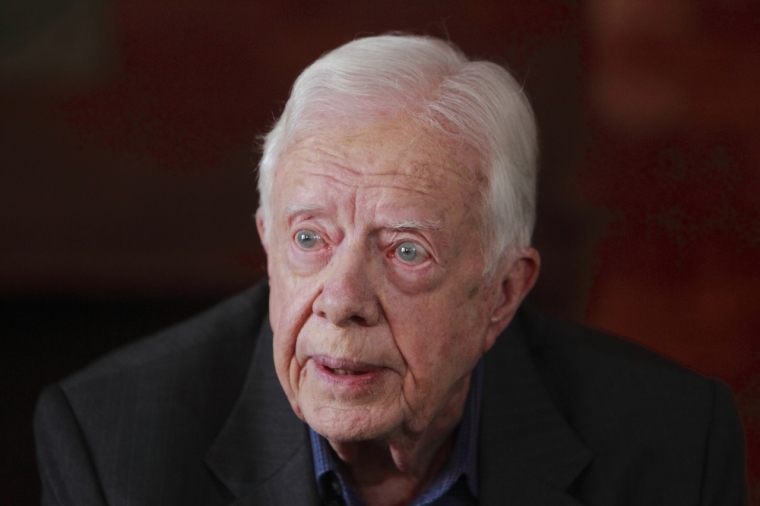 Former President Jimmy Carter announced on Wednesday that he has cancer, and will be undergoing treatment for his condition. Carter has received an outpouring of support, led by President Barack Obama.
"Recent liver surgery revealed that I have cancer that now is in other parts of my body," Carter said in the statement released by the Carter Center. "I will be rearranging my schedule as necessary so I can undergo treatment by physicians at Emory Healthcare."
The Associated Press noted that Carter's cancer is believed to have widely spread in his body, but it is not known where it originated. The former president announced earlier in August that he is due for surgery to remove a small mass from his liver.
Well-wishes have poured in for the 90-year-old Democrat, who has spent his post-political career investing in humanitarian projects through his aid organization.
"Michelle and I send our best wishes to President Carter for a fast and full recovery," Obama said in a Twitter message through the official White House account.
"Our thoughts and prayers are with Rosalynn and the entire Carter family as they face this challenge with the same grace and determination that they have shown so many times before. Jimmy, you're as resilient as they come, and along with the rest of America, we are rooting for you," he added.
CBS News pointed out that Carter's family has a history of pancreatic cancer. Carter wrote in his memoir A Full Life that his father, brother, and two sisters all died of the disease.
"The National Institutes of Health began to check all members of our family regularly, and my last remaining sibling, Gloria, 64, was diagnosed with pancreatic cancer and died in 1990," Carter wrote.
"There was no record of another American family having lost four members to this disease, and since that time I have had regular X-rays, CAT scans, or blood analyses, with hope of early detection if I develop the same symptoms."
Beside his humanitarian work, Carter has also continued speaking out on social issues in the U.S. In July, the former president, who is a Baptist, said that the "only conflict" he has had between his political duties and his Christian faith has been his opposition to abortion.
"I have never believed that Jesus would be in favor of abortion, unless it was the result of rape or incest, or the mother's life was in danger. That's been the only conflict I've had in my career between political duties and Christian faith," Carter told The New York Times in an interview.
Carter served as the 39th president, and among his many recognitions received a Nobel Peace Prize in 2002 for his commitment to finding peaceful solutions to international conflicts.