Former President Jimmy Carter Writes of 'Crucial' Faith in New Book (VIDEO)
Former U.S. President Jimmy Carter says he used his Christian faith to achieve success in his life, and has turned his lessons learned into a book of daily affirmations and stories meant to inspire readers to be more Christ-like every day.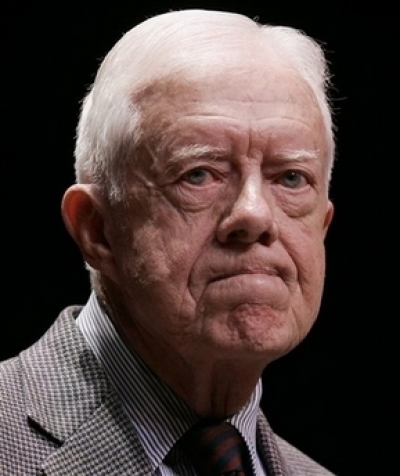 Through the Year with Jimmy Carter is the 87-year-old Georgia native's 26th book, but the first that addresses Christian faith. The book reads like a day-to-day book of sermons, but Carter said he only wrote what he has learned through his years of faith and practice.
"The totality of my teaching presents a view of a lay person. I'm not a theologian," Carter told The Associated Press. "I'm extracting real messages from the Bible or from Christian faith that apply to daily existence and that's applicable whether you're a farmer, a journalist, a lawyer, a teacher or a political office holder."
Carter parallels instances throughout his childhood, stint in the Navy, presidency and charity work with biblical passages. Take, for instance, an excerpt from the chapter titled "Power Enough," a story of believing in times of adversity.
"On three separate occasions as a submarine officer, I thought I might die," Carter wrote, before passing over stories of cannon fire and white squalls.
"It's horrible to sense impending death," Carter continued. "I'm sure that's what the disciples felt during a ferocious storm on the Sea of Galilee. Jesus was sleeping, so they woke him up and asked, in effect, 'Are you going to let us drown while you lie there dreaming?' Jesus got up, calmed the wind and waves and then turned to his disciples and rebuked them for their fear prompted by lack of faith."
Carter summed up the story: "Because the disciples had underestimated the power of Christ, they thought they were facing disaster. Let's not make the same mistake."
Jimmy Carter's New Book Expounds on Faith
The book, released late last month, is published by Zondervan: a leading evangelical publisher of Christian literature and bibles.
"We are honored to be working with President Carter," Zondervan president and CEO Scott Macdonald said. "President Carter is known for being a man of strong faith and he has collected a great deal of wisdom and insight to share based on his experiences, his personal journey and his walk with Christ."
Carter is clear about the essence of his faith and is unashamed about the role Christianity has played throughout his life.
"If there is no basis for our faith ... then how do we account for the presence of Jesus Christ in hundreds of millions of lives across the globe?" Carter wrote. "How could Jesus still be alive to me? How could so many hearts be touched and minds stimulated by Jesus to seek ultimate truths about life and the world around us?"