Former homeless, suicidal Sudanese refugee becomes pastor, aids missionaries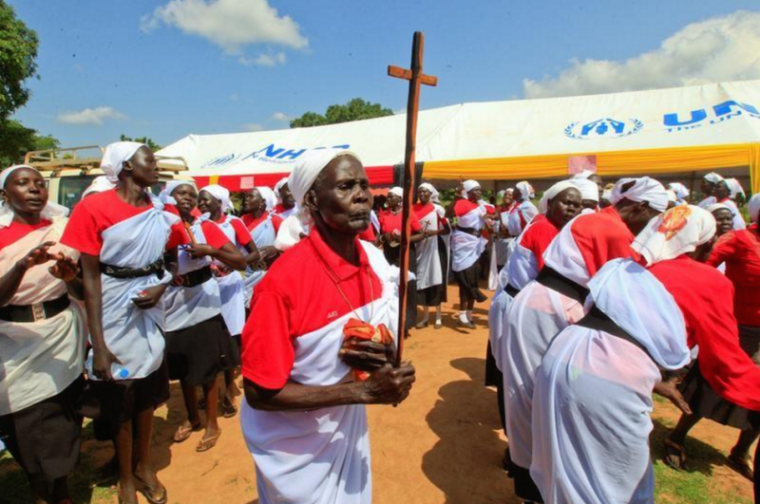 A Sudanese war refugee who was once homeless and at one point tried to end his life now heads a church in South Sudan that is helping to rebuild his homeland. 
The Rev. Bernard Suwa, the 66-year-old head pastor and founder of Grace Community Church in Juba, South Sudan, shared his testimony with the United Kingdom-based publication Premier Christianity, which was published earlier this month. 
Suwa, who grew up as a refugee during Sudan's lengthy civil war, said that by his 16th birthday, he was a homeless orphan wandering the streets of Juba.
"Until the age of seven, I lived peacefully with my family in southern Sudan, but in 1964, that changed. The first Sudanese Civil War reached our village, so I fled to Uganda with my sister's family," Suwa recounted. "We began our 22-mile journey on foot, but because the main road was infested with soldiers, we had to access the border another way." 
"When we crossed the river into Uganda, my brother-in-law put me behind his head, my baby niece was over his shoulder, and his right hand dragged my sister through the raging waters. We ended up in Gulu, but the rest of my family settled at Elegu near the border. We were separated." 
Life as a refugee
Suwa said as a refugee in Uganda, he constructed his own mud hut with a thatched roof made of grass. He also said authorities only gave them machetes and hoes for fieldwork. 
When Suwa was 12, his father died from an asthma attack while authorities tried to relocate refugees closer to the border. His mother was later raped and murdered by Sudanese soldiers while crossing the border shortly after a treaty had been signed. 
"When I was 15, the Addis Ababa Peace Agreement was signed, which signalled hope of returning home. Mum decided it was time to leave," he wrote. "My brothers returned to Sudan first to construct huts for our family. My job was to look after the family's possessions while mum sought transport for repatriation. But it was so chaotic and slow, that mum decided it would be quicker to walk the 22 mile journey across the border alone."
"As she crossed the river into Sudan, the military — hiding in the bush — caught up with her, raped her and left her for dead," he continued. "My siblings in Sudan thought that my mum was with me, and I thought that she was with them. Two weeks later, we discovered the burnt remains of mum hidden under a bush."
After both his parents died, Suwa tried to pick up the shambled pieces of his life. He received free placement at a secondary school. However, with more than 500 students populating the campus, Suwa said he felt lost in the crowd.
He had no other option but to stay at his school during weekends and holidays as he had no official place of residence. 
"Every Sunday, I would sit under the same mango tree in the school grounds wondering why my life had been wrecked by war and poverty. I felt lonely. Life wasn't worth living," Suwa recalled. 
'My new life' 
One Sunday, while sitting in his usual spot under the tree, where he mourned his losses, Suwa considered suicide. But then, he suddenly heard a song coming from a chapel nearby.
"When I heard 'What a friend we have in Jesus,' I felt that I was being called. So I left my tree, walked in and sang with the rest of the students. That was the beginning of my new life. Life was never the same again," Suwa recounted. 
The chaplain who led the service was an employee of ACROSS — an interdenominational development agency in Sudan co-founded by the Christian aviation charity Mission Aviation Fellowship.
Suwa said the people from the agency gave him the hope and direction that he desperately needed.
Even with his newfound faith providing him with internal peace, the community around him continued to be in a state of complete chaos as Sudan's second civil war began in 1983.
Church leader
By the time Suwa was 29, he was married with a daughter. When the second civil war broke out, he and his family fled to Nairobi, Kenya, for safety, with MAF helping them escape. 
In 1990, Suwa started working with ACROSS in Nairobi, to help support Sudan's development. He started training to become an Anglican minister. 
After Kenya refused to extend Suwa's visa, Australian missionaries sponsored him and his family, which led them to move to Sydney. 
After Sudan's second civil war ended in 2005, Suwa returned to Africa in 2007. According to the MAF website, Suwa served as CEO of ACROSS from 2007 until 2011. In 2011, as the new nation of South Sudan was formed and conflict in the region continued, he launched Grace Community Church. 
"I know there are things that only God can change in my country. I dream that the war will cease and that political leaders will put their people's interests first," Suwa said. 
"I thank God for Grace Community Church, which has become a chaplaincy for many MAF staff and other Christian organizations. I am very appreciative of the selflessness of these people."
Yonas Dembele, an analyst for the World Watch Research unit of Open Doors, a Christian persecution watchdog group, noted in a statement earlier this year that South Sudan has experienced internal problems connected to ethnic conflict.
"South Sudan has endured crisis after crisis since 2013. Many had hoped that tolerance, democracy and human rights would flourish in the majority Christian nation," stated Dembele.
"However, the clash between the two main ethnic groups (represented by the president and the vice president) led to a civil war that resulted in hatred, death and destruction."
Dembele noted, "many aid workers have been kidnapped and killed, and churches and Christian training centers have been attacked."
In February, Pope Francis visited Juba, celebrating mass before tens of thousands and calling for peace and reconciliation among the population.
"Even if our hearts bleed for the wrongs we have suffered, let us refuse, once and for all, to repay evil with evil," Francis said, as quoted by The Associated Press. "Let us accept one another and love one another with sincerity and generosity, as God loves us."