SWBTS says Adam Greenway oversaw excessive spending while seminary president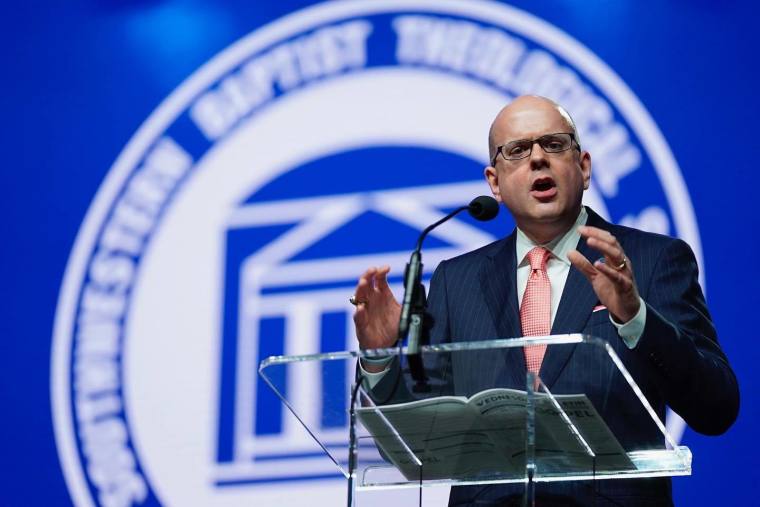 Former Southwestern Baptist Theological Seminary President Adam Greenway spent around $1.5 million in home furnishings and renovations while the seminary was experiencing budget cuts and reduced its staff, according to an investigation report released by the institution. 
The Southwestern Seminary Board of Trustees Task Force issued a "summary of findings" on Wednesday regarding an investigation into presidential expenditures, alleging that Greenway oversaw spending and "improper expenses" that the task force concludes didn't reflect "proper stewardship of seminary resources."
Greenway announced his resignation last year, having served as SWBTS president from February 2019 to September 2022, following the firing of his predecessor, Paige Patterson.
"This pattern of spending occurred without deference to financial controls and seminary financial policies," the summary of findings reads. 
"The task force also found numerous examples of improper expenses charged to the seminary by Greenway himself and/or individuals whom he authorized to use his seminary credit card in violation of seminary policy."
According to the summary, approximately $1.5 million was spent "on renovations, furnishings, and related expenses to the President's home" between 2019 and 2022. 
Expenses included nearly $60,000 for Christmas decorations, over $25,000 for art, more than $11,100 for an espresso machine and accessories, and around $180,000 for HVAC work.
"These expenditures were made at a time when the seminary was making significant budget cuts, including the reduction of faculty personnel and positions," continued the summary.
"The task force found that a significant amount of the work done on the President's home was carried out by the seminary's facilities team, creating an unsustainable demand, and contributing to poor morale and high turnover."
The report states that $9,936.05 was spent on first-class airfare for the Greenway family and an unnamed friend to go to the 2022 Southern Baptist Convention in Anaheim, California, $4,850.51 was spent on framing personal diplomas, and $920 was spent on a metal University of Florida Gator head decoration, identified as "one of Greenway's favorite college athletic programs."
"We grieve the pattern of poor stewardship evident in this summary of the task force's findings," stated the summary. "We wish to express our gratitude to those seminary employees who sought to enforce existing policies and challenge the pattern of spending noted above, even as their efforts were met with resistance."
Greenway declined to comment on the findings when contacted by The Christian Post. 
Last September, Greenway resigned, saying in a statement that the school and the SBC were facing "challenging times."
"What we failed to appreciate was the enormity of the reputational, legal, and financial realities that would welcome us to the Dome — only to be compounded by a global pandemic unlike anything we have ever experienced before," Greenway stated last year.
"We have done our best to serve Southern Baptists by helping position our seminary for the future, but much, much work remains to be done. Nevertheless, in the Providence of God we sense a release from our duties here."
While it was initially announced that Greenway would be joining the SBC International Mission Board, the transition failed to occur.
In April, the SWBTS Board of Trustees named David S. Dockery as the seminary's new president while naming O.S. Hawkins as chancellor. Wednesday's summary of findings attest that the board "enthusiastically supports President David S. Dockery and Chancellor O.S. Hawkins as they lead Southwestern Seminary."
"Although we must be candid to note that significant financial challenges remain, the new administration has made difficult decisions to reduce spending, including in overall staffing of the institution, while prioritizing the educational mission of the seminary," the report adds. "These reductions, coupled with promising increases in undesignated giving and upticks in enrollment and credit hours taken, are important first steps to stabilizing the institution's financial standing."
On May 30, the SWBTS Board of Trustees held a meeting and reported the results of the trustees' investigation of allegations of financial misconduct made against seminary employees Colby Adams and Michelle Smith, concluding they were "without merit."
The board expressed its confidence in Adams, who now serves as special assistant to the president, and Smith, interim vice president for financial services, after allegations of financial misconduct were made against them by trustees Andrew Bunnell and Aaron Sligar.
One of the motions approved at the meeting was to have "the Board of Trustees authorize the officers to publish the audited financials as one comprehensive report for the fiscal years 2003-2022 and examples of presidential expenses as generated by the Task Force review."
Trustees Chairman Danny Roberts said in the announcement of the motions from the May 30 meeting that "the board leadership has exercised aggressively its fiduciary duties, with trustees giving collectively thousands of hours of their time in doing so."
"As I said in our October 2022 meeting, it was the growing involvement of trustee leadership and our insistence of greater presidential accountability and resistance to our attempts to implement financial safeguards that led to Adam Greenway's resignation," stated Roberts.
"Financial guardrails have been and continue to be researched and put in place. One example is that the chairman is now examining the expense reports of the president and the Seminary Leadership Team on a quarterly basis."
Editor's note: This article has been updated to reflect that the SWBTS Board of Trustees found allegations of financial misconduct against seminary executives Colby Adams and Michelle Smith were "without merit."