France's richest man, French billionaires pledge more than $500M to rebuild Notre Dame Cathedral
France's richest man, French billionaires pledge more than $500M to rebuild Notre Dame Cathedral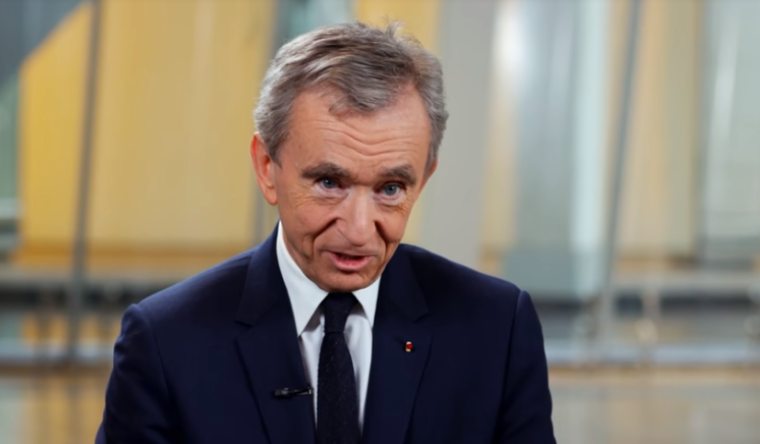 The LVMH Group, which owns luxury brands such as Louis Vuitton, Christian Dior and Givenchy and is led by France's richest man, Bernard Arnault, pledged €200 million ($226 million) Tuesday to help rebuild the Notre Dame Cathedral hours after a tragic fire ripped through the iconic church.
"The Arnault family and the LVMH Group, in solidarity with this national tragedy, are committed to assist with the reconstruction of this extraordinary cathedral, symbol of France, its heritage and its unity. They will donate a total sum of 200 million euros to the fund dedicated to the reconstruction of this architectural work, which is a core part of the French History," the company announced in a statement, making it the biggest benefactor so far in a growing fund dedicated to rebuilding the Notre Dame.
The LVMH Group has also pledged assistance from their "creative, architectural and financial specialists … to help with the long work of reconstruction and fundraising, which is already in progress."
Francois-Henri Pinault, chairman and chief executive officer of Gucci owner Kering SA and husband of Hollywood actress Salma Hayek, first pledged €100 million ($113 million) Monday after President Emmanuel Macron launched an appeal to help rebuild the cathedral.
"The Notre-Dame tragedy strikes all French people, as well as all those with spiritual values and those who care about history and culture," Pinault said in a statement on Twitter. "Faced with this tragedy, my father and I have decided to contribute to the funds needed to fully rebuild Notre Dame de Paris, in order to bring this jewel of our heritage back to life as soon as possible."
The Bettencourt Meyers family and the L'Oréal Group, a French luxury cosmetics company, also announced a joint donation of €200 million to "participate in the 'renaissance' of the Notre-Dame Cathedral," the "reconstruction of this symbol of French heritage and common history."
L'Oréal also pledged the assistance of their "86,000 employees who have expressed their profound emotion and wish to contribute to the collective effort for the reconstruction of this iconic monument which inspires men and women around the world."
Total, a major French oil and gas company, also pledged €100 million ($113 million) Tuesday for the reconstruction. Tech and consulting firm Capgemini has promised €1 million ($1.1 million).
As rebuilding efforts for the more than 850-year-old church advanced Tuesday, condolences continued to flow from around the world for the people of France, including a message from Queen Elizabeth.
"Prince Philip and I have been deeply saddened to see the images of the fire which has engulfed Notre-Dame Cathedral," the queen said in a statement Tuesday.
"I extend my sincere admiration to the emergency services who have risked their lives to try to save this important national monument. My thoughts and prayers are with those who worship at the Cathedral and all of France at this difficult time."
The archbishop of Canterbury, Justin Welby, called for prayers Monday night, noting that people are weeping "for this beautiful, sacred place where millions have met with Jesus Christ."
Welby has encouraged cathedrals and churches across England to toll their bells on Thursday.
Praise has, meanwhile, poured in for heroes like Jean-Marc Fournier, chaplain of the Paris Fire Brigade, who saved the Blessed Sacrament and the Crown of Thorns from the burning cathedral.
Many feared the religious artifacts had been lost in the fire but on Monday night, Fournier bravely went in with firefighters to save them, Sky News reported.
"Father Fournier is an absolute hero," a member of the emergency services told the network.
"He showed no fear at all as he made straight for the relics inside the cathedral, and made sure they were saved. He deals with life and death every day, and shows no fear."
At 6:20 p.m. on Monday, the first call to emergency services came in, but no fire was visible at that time, Paris prosecutor Rémy Heitz said, according to CNN.  It was mentioned during the call that there was a fire in the attic of the church. About 20 minutes later, a second call was reported and the fire was visible to the public at that point.
About 400 firefighters were deployed to put out the blaze but were delayed slightly by rush hour traffic. It is not yet clear how the fire, which spread quickly across the roof and over a section of around 1,000 square meters, was started. Just before 8 p.m. local time, however, the Notre Dame Cathedral's famous spire collapsed as thousands of Parisians watched helplessly in horror.
Some three hours later, Macron announced: "The worst has been avoided. The façade and the two main towers did not collapse."
The fire was fully extinguished by Tuesday morning.