Franklin Graham: About 7 Christian Families Remain in Iraq's Largest Christian Town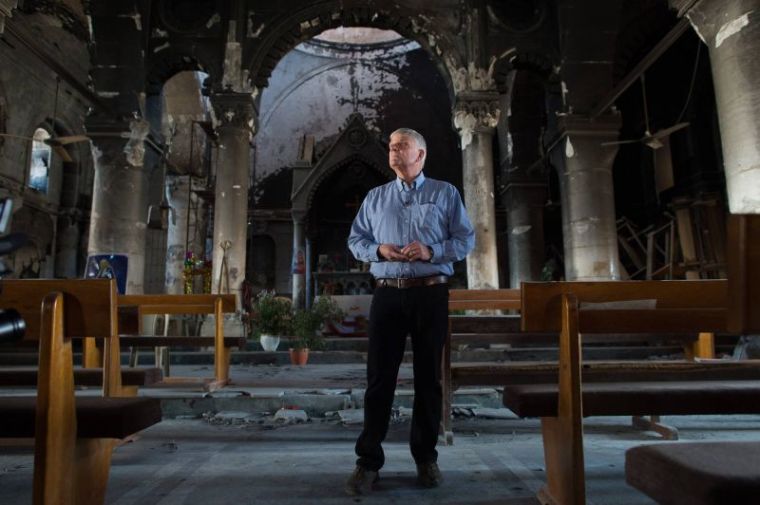 Evangelist Franklin Graham spent his Easter weekend touring churches and towns left desecrated and destroyed by the Islamic State terrorist organization in Northern Iraq and claimed that only about seven families remain in what used to be the largest Christian town in Iraq.
"Yesterday we went to the city of Qaraqosh, in Iraq, which used to be home to some 50,000 Christians who were forced to flee for their lives in 2014. Now just a handful, about 7 families, remain," Graham wrote in an Facebook post on Easter Sunday. "I visited a church that had been burned and destroyed by ISIS and met with the pastor. Incredibly, in the ashes and debris, we discovered one of our Samaritan's Purse Operation Christmas Child shoeboxes that had been given to a child there at some point. I couldn't help but wonder where the child who received this box is today."
What Graham, along with NBC News anchor Greta Van Susteren, discovered in the burned church was that IS (also known as ISIS, ISIL or Daesh) militants used machine guns to shoot the crosses off the wall and that the pulpit had been used for target practice. Additionally, Graham said that militants blew up the church's steeple with explosives.
Graham also found charred pages from the Bible.
"I picked up a section that contained John 20:27 – 'Then he (Jesus) said to Thomas, 'Put your finger here, and see my hands; and put out your hand, and place it in my side. Do not disbelieve, but believe,'" Graham wrote. "He's still saying that to the world today — this Easter Sunday — Believe!"
As it has been previously reported that IS converted a number of churches in Northern Iraq into training centers for religious police and even "torture chambers," Samaritan's Purse produced a short video highlighting the destruction that IS caused in the Nineveh Plains.
Graham said in the video that IS militants had written slogans on the wall of the church he visited in Qaraqosh.
"'You love life. We love death," Graham quoted one slogan as reading. "Another slogan they wrote was, 'We have come to drink your blood.'"
In the video, Van Susteren showed an area outside the church where militants had burned Bibles and other Christian books outlawed by its strict version of Islamic law.
"It's one thing to destroy the buildings, these can be built back but the Church right now is being persecuted and here is a great example of what's happening to the Church," Graham asserted.
The Samaritan's Purse video also highlighted the life-saving work being done by the organization's medical staff and volunteers at the Samaritan's Purse field hospital just outside of Mosul, where it treats wounded civilians, Iraqi-led coalition troops and even IS fighters injured in the ongoing liberation effort in Iraq's second largest city.
"We are the highest level provider of emergency trauma medicine and surgery here right now in Northern Iraq," nurse practitioner Tim Mosher said in the video. "That's really important because these combat injuries are quite complex and people arrive with some things you could never imagine that are created by various parts of this combat."
Mosher added that he and the rest of the field hospital staff have been "surprised by the number of women and children that are being targeted by ISIS to do them harm."
As previously reported by The Christian Post, doctors and medical professionals have come from all over the world to work at the field hospital, which is the closest medical facility to the front lines of the battle.
Dr. Elliott Tenpenny, the hospital's director, told CP in January that each medical professional who decides to serve at the field hospital must do so for a minimum of three weeks but many stay for longer periods of time.
In the video, Graham explained that what makes the Samaritan's Purse hospital different is the fact that all who come to serve in the hospital do so because of their faith in Christ.
"These are people just like you and me," Dr. Kent Brantly said in the video. "They didn't do anything to deserve this and they need to know the love and grace and mercy of our Lord, Jesus Christ, just like you and I do. And, they need to be shown compassion just like you and I do."