Franklin Graham: America Is on the 'Precipice of Anarchy'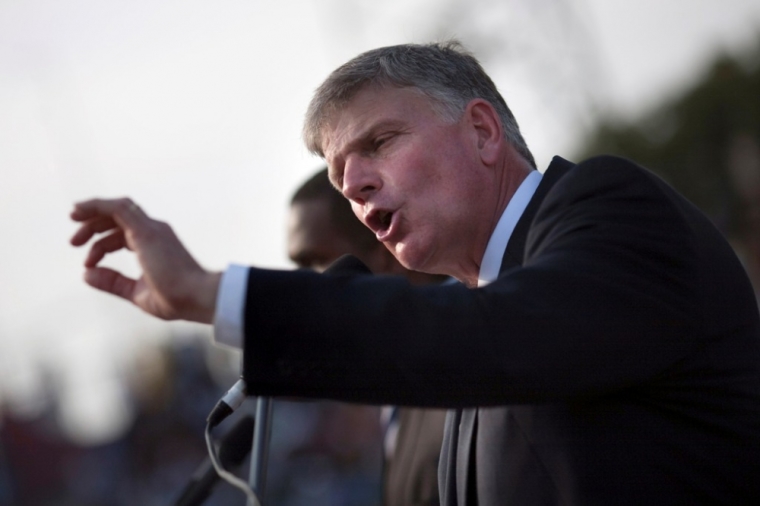 In the midst of the nation's grief following the targeted killings of police officers in Texas and Louisiana, leading evangelist Franklin Graham says he fears America has lost God's hand of protection and is on the edge of anarchy.
Graham, president of both the Billy Graham Evangelistic Association and the humanitarian organization Samaritan's Purse, hosted a Facebook Live video feed on Monday to pray with Christians all around the United States for the Republican National Convention being held this week in Cleveland, Ohio.
According to Graham's Facebook page, his live prayer feed was viewed by as many as 50,000 people all across the world. But before Graham jumped into the prayer, he gave a brief rundown on the state of the nation.
"Our country, I don't have to tell you, is in trouble, you know that. The only hope for this country is God. It's not the politicians, it is God," Graham explained. "But God uses politicians and we pray for the politicians, that they will listen to God's voice and that they will hear His voice."
Graham stressed that although God has blessed America more than any other nation on Earth, the country is heading in the wrong direction morally, spiritually and racially.
"As a nation, we have been running away from God — the secularists, the progressives, many of these people, most of them are people who would be atheistic. And we have taken God out of our country," Graham said. "We have taken Him out of our nation. We have taken Him out of our government. We have taken Him out of the education system. And, our country is beginning to implode. We are on the precipice of anarchy."
As proof for his assertion, Graham cited the recent violence that has been perpetrated not just against police officers but against peaceful American citizens.
He first cited the targeted shooting of police officers in Baton Rouge, Louisiana, on Sunday by a suspect named Gavin Long. Three officers were killed and three were wounded.
Graham also cited the shooting of police officers in Dallas earlier this month by a man named Micah Johnson. Five officers were killed, while 11 were injured.
"There is no excuse for this. Because a policeman may make a mistake, because a policeman may do something wrong somewhere else, to think that we can have some kind of justice by going out and killing innocent policemen who are doing their job to protect us, this is crazy," Graham asserted. "This is lunacy."
Graham also mentioned the jihad-inspired massacre at an Orlando gay nightclub in June, where 49 civilians were killed and 53 were injured.
Prior to the Facebook Live event, Graham asked his followers on the social media platform to submit what it is that they are praying for. Graham read a response from a man named Ed who wrote, "If a nation forgets God, she will lose the blessing that God has given her."
"Ed, you are 100 percent right. We are losing God's blessing," Graham responded. "We are losing His hand of protection."
Graham commenced the prayer and asked God to guide the nation's political leaders.
"Father, we are guilty of bowing down to the false gods of materialism, pleasure. We have legalized the killing of children in their mother's womb. We have legalized same-sex marriage. Father, I know that this grieves your heart," Graham prayed. "As a nation and as a people, we seem to be in danger of losing our souls. We look at a world that is in desperate need of Your forgiveness. We are in trouble morally, economically, racially, spiritually. We see the wars in the Middle East, the migration of millions of refugees. We see the corruption, the greed, the lust. Who can save us? There is only one and that is Your Son, Jesus Christ."
As Donald Trump and Indiana Gov. Mike Pence are expected to be nominated as the Republican presidential and vice presidential nominees at the convention this week, Graham also offered a prayer for those two individuals.
"There is so much division that has come into this political season and it has shaken the Republican Party to the core. Father, it needed to be shaken. Our political system has become corrupt," Graham contended. "I pray that Donald Trump and Governor Mike Pence will surround themselves with godly men and women. We ask that You would guide them and our political leaders of this Republican Party and across this country with Your wisdom from on high."
Graham plans to host another Facebook Live event next Monday at 2 p.m. ET to pray for the Democratic National Convention.