Franklin Graham Asks Where 'Assault on Biblical Marriage Will End' After Democrats Propose Removing Words 'Husband' and 'Wife'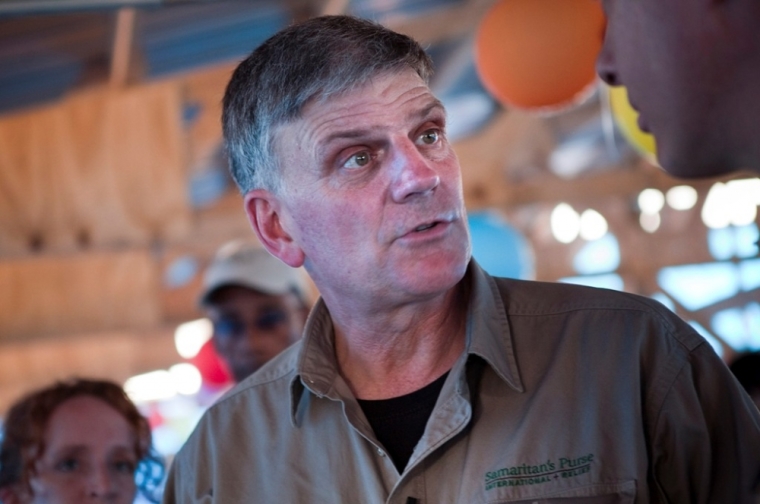 Evangelical preacher the Rev. Franklin Graham has spoken out against legislation proposed by Democrats in California seeking the remove and replace the words "husband" and "wife" from federal law.
"Where will the assault on biblical marriage end?" Graham asked in a Facebook post on Tuesday.
"They say these are 'gendered terms' that discriminate against homosexuals. You're absolutely right they are gendered terms— because marriage was created to be gendered! The One who created marriage defined it as between a man and a woman," he continued.
"They have already succeeded in deleting husband and wife from California law last year, now they want to take it to the national level. This is shameful! Call your representatives in Congress and the Senate to let them know that you oppose the 'Amend the Code for Marriage Equality Act.'"
The bill from Rep. Lois Capps, D-Calif., which was proposed last week, seeks to use words such as "spouse" or "married couple" instead.
"The Amend the Code for Marriage Equality Act recognizes that the words in our laws have meaning and can continue to reflect prejudice and discrimination even when rendered null by our highest courts," Capps said, according to The Washington Examiner. "Our values as a country are reflected in our laws."
Capps referred to the U.S. Supreme Court's decision in June that all states must license same-sex marriages in America. The Democrat argued that her bill is aimed at ensuring that the federal code "reflects the equality of all marriages."
She added that the bill would also help clarify other legal language, such as federal law that says it is illegal to threaten the president's wife, but does not make reference to the president's husband.
With Hillary Clinton looking likely to with the Democratic presidential candidacy, former President Bill Clinton might find himself in that position, though suggested new language would refer to him as the "first spouse."
Graham has spoken out against the Obama administration's support for gay marriage, and said that lighting up the White House in rainbow colors to celebrate the Supreme Court's ruling was a "slap in the face" to "millions of Americans" who do not agree with the decision.
"This is outrageous — a real slap in the face to the millions of Americans who do not support same-sex marriage and whose voice is being ignored. God is the one who gave the rainbow, and it was associated with His judgment," Graham said in June.
Obama had called the same-sex marriage ruling a "victory for America," and said that the decision "affirms what millions of Americans already believe in their hearts."