Franklin Graham Blasts Senator Harry Reid: 'You Lost Your Moral Compass Years Ago for Supporting Abortion ... Murder of Babies in Mothers' Wombs'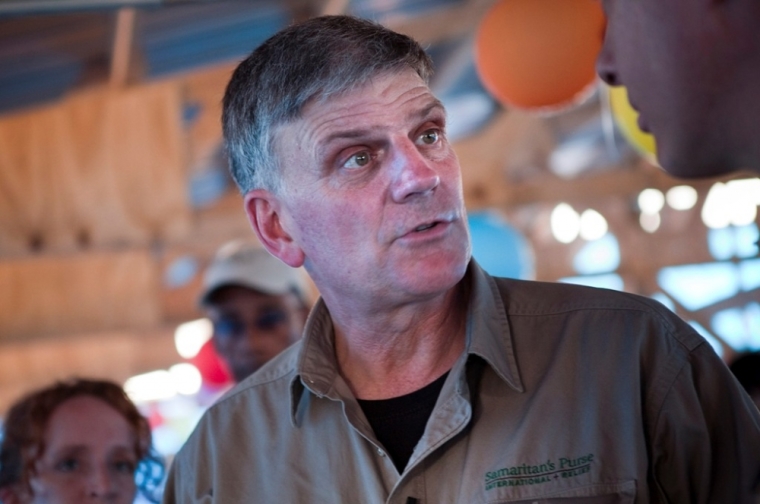 Franklin Graham, the CEO of Samaritan's Purse and a fierce pro-life advocate, has criticized comments made by Democratic Senator Harry Reid of Nevada who accused Republicans of losing their "moral compass" following an attempt by lawmakers to bring a bill to defund Planned Parenthood up for a vote.
Graham took to Facebook to address the comments made by Reid, and blasted the senator's pro-choice stance on Wednesday.
"Senator Harry Reid outrageously declared yesterday that Republicans had 'lost their moral compass' after they were unable to get the 60 votes needed to move the bill in Congress forward that would defund Planned Parenthood," wrote Graham.
"You've got it backwards Senator Reid. You lost your moral compass years ago! You openly support abortion — the murder of babies in their mothers' wombs — and now by backing Planned Parenthood you obviously support the dismemberment and sale of baby body parts," he added.
Graham is referring to the recent controversy surrounding Planned Parenthood regarding a leaked series of videos in which high level executives in the company are allegedly discussing the sell of aborted babies' body parts.
Reid's comments, made on the Senate floor, rationalized the practice of abortion and criticized pro-lifers for denying women their rights.
"Senate Republicans are not being fair to American women," said Reid on Monday. "It's our responsibility in the Senate to assure that American women have access to care. It's our obligation to protect our wives, our sisters, our daughters, our granddaughters — protect them from absurd policies of a Republican Party that's lost its moral compass."
Graham continued by warning Reid of God's judgement.
"Shame on you and each one in Congress who did not support defunding Planned Parenthood," said Graham. "One day you will stand before God, and the blood of these innocent children will cry out for justice."
Republican senators failed to pass a bill on Monday to defund Planned Parenthood and transfer its estimated $500 million in federal funds to other women's health sources.
The bill was introduced by Sen. Joni Ernst, R-Iowa, after the first of 12 undercover videos was released by the pro-life group known as the Center for Medical Progress. The first 2-hour video showed footage of Planned Parenthood's Senior Director for medical services, abortionist Deborah Nucatola, speaking about the procurement, harvesting and sell of aborted baby body parts.
"We've been very good at getting heart, lung, liver. … I'm not gonna crush that part," said Nucatola in the video. "I'm going to basically crush below, I'm not gonna crush above, and I am gonna see if I can get it all intact."
That first video leaked by CMP was followed by four others, including one released on Tuesday which features Melissa Farrell, Planned Parenthood's director of research at the organization's Gulf Coast branch, discussing their ability to provide intact bodies during second trimester and late-term abortions.
"Some of our doctors in the past have projects and they're collecting the specimens, so they do it in a way that they get the best specimens, so I know it can happen," said Farrell. "If we alter our process, and we are able to obtain intact fetal cadavers, we can make it part of the budget that any dissections are this, and splitting the specimens into different shipments is this. It's all just a matter of line items."